I am initiating coverage on the North American QSR (Quick Service Restaurant) sector with a cautious view. Despite an improving employment rate in the US, much of the improvement is driven by lower income and part-time jobs, which result in a structural underemployment crisis. Furthermore, grocery CPI continues to decline and that incentivizes price conscious consumers to dine at home rather than at restaurants. Finally, sector valuation is trading near historical highs and I recommend investors to be selective by favoring the high-end QSRs and those with a global growth profile.
Stocks to love
Starbucks (NASDAQ:SBUX), Chipotle (NYSE:CMG) and YUM Brands (NYSE:YUM) are my top picks in the sector due to their exposure to high-income consumers, brand diversification and international growth profile. CMG's focus on delivering fresh and organic selections to the above average income earners makes the company a multi-year secular growth story while SBUX and YUM's global footprint and innovation around the local culture allow them to deliver consistent revenue and EPS growth. While YUM is catered to the low-end segment, I believe the rebound of its China division and the ramp up of Pizza Hut will likely be earnings accretive in the next five years.
Stocks to avoid
McDonald's (NYSE:MCD) and Burger King (BKW) are stocks to avoid due to their high exposure to the low income consumers who are becoming increasingly frugal amid a weak macro backdrop. Despite MCD's global footprint and BKW's emerging global profile, both companies still lack sufficient catalysts, menu innovation and value proposition to compete against the local QSRs and its global peers.
Macro overhang a headwind to the low-end QSRs
Despite the decreasing overall unemployment rate in the US, underemployment (those working in low pay or part-time jobs) remain a structural problem, which may have explained the continued decline of median household income since the great financial crisis.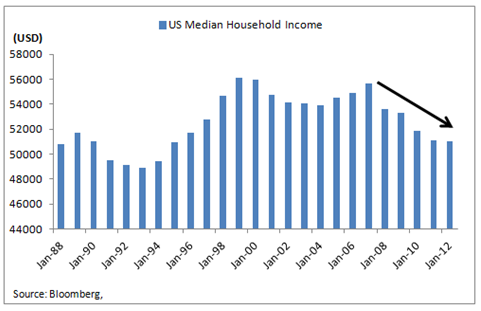 According to Center for Economy and Policy Research (link), 35% of all college graduates are underemployed, with recent college grads facing 45% underemployment rate.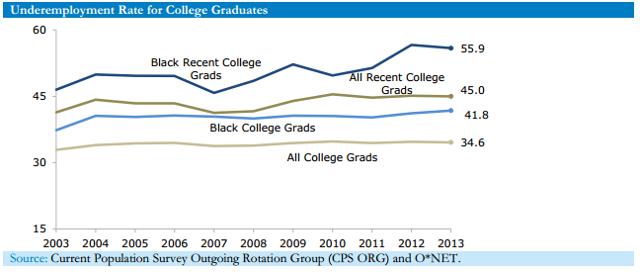 Amid the high underemployment level, consumers are likely to be price conscious and cut back on spending in restaurants. Moreover, grocery inflation has been on the decline and this is a further negative to consumer spending because restaurant traffic and grocery inflation historically have negative correlation. In my view, the combination of high underemployment and declining grocery inflation will be a headwind to the QSRs that target the low-income group, particularly MCD and BKW.
That said, I favor QSRs that have a global profile and focus on the mid to high-end segment, hence my positive view on CMG, SBUX and YUM.
McDonald's: Happiness fading with declining value proposition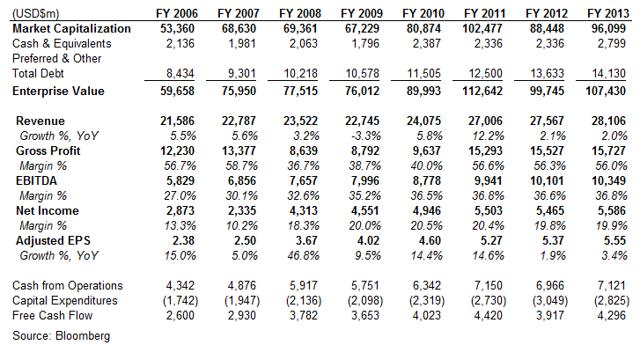 Overly focused on the low-income group: While MCD's low price value proposition allowed the company to ride through the GFC (Great Financial Crisis), the company also became highly leveraged to the low-income group, which has been cutting back on spending. I note that the US comps declined from 9% in 1Q12 to 0.7% in 3Q13 in conjunction with a decline in the median household income. The reliance on the financially stressed consumer segment is a key investment concern, in my view. Unless MCD can diversify by transitioning to high-end, comps will likely to be pressured in the near term.
Declining value of the dollar menu: MCD's recent price increase in the dollar-menu was aimed to bridge the gap between dollar items to higher-end items but the selection still lacks choices in between, which does not incentivize consumers to trade up for the higher-end items. In addition, the incremental increase in dollar menu prices can only encourage consumers to seek other cost effective alternatives (i.e. Frozen and perishable food), which deliver better value proposition amid a declining grocery CPI trend.
Conclusion: While MCD looks cheap on a P/E basis (18x FY14E consensus vs. 27x sector average), the stock is trading close to its 52-week highs as investors look for stable yield and dividend growth. However, I see the current multiple unjustified given the uncertain macro backdrop. Reiterate my underweight position on the stock.
Burger King: International growth unlikely to offset near-term headwind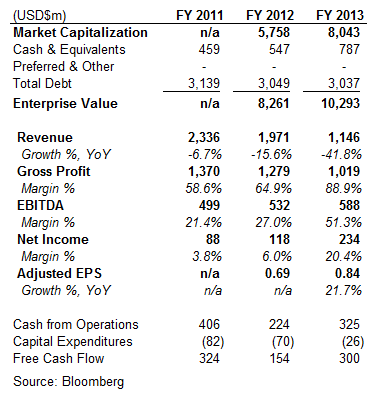 Promotion-driven sale lacks sustainability: BKW's promotional activities (i.e. 2 for $5 sandwiches and $1 breakfast item) will unlikely sustain the current revenue growth trend. The risk of promotions losing its appeal is high in that BKW lacks other menu innovations that it can rely on to drive future growth. Unless BKW can create a more attractive tiered menu item with marginal increase in value proposition, revenue will likely to face downside risk.
International growth the bright spot but competition a concern: BKW's international growth is on track but competition will remain a key concern as local QSRs are better positioned to cater to the local taste. BKW lacks menu localization in its overseas operations and the company may need to invest in additional R&D to increase its product offerings that can cater to the local taste, and expand its addressable market.
Conclusion: BKW trades at 27x FY14 consensus P/E, on par with sector average. Unless management can figure out a way to grow revenue without relying on promotions, investors are better off with names that have proven track record of menu innovation such as SBUX, CMG and YUM.
Sticking with the winners that focus on the high-end and global growth
Despite the near-term headwind the QSRs are facing in the US, I believe those that target the high-end segment and global growth will continue to deliver. For the high-end segment, higher income earners are less sensitive to the price increases so it is likely that they will maintain their lifestyle, which is a positive to the high-end QSR store traffic. For those with a global exposure, the growing demand for western QSR will likely offset the US stagnation. Menu R&D that caters to the local taste bud but maintains the western root will likely be well received by the overseas customers, in my view. Chipotle and Starbucks are my top picks that are less sensitive to the declining household income given their target segment consists of mostly high-income earners. Contrary to the Street consensus, I see YUM continuing to deliver in China on the back of Pizza Hut (rather than KFC) as Chinese shifts its diet towards more protein and dairy-rich foods.
Chipotle Mexican Grill: Building a multi-brand portfolio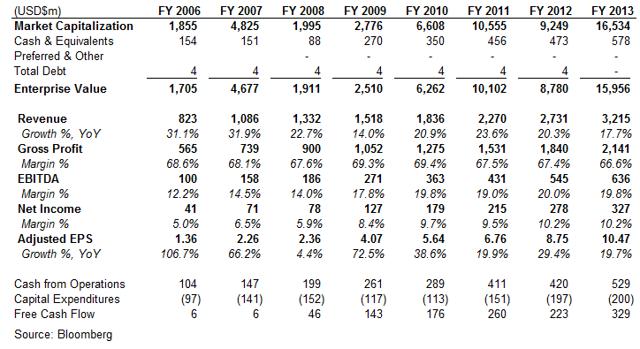 Favorable leverage towards the high-income earners: Unlike most of the QSRs that cater to the low-income earners, CMG has a higher leverage towards the high-income earners due to its premium pricing and units locating within proximity to high-income neighborhoods. Since high-income earners are less sensitive to incremental price hike than the low-wage consumers, CMG's store traffic is unlikely to be negatively impacted.
Better ingredients for the money: CMG's value proposition is also fairly attractive compared with its main rival, Qdoba. First CMG has a broader footprint than Qdoba, making it easier for consumers to have access to high quality Mexican American food. Second, CMG's hormone and antibiotic-free meat gives consumer a better perception of food quality as people are becoming increasingly health conscious. Finally, based on my personal experience, CMG's price point is slightly cheaper than Qdoba in the major cities across the US, and this gives consumers better value for the money.
Fueling growth via diversification: In my view, ShopHouse and Pizzeria Locale will be CMG's future growth drivers as the company diversifies its product portfolio beyond Mexican American food. Both brands are well positioned to capitalize on the high-end QSR in their respective target segment due to a superior value proposition compared with traditional QSR (i.e. ManchuWok and PizzaHut) and minimal competition in that most competitors are either the high-end sit-in restaurants or low-end takeout.
Conclusion: Leveraging organic ingredients to attract health-conscious consumers and to expand brand portfolio makes CMG a compelling long-term play. While the current valuation of 47x FY14E P/E is higher than the comps of 27x, CMG remains the best QSR growth story with the potential of capitalizing on the health and organic-oriented food culture. Longer term, international growth in emerging market offers greater upside potential.
Starbucks: Menu innovation and global growth driving future profitability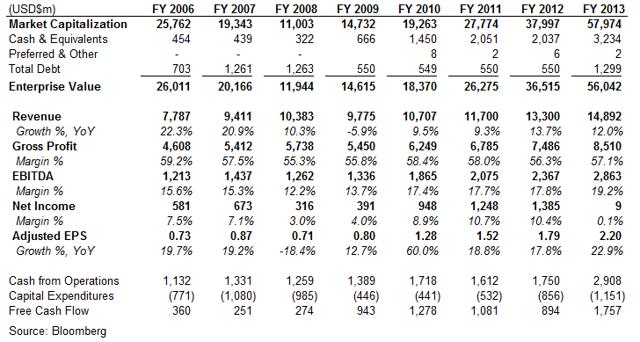 Lunch menu on the horizon: SBUX has gradually shifted its position from a traditional high-end QSR (i.e. Coffee and bakery items) to high-end SSR (slow-service restaurant) via the acquisition of La Boulange, which has rolled out a series of breakfast items and now has lunch rollout expected in second half of the year. This places SBUX in a unique position of offering high-quality food that is better than those from traditional QSRs (i.e. McDonald's and Dunkin Donuts) while maintaining the convenience of a QSR. With the addition of a lunch menu, average spend per visit will likely be accretive to SBUX top-line growth while the products themselves could potentially be margin accretive.
Global growth story intact: Both China and Europe continue to offer SBUX with attractive international growth opportunities. China units will continue to benefit from rising disposable income and increasing brand awareness as SBUX expands beyond Tier 1 cities (i.e. Beijing, Shanghai, Guangzhou and Shenzhen) and into larger Tier 2 cities (i.e. Chongqing with est. 33m pop.). It could even enter Tier 3 cities such as Yuncheng with around 5 million people. The localization of beverage menus (i.e. Green-tea red bean latte) and bakery items (i.e. BBQ pork pastry, taro cheesecake) will likely to be well received by the locals, in my view. As for Europe, improving consumer confidence in the region is accretive to store traffic. Although I expect China to be a more stable international growth story than Europe given the larger consumer class.
Conclusion: At 28x consensus FY14E P/E, SBUX is in-line with sector average of 27x, which suggests that the street does not fully appreciate SBUX's attractive growth profile. I believe SBUX deserves to be traded at a premium given its best in class brand equity, global growth profile and strong execution on brand/product integration.
Yum Brands: Thank you KFC, next up Pizza Hut and Taco Bell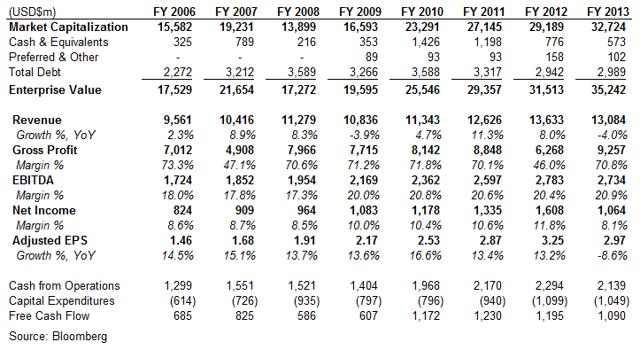 Pizza Hut to drive China growth: YUM's success since its entry into China has been mainly driven by the KFC brand, which has 4,618 units in the country as if 1Q14. However, KFC growth is decelerating with unit growth in the mid-single digit (+5% y/y) due to market saturation.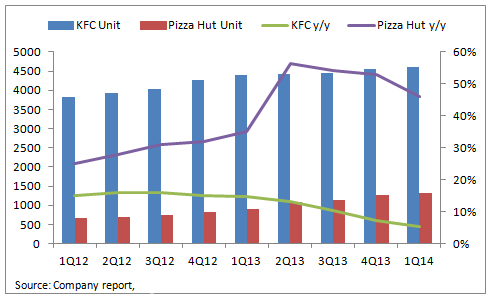 While the recent comp of +11% in 1Q14 seems encouraging, promotional activities (in particular in Tier 1 cities) are still high and may not be sustainable, in my view. Pizza Hut could have the potential to offset the deceleration of KFC franchise as consumers shift their diet towards high protein and dairy-rich foods.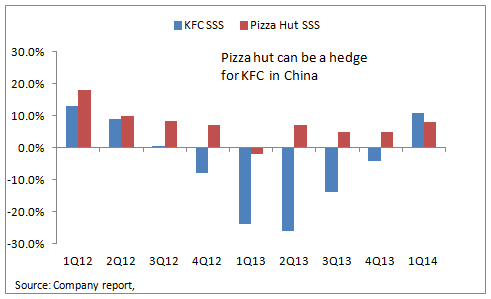 Taco Bell to drive US growth: Taco Bell's unique marketing plan by leveraging social media and engaging younger consumers was constructive to its revenue growth. In addition, menu innovation (i.e. Doritos Loco) and breakfast rollout will be positive to SSS and drive traffic due to superior value proposition to the low income group. Finally, I do not see TB has the ability to take market share away from CMG in that both cater to different market segments with CMG for the high-income segment and TB caters to the lower-income segment. While TB may risk the possibility of consumers dining more at home, the lack of substitute and a younger (less price conscious) consumer base may support positive comps ahead.
Conclusion: At 22x FY14 consensus P/E, YUM is valued slightly cheaper than the QSR group but at 1.6x PEG, the company is the cheapest among the group. As KFC saturation begins to kick in, YUM will need to rely on Pizza Hut and TB to drive future revenue growth. So far, the company has executed well with Pizza Hut now considered a mid-end western restaurant in China (avoiding direct competition against the low-end QSRs), and TB is gradually gaining more traction and taking market share away from local mom-and-pop Mexican American eateries. Reiterate overweight thesis on the stock.
Disclosure: The author has no positions in any stocks mentioned, and no plans to initiate any positions within the next 72 hours. The author wrote this article themselves, and it expresses their own opinions. The author is not receiving compensation for it (other than from Seeking Alpha). The author has no business relationship with any company whose stock is mentioned in this article.