I am near the end of this series of articles that discusses dividend coverage for most of the 26 BDCs that I cover in an effort to uncover companies that have the potential to sustain or increase current dividends. I will also be using this information to update my latest "BDC Rankings: May 2014". Prospect Capital (NASDAQ:PSEC) will be covered in Part 18. For more details regarding this series and for the dividend coverage results for Fifth Street Finance (NYSE:FSC), Apollo Investment (NASDAQ:AINV), TICC Capital (NASDAQ:TICC), Triangle Capital (NYSE:TCAP), Fidus Investment (NASDAQ:FDUS), PennantPark Floating Rate Capital (NASDAQ:PFLT), Gladstone Capital (NASDAQ:GLAD), Golub Capital BDC (NASDAQ:GBDC), PennantPark Investment (NASDAQ:PNNT), Hercules Technology Growth Capital (NASDAQ:HTGC), FS Investment Corp (NYSE:FSIC), Ares Capital (NASDAQ:ARCC), TCP Capital (NASDAQ:TCPC), THL Credit (NASDAQ:TCRD), New Mountain Finance (NYSE:NMFC) and Medley Capital (NYSE:MCC) please see:
Main Street Capital (NYSE:MAIN) is an internally managed BDC which means that all operating expenses, including compensation, are paid directly by the company, and shareholders have the ability to vote on executive compensation issues. Total operating expense ratios for internally managed BDCs are usually lower and investing in a well-managed internal BDC has many advantages due to a higher degree of shareholder alignment.
MAIN has been among my top ranked BDCs for many reasons including dividend coverage and growth. The following table shows dividend growth for the older BDCs since 2010 and that internally managed BDCs have increased dividends more than other BDCs most likely due to more efficient cost structures and better alignment with shareholders. MCG Capital (NASDAQ:MCGC) is an outlier for many reasons as briefly discussed in "BDC Pricing And The Russell Indices: Part 4". This table also shows that investors will pay a premium to net asset value ("NAV") for these BDCs as well.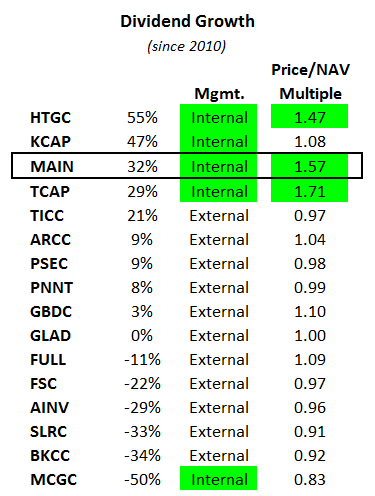 This series of articles does not cover many of the BDCs that are near the bottom of the previous table because I believe they either have higher risk to return levels or will not be able to cover dividends with the current cost structure and associated portfolio yield. This would include MCGC, BlackRock Kelso Capital (NASDAQ:BKCC), Full Circle Capital (FULL) and Solar Capital (NASDAQ:SLRC).
Most of MAIN's borrowing is at fixed rates including $91 million in notes payable and a recently utilized SBIC capacity of $225 million. SBIC debentures have many advantages including:
10 year fixed low rates
Interest only
No financial covenants
Excluded from BDC debt-to-equity requirements
Target leverage for MAIN is a debt-to-equity ratio of around 0.80 which is what the company had at the end of Q1 2012 just before its June 2012 offering of $97 million and at the end of Q2 2013 just before its August 2013 offering of $132 million as shown in the chart below.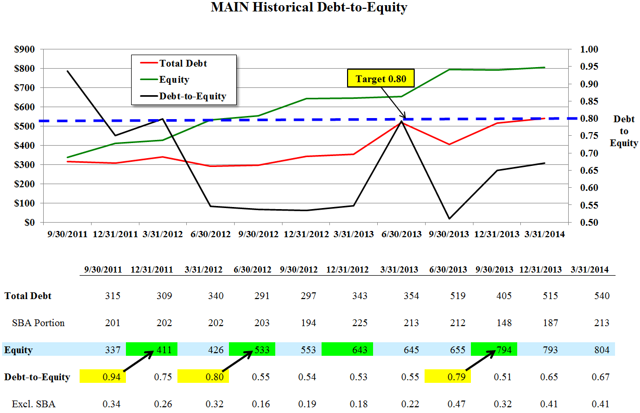 As discussed in my other "MAIN Articles" its portfolio yield has been fairly stable over the last six quarters at around 11.8% to 11.9%. On a recent earnings call the CEO stated: "I think we have seen stabilization in yields as far as what we're seeing right now. In the middle market they have kind of bounced a lot in the bottom." The table below shows the various yields by investment type with both the lower middle market ("LMM") and private loan ("PL") portfolios with higher yields due to smaller more strategic companies compared to its middle market ("MM") portfolio of larger companies with 92% in debt investments secured by first priority liens on company assets mostly with S&P ratings of B or BB.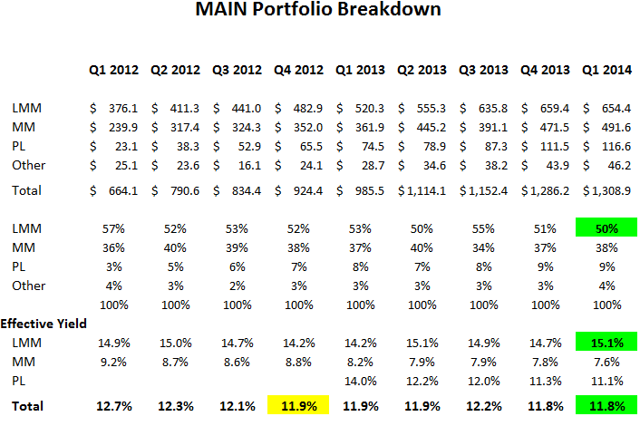 The following table shows the most recent quarter financial results, along with projections at various levels of leverage and a stable portfolio yield of 11.8% to determine the impacts on dividend coverage. I have also included the impacts from the most recent equity offering of 4.6 million shares for net proceeds of almost $140 million and at a premium to book value. Each of these scenarios assumes a full quarter of benefit from interest income but also a full quarter of interest expense.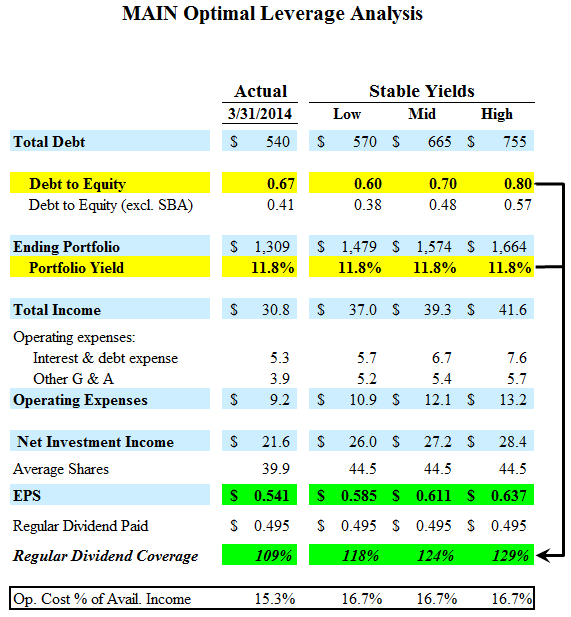 These scenarios assume the highest level of efficiency and actual results could be lower because there will always be some turnover in the portfolio that could drive higher fee income. This analysis implies that MAIN has the ability to increase its dividend more than any other BDC.
Side by Side Comparison:
The following side by side comparison shows an 'apples to apples' view of each BDC with a stable portfolio yield, current cost structure and capital expenses with a portfolio that uses the same amount of leverage to increase return on equity investments. I will be using the amount of equity as of March 31, 2014 (or most recent) along with a debt-to-equity ratio of 0.80 and the current portfolio yield to project income and expenses, tracking the following metrics:
Dividend coverage (using a debt-to-equity 0.80)
BDC expenses (as a % of available income)
"Available income" is total interest and fee income less interest expense from borrowings and is the amount of income that is available to pay management expenses and shareholder distributions. BDCs with lower expenses can pay higher amounts to shareholders without investing in riskier assets.
The following table compares the results for MAIN to the other BDCs (so far in this series). As you can see MAIN has the lowest "operating cost as a percentage of available income" giving it the highest amount of dividend coverage compared to all other BDCs. This would imply that MAIN has the ability to continue to grow its current dividend.
One of the most important factors shown in the table below is the debt-to-equity ratios excluding SBA debt. The companies with lower amounts of leverage after excluding these loans (that are not included in the leverage requirements for BDCs) have the ability to borrow higher amounts. However this does not take into account which BDCs have available SBA debt capacity including TCPC that was recently approved for an SBIC license with the ability to borrow an extra $150 million.
I believe MAIN, TCPC, HTGC and FSIC have a much higher potential for dividend increases than the average BDC. I will continue to add more companies in the following articles including PSEC. As discussed earlier this table is skewed toward BDCs that are more likely to cover dividends and does not include MCGC, FULL, BKCC and Horizon Technology Finance (NASDAQ:HRZN). If the BDC you are looking to invest in seems to have lower coverage than most please keep in mind that there are worse BDCs not included.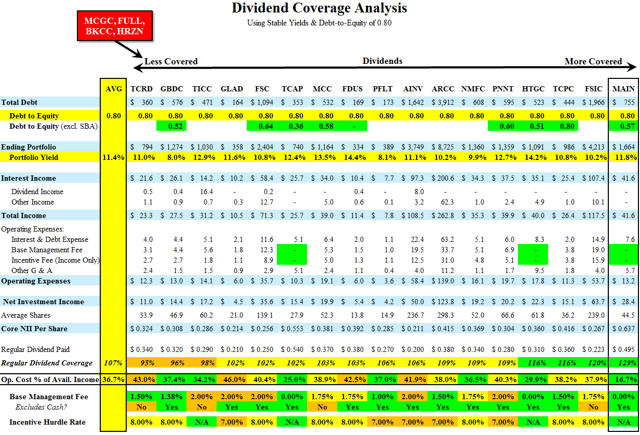 For more details including some of the potential variances to this methodology for assessing dividend coverage please see "Part 1" of this series.
Disclosure: The author is long ARCC, MAIN, FSIC, HTGC, TCPC, NMFC. The author wrote this article themselves, and it expresses their own opinions. The author is not receiving compensation for it (other than from Seeking Alpha). The author has no business relationship with any company whose stock is mentioned in this article.
Editor's Note: This article covers one or more stocks trading at less than $1 per share and/or with less than a $100 million market cap. Please be aware of the risks associated with these stocks.