Consumer balance sheets remain strained. Despite all the housing pain we've experienced, home prices still look like they could just as easily go down as up from present, weak, levels. Employment remains a painful sore spot for our economy. Who the heck knows what the political landscape is going to look like after the soon-to-be-held Midterm elections. Can you imagine a better time to invest in shares of companies tied to the market for fine jewelry?
OK, I'm not really crazy, I know you're probably gagging, and when it comes to most stocks in this category, I agree. But one reason I'm so enthusiastic about stock screening is because of the way it can uncover offbeat ideas I'd never in a million years have come up with on my own. (It helps, too, to do backtesting, to weed out strategies that sound good in conversation but don't really work.)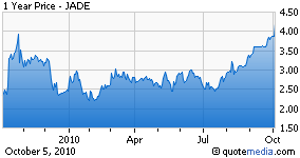 LJ International (NASDAQ:JADE)
Right now, my "Dynamic Off the Beaten Track" model (see Appendix below for details and test data) is showing, among other stocks, LJ International, a manufacturer and retailer of fine jewelry focused mainly on China. That's the key: China, as opposed to the US.
JADE doesn't get nearly as much attention here as big-name plays on the Chinese market, like Baidu (NASDAQ:BIDU), but that's fine with me. Actually, in the small-cap area, there are many reasonably-priced China plays that trade in the US and file financials in accordance with US rules.
JADE designs, brands, and sells jewelry, mainly bright-colored jewelry. Most sales have been in the US and Western Europe, but the investment play is China, where jewelry is bought by its expanding consumer class more for fashion than investment. Sales there are expanding rapidly, enough so that the company launched ENZO, its own China-based retail jewelry chain. The firm wasn't immune to the global slowdown. Sales declined 10.4% in 2008 and 18.9% in 2009, after having enjoyed five years of 20%-plus growth before that. But 2010 is shaping up as a turnaround year, with sales in the first half up 33%, and six-month EPS of $0.16, versus $0.02 in the prior year.
The retail chain achieved an important milestone in late August with the opening of a free-standing 1,500 square-foot store in Cixi, a third-tier city approximately 90 miles south of Shanghai with over one million people and a strongly entrepreneurial spirit and orientation toward affordable luxury. This is the first store JADE opened outside of a shopping mall.
The stock is up about 45% since it appeared in my low-priced stocks newsletter in mid-July. It's no longer part of the letter's under-$3 universe, but I do like this one for long-term home-run potential. The stock's trailing 12-month PE is 12.95 while its price/Sales ratio is 0.76. Price to book stands at 1.08.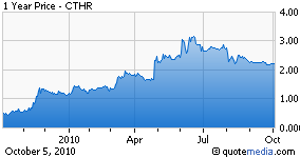 Charles and Colvard (NASDAQ:CTHR)
Another intriguing jewelry company I've been watching for a while is Charles and Colvard. It isn't in the Dynamic Off the Beaten Track model, but it has been periodically showing up in the model I use for the low-priced stock newsletter and I did mention it there. The stock hasn't caught fire yet and it is one that may have to be handled consistent with the old folklore; buy it and lock the certificates away in a drawer for 10 years.
Actually, this being the 2010s, most of us don't handle stocks certificates anymore, so perhaps you can lock away a printout of an on-line trade confirmation. (I'll pause for a moment to note, with a sigh, the passing of one of the more romantic elements of traditional equity investing. OK. I'm back.)
CTHR is a situation wherein I can easily envision stock ownership 10-years hence as being worthless, or worth a truckload of money. I don't envision many middle-of-the-road scenarios.
The company mines and produces moissanite (pronounced moys-uh-nite), which looks a lot like diamond but is priced considerably lower. This story may seem irritatingly seem familiar, but it isn't. There are huge differences between moissanite and zirconium, the more well-known wannabe diamond. Moissanite comes much closer to diamonds in terms of key gemological properties, brilliance, luster, dispersion, and, as noted, is much lower in terms of price.
Will moissanite ever catch on? Who knows? Will the company ever come up with or hire a consultant to come up with an easier-to-pronounce-and-easier-to-spell name for it? Who knows? CTHR is proof a stock doesn't have to be in tech or biotech to be speculative. Did I say speculative? Actually, I meant speculative.
The late-2000s was probably one of the worst times in modern history to be trying to introduce a new form of fine jewelry, probably right down there with the early 1930s, and CTHR's sales trends reflect that, having fallen from $44 million in 2005 to $11 million in the trailing 12 months. But as bad as the latter figure is, it represents an improvement over calendar 2009 (sales of $8 million) and the company returned to the black in 2010 (earning $0.02 a share in each of this year's first two quarters), thus demonstrating it knows how to drive down costs given the shortage of sales.
Cash isn't what it once was ($3.1 million versus $21 million in 2005), and non-current assets (specifically, non-current inventory) are way up at $36.2 million versus $3.4 million in 2005. Conceptually, the latter can be seen as equivalent to reserves for an oil company. The main difference here is that with an oil company, we're highly confident someone will buy its reserves after it gets them out of the ground, the big questions being sale price and cost of production. With CTHR, we're yet to see how many people will want to buy moissanite. For what it's worth, you can explore the company's web bite and judge for yourself.
Clearly, CTHR isn't for everyone. But considering how much even a casual gambler can blow in, say, three hours at Vegas, I can see a case for this under-$3 stock – just lock it away and come back to it in 10 years to see what happened.
APPENDIX
The "Dynamic Off The Beaten Track" model is one of several I use to look for stocks that don't get much publicity. This is where the real stock-market action is, where you can make money the classic way, by finding companies nobody ever heard of, buying their shares now, and selling later, when they're better known and, if all goes well, when broader demand for shares will result in a selling price that's higher, hopefully considerably higher, than the price you paid way back when. This is one corner of the market in which fun (discovering something which the crowd hasn't yet caught onto) and financial sense (taking advantage of market "inefficiencies" likely to flow from the absence of a lot of analytic attention) converge.
The most intensive of my obscure stocks strategies is the one I use for my low-priced stocks (under $3) newsletter. This one is a bit tamer in that it is more amenable to modest levels of institutional ownership and analytic coverage. Even so, the stocks it uncovers remain, for the most part, a long way, perhaps years, from being household names.
The strategy starts with the following screen:
Basic liquidity rules: (i) first alternative: price is at least 5 and market capitalization is at least $250 million, or (ii) second alternative: price is at least 2 and market capitalization is at least $20 million and daily volume averaged at least 15,000 shares over the past twenty days

Eliminate companies classified in the Miscellaneous Financial Services Industry, most of which are investment companies and funds and not the kind of stocks sought by most users

Research coverage is by three analysts at most

Institutions own less than 50% of the stock and the level of institutional ownership is less than 80 percent of the industry average.

Institutional net share purchases in the latest reporting period are positive; i.e. more buys than sells (which suggests that the company may be starting to get discovered)

Share price performance over the past 52 weeks must have been positive, and in the past four weeks, the percent change must have been no worse than minus 10 percent

The year-to-year EPS comparison in the latest quarter must have been positive and better than the industry average
To get from the typically 100-plus names that make this list down to a more manageable 15-stock portfolio or idea-list (depending on whether one would want to trade them all or pick and choose), I use the StockScreen123.com QVGM (Quality-Value-Growth-Momentum) ranking system based, which, essentially, is based on the following factors:
Quality (return on capital, margin, turnover and financial strength)

Value (price-earnings, price-sales, price-cash flow, and price-book)

Growth (long- and short-term sales and EPS growth and acceleration)

Momentum (share price changes and up-down ratios computed over various time periods)
The original version of this model used a ranking system that did not include the Momentum category thereby providing more fundamentally pure lists of stocks. Its performance record is good, as has often been the case when I used the QVG ranking system. Usually, however, testing shows that performance improves when I add the momentum component which, in essence, lets "Mr. Market" have some input. As Ben Graham suggested when he conceived the allegory, Mr. Market has some emotional issues and tends to overreact when it comes to pricing stocks. It seems to me, however, that Mr. Market has evolved over the years and as emotional as he may still be, he seems to be showing some ability to evaluate investment merit and more often than not makes a positive contribution when I allow him a place at my fictional research conference table, as I do when I switch from the QVG ranking system to the QVGM.
Figure 1 shows the results of a 3/31/01 through 10/4/10 backtest of this strategy assuming the model is rerun and the list refreshed every four weeks.
Figure 1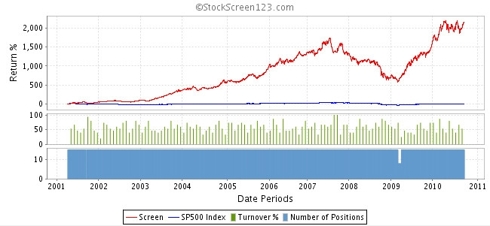 (Click to enlarge)
Figure 2 shows a close-up of the 10/4/09 – 10/10/10 period.
Figure 2
Disclosure: No positions