Investors in shipping companies know what hard times are. The shipping sector keeps on crouching along with no real impulses for the stock prices of the companies in the business. Some shipping companies, however, have adapted. They diversified their fleets and are trying to carve a niche out for themselves in a market that still posts near term challenges.
The Baltic Dry Index, a proxy for shipping rates, certainly indicates that shipping companies are light years away from the stunning charter rates seen five or six years ago. And depressed charter rates are still the main reason why dry bulk shipping companies do pretty badly.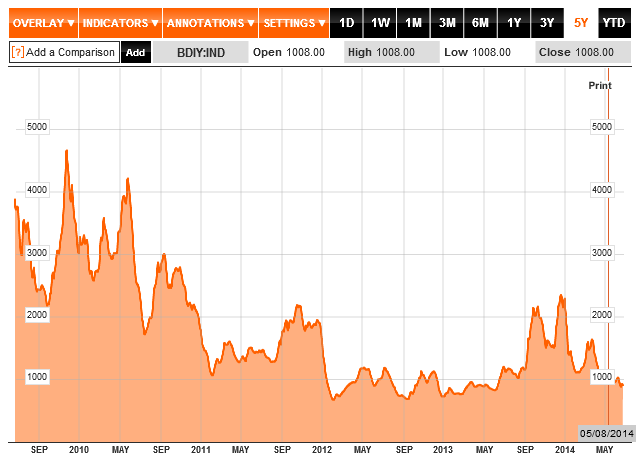 (Source: Bloomberg, Baltic Dry Index)
However, some companies are positioned better than others due to their reliance on businesses other than the depressed dry bulk shipping segment. DryShips (NASDAQ:DRYS), for instance, has about 42 dry bulk vessels and 10 tankers, but also has substantial exposure to the offshore drilling market due to its 59.4% majority ownership stake in ultra-deepwater drilling specialist Ocean Rig UDW Inc. (NASDAQ:ORIG).
Ocean Rig is a real gem
Ocean Rig is an offshore drilling company specializing in ultra-deepwater oil and gas exploration. The contract driller owns and operates two ultra-deepwater semisubmersible drilling rigs and nine ultra-deepwater drillships, including three drillships to be delivered in 2014 and 2015.
Ocean Rig competes with the best of the best in the sector and is well positioned to drive value for shareholders in the increasingly attractive ultra-deepwater drilling business. Why?
Because of increasing demand. Offshore oil and gas discoveries close to coastlines have become increasingly rare after decades of high-intensity offshore oil and gas exploration.
Exploration companies and contract drillers like Ocean Rig have to move further out into the ocean and drill much deeper compared to just a decade ago.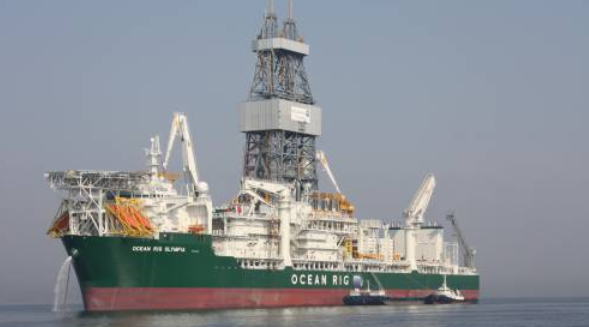 (Source: Ocean Rig Investor Relations Website)
Attractive portfolio characteristics
I have really come to appreciate the fact that Ocean Rig is a pure ultra-deepwater play, with substantial potential to profit from high-margin ultra-deepwater drilling jobs.
Compared to other offshore drilling companies in the sector, Ocean Rig is the sixth largest with the two top spots going to Transocean (NYSE:RIG) and Seadrill (NYSE:SDRL), both of which have substantially larger fleets than Ocean Rig (see below).
While Seadrill is usually being applauded for having one of the most modern fleets in operation in the sector, Ocean Rig certainly doesn't have to hide with an average fleet age of 3.1 years.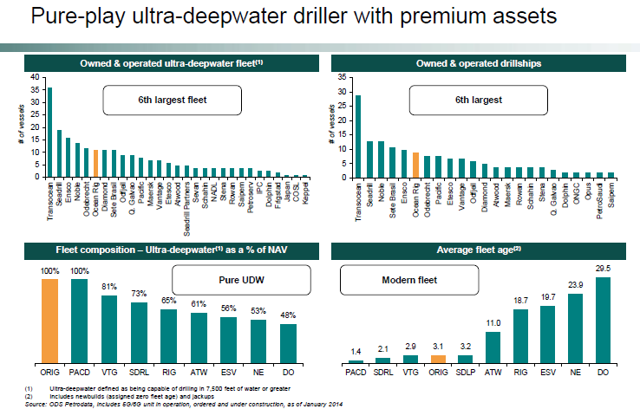 Click to enlarge
(Source: Ocean Rig Investor Presentation)
Valuation
Ocean Rig currently trades at about nine times forward earnings -- an extremely low valuation -- and significantly below the thirteen times earnings Transocean demands in the market. With a 59.4% majority stake in Ocean Rig, DryShips' majority stake is currently worth about $1.5 billion.
I think that Ocean Rig could trade at about twelve times earnings without stretching the valuation assumptions too far. A valuation of twelve times forward earnings would yield a total Ocean Rig market capitalization of $3.5 billion (compared to $2.6 billion now): DryShips' equity stake would then be worth approximately $2.0 billion.
For comparison purposes, DryShips' current market capitalization stands at around $1.5 billion. In other words: The market currently values DryShips' dry bulk and tanker business as well as its Ocean Rig stake at $1.5 billion, although DryShips' Ocean Rig stake alone is now worth $1.5 billion.
With Ocean Rig having a value of $1.5 billion for DryShips, investors pretty much get the dry bulk shipping and tanker business for free.
Chart situation
There is a good chance that DryShips has bottomed out over the last couple of months and the recent successful break-out at the beginning of June is certainly a bullish sign for the stock.
If DryShips can defend the $3.30-3.40 territory in the short term, the stock could quickly move up to $3.60.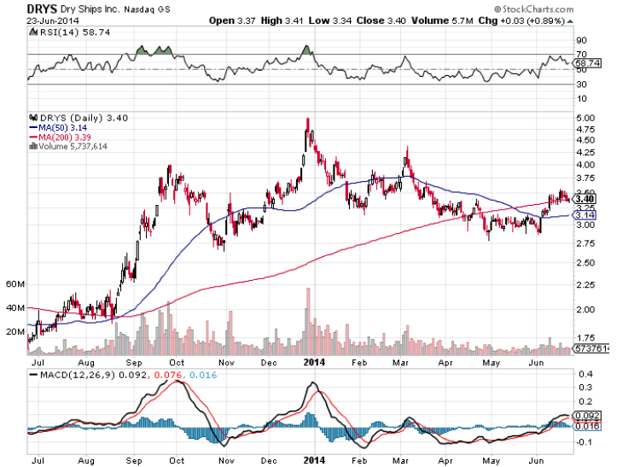 Click to enlarge
(Source: StockCharts.com)
Conclusion
Investors usually concentrate only on the dry bulk shipping market, to which DryShips has significant exposure, but the shipping company also has an extremely valuable position in Ocean Rig, which the market continues to discount. Investors' focus on the depressed dry bulk business is also the reason why the market assigns a comparatively low market capitalization to DryShips.
The market has turned so negative on shipping companies, that investors pretty much get DryShips' dry bulk and tanker business for free. DryShips' current 59.4% stake in Ocean Rig is worth approximately $1.5 billion (based on a low valuation of nine times earnings) which compares against a similar market capitalization of $1.5 billion for all of DryShips.
In other words, the market does not value DryShips' core business at all and also does not value Ocean Rig's potential for multi expansion (an earnings multiple of twelve for Ocean Rig makes for a much more realistic valuation). This is a significant discount to intrinsic value right there. Strong Buy.
Disclosure: The author is long SDRL. The author wrote this article themselves, and it expresses their own opinions. The author is not receiving compensation for it (other than from Seeking Alpha). The author has no business relationship with any company whose stock is mentioned in this article.