"Quality is much better than quantity. One home run is much better than two doubles." Steve Jobs' words and philosophy live on today.
My thesis is that the company he helped build is much more valuable than is commonly understood. Apple (NASDAQ:AAPL) is a "much better" growth company than investors realize and is hitting multiple "home runs".
Yet its stock sells at a price that underestimates both earnings and free cash flow that the company will generate during the next 18 months. Apple is a shareholder-friendly organization that'll soon prove itself today's most underappreciated big tech company.
Perhaps one of the most effective ways to know how determined the leadership of Apple is to "knock the ball out of the park" is to listen. At Apple's June 2 worldwide development conference CEO Tim Cook made it clear that the company intends to grow and excel.
Two takeaway quotes from Cook during the conference speak volumes:
"You've seen how our operating systems, devices, and services, all work together in harmony. Together they provide an integrated and continuous experience across all of our products, and you've seen how developers can extend their experience further than they've ever done before and how they can create powerful apps even faster and more easily than they've ever been able to.

"Apple engineers platforms, devices, and services together. We do this so that we can create a seamless experience for our users that is unparalleled in the industry. This is something only Apple can do. You've seen a few people on stage this morning, but there are thousands of people that made today possible."
Well-known Apple analyst and blogger John Gruber questioned whether Cook could make good on such a grandiose claim. Here's what Gruber wrote on June 13, twelve days after the conference:
"Is this true, though? Is Apple the only company that can do this? I think it's inarguable that they're the only company that is doing it, but Cook is saying they're the only company that can."
Gruber goes on to compare Apple's claim against such tech behemoths as Google (NASDAQ:GOOG) and Microsoft (NASDAQ:MSFT). His conclusion echoes my own.
"Apple, Google, and Microsoft each offer all three things: devices, services, and platforms. But each has a different starting point. With Apple it's the device. With Microsoft it's the platform. With Google it's the services.

"And thus all three companies can brag about things that only they can achieve. What Cook is arguing, and which I would say last week's WWDC exemplified more so than at any point since the original iPhone in 2007, is that there are more advantages to Apple's approach."
No one believes this more than Cook himself. Apple's CEO has a laser-like determination that's "manically focused" on fully utilizing Apple's creative potential to the best.
Perhaps that's why Cook likes to end his presentations with the words "Only Apple". Then he goes to work with his vast team and resources to make good on these words.
By the time The Street finally gets it and believes it, shares of Apple will be 50% higher than they are today. I'm going on record that within the next 18 months AAPL shares will reach $135.
Dividend Increases Will Help Drive the Stock Higher
Apple is the best publicly-traded tech company today at creating mountains of cash. During the last year it generated nearly $47 billion in free cash flow.
Yet it paid out only $11 billion in dividends. That's a frugal payout ratio of less than 24%. By comparison Intel (NASDAQ:INTC) has a payout ratio of 48% according to Morningstar.
If Apple was pressed by activist investors to increase its payout ratio to 36% that would enlarge the dividend by 50%. That factor alone would boost Apple's stock price at least as much as it helped Intel's.
The following chart lets us see the correlation between the company's free cash flow and the price of Apple stock.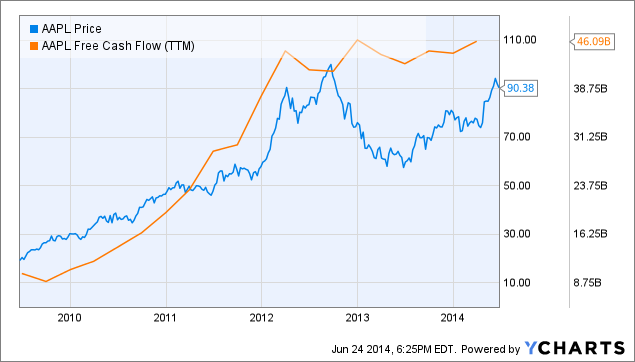 AAPL data by YCharts
Growing its free cash flow is partly why Apple is expanding its product line to include headsets, multiple versions of the iWatch, and medical monitoring systems like the recently announced HealthKit.
Apple's abundant free cash flow calls for a dividend increase during the next three quarters. With a current yield of only 2.08% the stock lags the other large dividend-paying tech giants already mentioned.
In a June 24 report from Bloomberg we also learned that Apple is releasing two phones this year with larger screens. Both will be bigger than the current iPhone's 4-inch display, with the new phones available in 4.7 inch and 5.5 inch sizes.
The report stated that mass production of the 4.7 inch phones will begin next month and that both phones may be ready by September. Apple traditionally releases its new iPhones during that month.
This is an aggressive step for Apple which earns about half its sales revenue from its iPhone business. Apple's smartphones are popular in the United States, yet internationally it controls only 15% of the smartphone market share, according to a recent report from IDC.
The company isn't perfect and I'm aware that mistakes and unforeseen headwinds may impede its growth potential. But the progress the company has made clearly demonstrates that Apple is not a stodgy value stock but a dynamic growth engine.
Apple's Share Price Doesn't Reflect the Ongoing Growth
Even if Apple doesn't launch its own TV or come up with other new surprises this fall, shares of Apple deserve a higher PE ratio. With a trailing PE of 15 and a forward (1 year) PE of only 13, Apple's stock trades more cheaply than a consumer goods company like Clorox (NYSE:CLX) with its forward PE of over 20. Give me a break!
Apple deserves a forward PE of 20 more than Clorox does, and few analysts I communicate with disagree. With a PE of 20 AAPL shares would be priced 54% higher than they are now.
My conclusion doesn't even factor in Apple's outstanding customer loyalty based on its exceptional service. Just visit an Apple store near you and see for yourself.
Having done so recently I can say firsthand business is booming. I came in with an unusual situation and both the manager and the employees went out of their way to make sure my experience was totally satisfying.
My bullish optimism about Apple and its upside is based on these and many other factors. The company, more than ever, is living up to Steve Jobs' philosophy that "quality is much better than quantity" which before long will translate to a much higher share price.
Disclosure: The author is long AAPL, GOOG, MSFT. The author wrote this article themselves, and it expresses their own opinions. The author is not receiving compensation for it (other than from Seeking Alpha). The author has no business relationship with any company whose stock is mentioned in this article.