I am initiating coverage on the North American sportswear sector with a bullish view, which is supported by a combination of rising disposable income, a change in life style, an aging but active population and the increasing sports participation, in particular from women. As sports apparel and technology gradually intertwine, I expect sports participation to increase as participants will be able to have more accurate understanding of their fitness progress and performance status.
I favor sportswear names that have an edge in wearable tech, hence my bullish view on Nike (NYSE:NKE) and Under Armour (NYSE:UA). I also like VF Corp (NYSE:VFC) given its multi-brand product portfolio. Finally, I continue to like Lululemon (NASDAQ:LULU) for its niche market positioning and M&A potential.
According to EuroMonitor, the size of the global sportswear industry was estimated to be $245b in 2013 and is expected to grow at a 4.1% CAGR to reach over $300b by 2017, outperforming the growth of other consumer goods industries such as apparel and footwear, packaged food, cosmetic and consumer electronics.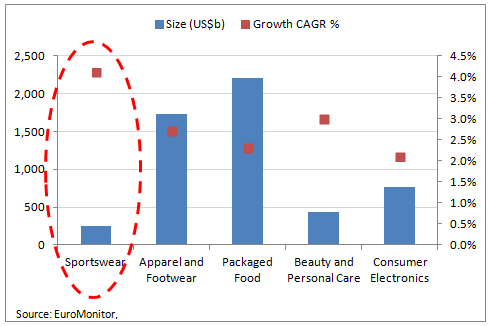 In 2012, North America was the largest sportswear market, followed by Asia and Western Europe, but Asia has a higher growth profile of ~5% vs. 2% in Western Europe.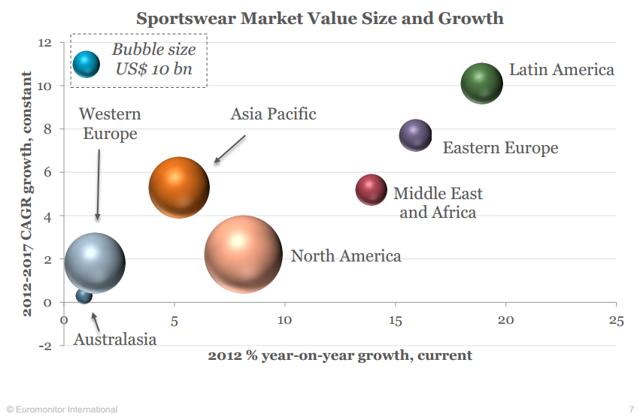 Asia's growth will be mainly driven by China, where we could see >14% disposable income CAGR in the inland regions, such as Haikou, Changzhou, Hangzhou and Changsha, from 2012-2020. Rising urbanization in China, where >170 cities have population of >1 million will also likely to support the growing demand for sportswear and related products in the region. As for Europe, healthy demand from wealthier economies such as France (+3.5% in 2012) and UK (+5.5%) may likely be dragged down by demands from softer economies such as Spain (-1.4%) and Italy (-1.4%).
Nike: Bringing Technology and Sports Together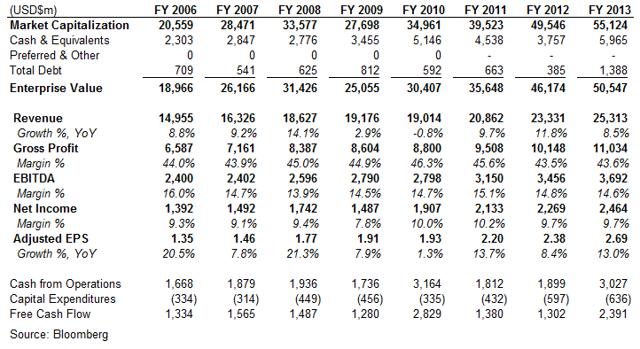 Building a sports-technology ecosystem: In my view, NKE's entry into wearable tech through Nike+ System allowed the company to create its own sportswear ecosystem. NikeFuel is revolutionary in that it tracks the user's activities and gives users a summary of their overall progress, which could further motivate them to reach their fitness or health goals. The result is enhanced user stickiness on the product and higher engagement that ultimately lead to smaller chance of switching to a competing fitness device. NKE's effort on focusing on the software front is a good strategy, in my view, as it will differentiate itself from the competitors in user experience, data mining and analytics. It is not impossible to imagine NKE to introduce athletic gears and apparels with smart features to provide athletes with more accurate analysis of their training, and that could open a new market opportunity for connected sportswear in the future.
Revenue continues to deliver, bottom-line impact by investments: While NKE continue to deliver strong top-line growth led by North America and the emerging markets, investment in the World Cup and Olympic may impact the bottom line in the near term. However the company's proven track record of product innovation is truly exceptional and investors should overweight NKE as long as innovations delivers top line growth.
Conclusion: At 25x FY14E consensus P/E, NKE is trading at a premium compared with the global sportswear group of 21x, and I believe such premium is justified given the company's unique position to capitalize on the wearable tech trend with its sports-technology ecosystem. Remain overweight on the stock for long-term investors.
Under Armour: A relentless innovator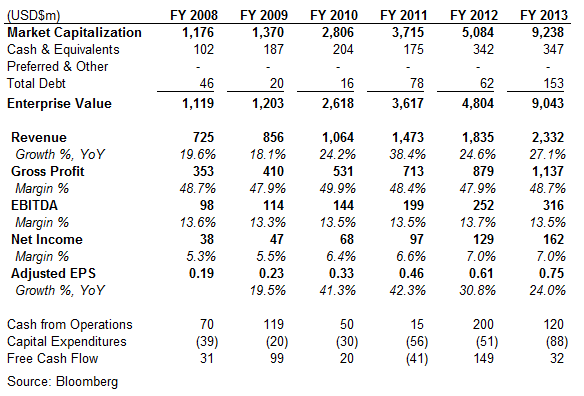 Innovation is in its DNA: UA's core competency lies in its ability to be a leader in sportswear innovation. Ever since its introduction of Model 0039 compression shirt in 1996, the company went on a streak of delivering quality apparel by taking heed of athlete feedback and recommendations. Its cold resistant apparel stood out in that it was the first functional product that ensure both performance and temperature under an unfavorable environment. The company has since leveraged its innovative culture to enter women's apparel segment, footwear, performance monitoring and even the youth segment. Expansion into wearable tech and building its ecosystem will make UA even more of a serious contender in the sportswear market.
Moving into athletic wearable: UA's purchase of MapMyFitness.com was a sound strategic move that puts the company at the forefront of athletic wearable. In my view, MMF gives UA a large athletic wearable consumer base of >20m that will be highly engaged to UA's products and services when mobile activity points are becoming increasingly critical to brand engagement. MMF's user base consists of mostly women (~50%) and international (~30%) which aligns with UA's strategy of focusing more on women and the international market. Finally, MMF's open platform allows UA to expand its addressable market and is significantly superior to closed platform in terms of analytic tools and the level of detail.
Conclusion: At 64x this year's earning and 50x FY15E consensus earnings, UA is not cheap compared with the leading sportswear players, and its valuation may not get cheaper given its innovative growth profile. In addition, UA has an M&A option in that a larger player may acquire the company just to bring in the key personnel to upgrade its R&D capabilities.
VF Corp: The premier outdoor brand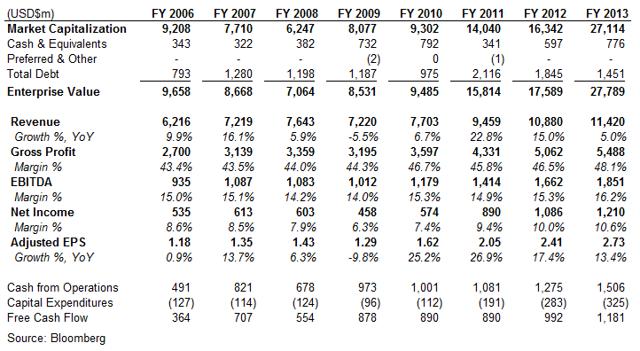 Outdoor coalition leading the way: North Face and Timberland both are considered the premier outdoor and outdoor lifestyle brands globally. With only less than 10% market share of the $25b outdoor market, North Face is poised for market share expansion by leveraging its global distribution and riding on the back of growing interest toward outdoor sports, in particular from Asia, where revenue CAGR is expected to reach 24% for the next five years. Timberland has further upside to market share expansion as the largest outdoor lifestyle brand, especially in the non-sports footwear market where it only has 2%. Finally, the division is also well hedged against the shift towards online purchase by building their own direct-to-consumer channels, which accounts for 20-30% of total sales.
Margin expansion story on track: Management expects gross margin to reach 49.5% by FY17 (vs. 47% now) on the back of distribution channel mix between wholesale, retail and ecommerce. Furthermore, I expect margin expansion to be driven by VFC's pricing power due to quality and brand premium in the outdoor apparel market.
Conclusion: At 20x FY14E consensus earnings and 18x next year's earnings vs. sector average of 21x/20x FY14/15E, VFC is a solid company to own on its strong portfolio of outdoor brands. While North America and Europe continue to have solid prospect, Asia will have the most upside due to lack of leading outdoor apparel brand, allowing the North Face and the Timberland brands to capture a meaningful market share in the region.
Lululemon: Near-term weakness presents a buying opportunity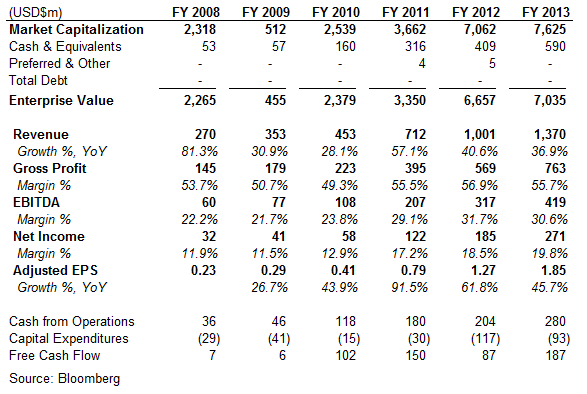 Attractive M&A play: As a niche player that caters to mostly women's sportswear market, LULU has an attractive M&A value to the bigger players who are looking to enter the fast growing yoga apparel segment. LULU's positioning as a premier women's athletic brand and a casual fashion brand is unquestionable. Larger players such as Adidas or VFC could leverage their global distribution and LULU's superior product to capitalize on the fast growing yoga segment. The product recall, the recent management changes and the softer forecast already pushed LULU's valuation to its 2009 level, which I believe makes LULU an attractive takeover target. While competition has certainly heated up in the yoga apparel segment, investors should know that LULU will continue to profit from the high-end segment that places a greater emphasis on quality more than price. Remain positive on the stock due to M&A play.
Menswear and international rollout to drive next leg of growth: LULU expects to accelerate its menswear rollout after seeing encouraging growth and feedback from customers. Management expects $1b opportunity for menswear and will create a new store layout to accommodate the men's section. To promote menswear, I expect LULU to leverage word of mouth and fitness centers, which initially helped LULU to expand its presence and brand. Looking ahead, international markets, in particular the emerging markets, offer the most attractive growth potential as the high-income female population begin to participate in fitness classes and demand quality sportswear that is both comfortable and attractive.
Conclusion: At 21x FY14E consensus, LULU is trading on par with the sportswear sector group but offers the most compelling M&A option for investors. Even if M&A does not materialize, menswear rollout and the gradual overseas expansion continue to offer investors a solid growth story. Remain overweight on the name.
Disclosure: The author has no positions in any stocks mentioned, and no plans to initiate any positions within the next 72 hours. The author wrote this article themselves, and it expresses their own opinions. The author is not receiving compensation for it (other than from Seeking Alpha). The author has no business relationship with any company whose stock is mentioned in this article.