Anadarko Petroleum's (NYSE:APC) share price has been gaining momentum with the company's smart capital allocation strategy. The stock gained almost 41.55% since the start of 2014, and in the past three months, about 32% of the growth came after the settlement of Tronox Adversary Proceeding and strong first quarter results. The company has fully settled claims of $5.15 billion to the plaintiffs.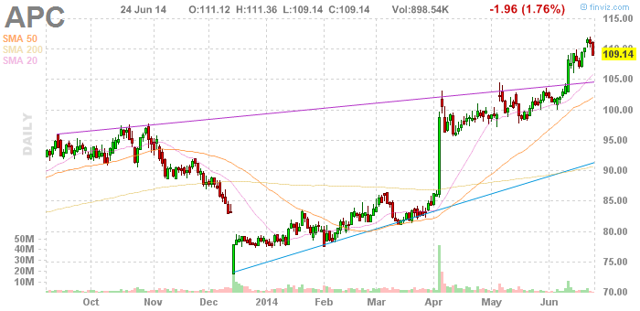 Anadarko Chairman, President, and CEO Al Walker said:
This settlement agreement with the Litigation Trust and the U.S. Government eliminates the uncertainty this dispute has created, and the proceeds will fund the remediation and cleanup of the legacy environmental liabilities and tort claims…Investor focus can now return to the tremendous value embedded in Anadarko's asset base, allowing our peer-leading operational and exploration results to again become the basis for valuation. We are grateful to our stakeholders who have maintained their confidence and trust in our people and our assets.
Mr. Al Walker's statement regarding the Tronox settlement is true. The company has maintained a very strong asset base with its smart and disciplined capital allocation strategy. Anadarko has been generating very strong oil and natural gas liquid production growth. In the most recent quarter, its onshore assets Eagle Ford, Wattenberg Field, and Wolfcamp Shale have generated record sales volumes, and overall, these three areas added 14,000 barrels per day in its oil volumes compared to the fourth quarter of 2013. Its Wattenberg Field increased sales volumes by 7,000 barrels a day, and the company is investing in this Wattenberg field for continued future growth.
Anadarko's strategy is to expand its oil and liquid production as they offer high volume and high margins. Therefore, its 2014 capital program is focused more towards oil and liquid plays. It is expecting to invest around 85% of its capital budget on expanding oil and liquid plays. Thus, Anadarko is expecting U.S. onshore store sales volumes to grow by more than 10% on a year-after-year basis to over 625,000 BOE per day, including an estimated 50,000 barrels-per-day rise in liquids volumes. Most of the growth is expected to arrive from its Eagleford Shale development, Wattenberg Horizontal program, and liquids-rich growth plays like the East Texas/North Louisiana area and Wolfcamp Shale.
Furthermore, in the Gulf of Mexico, Anadarko will start producing 80,000 barrels-of-oil-per-day in the last quarter of 2014 from the Lucius development. In addition, the company will perform appraisal activities at the Shenandoah Basin, which is one of the largest oil accumulation places ever to be discovered in the Gulf of Mexico. In Algeria, El Merk Project is expected to increase production by 30% on a year-after-year basis, which is currently producing over 30,000 barrels per day. It is also working on natural gas projects. In Mozambique, Anadarko's natural gas resources increase from 45 to 70+ trillion cubic feet following exploration and appraisal activities in 2013.
In Conclusion
Anadarko Petroleum is set to generate big profits in the upcoming quarters with its smart and efficient capital allocation and active portfolio management. Its focus towards growing liquid production and having a very attractive portfolio of oil and liquid rich plays will lead it to generate 6-7% growth in production. Moreover, as the oil and liquid plays offer healthy margins, it is expecting to boost profits and cash flows. The company's cash-generating potential is strong as its operating cash flows are enough to cover capital requirements. With the increase in production, earnings, and the settlement of Tronox, its cash flows are expected to increase. Anadarko has demonstrated this trend recently by making an increase of 50% in its dividends. In addition, its stock is gaining momentum, and its very high forward PE of 19 illustrates a very strong upside potential ahead.
Disclosure: The author has no positions in any stocks mentioned, and no plans to initiate any positions within the next 72 hours. The author wrote this article themselves, and it expresses their own opinions. The author is not receiving compensation for it (other than from Seeking Alpha). The author has no business relationship with any company whose stock is mentioned in this article.