Pengrowth Energy (NYSE:PGH) has long been one of my core holdings. The stock offers several compelling reasons to own, including its 6.50% yield and upcoming production and FFO growth via Lindbergh. In addition, Pengrowth is a value play, trading at deep discount to its NAV.
Pengrowth sees the value of its Lindbergh 2P reserves double
On June 24, Pengrowth announced an update to its bitumen reserves and contingent resources at Lindbergh provided by the independent oil and gas consulting firm GLJ Petroleum Consultants Ltd. ("GLJ").
According to GLJ, as of May 31, 2014, it estimates that there are 101.0 MMBBL of 1P reserves (proved reserves) and 229.7 MMBBL of 2P reserves (proved plus probable reserves) attributable to the Lindbergh project. This would mark a 24% increase in proved reserves and a 61% increase in 2P reserves from December 31, 2013.
Furthermore, the GLJ report noted that 19.6 MMBBLs of probable reserves had been reclassified to proved and an increase of 87.4 MMBBL in (2P) reserves, offset by about 0.3 MMBBLs of production YTD.
In addition, due to the increases in reserves, the best estimate for contingent resources ("2C") has been reduced by 41% to 96.0 MMBBL.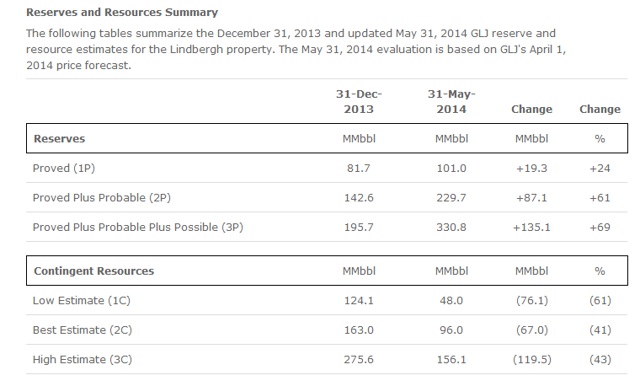 Click to enlarge
As a result of the reclassification of the reserves, Pengrowth has now updated its before-tax net present value ("NPV") estimates for Lindbergh.
As shown below, the value of Lindbergh's Proved Plus Probable ("2P") reserves has more than doubled, from $1.02 billion to $2.22 billion, a 117% increase. On a per share basis, this represents a 115% increase, from $1.95 to $4.20, the difference due to a slightly increased share count related to the DRIP program.
To put it more simply, due to improved results from Lindbergh, Pengrowth's NAV based on reserves has increased by over $2.00 per share.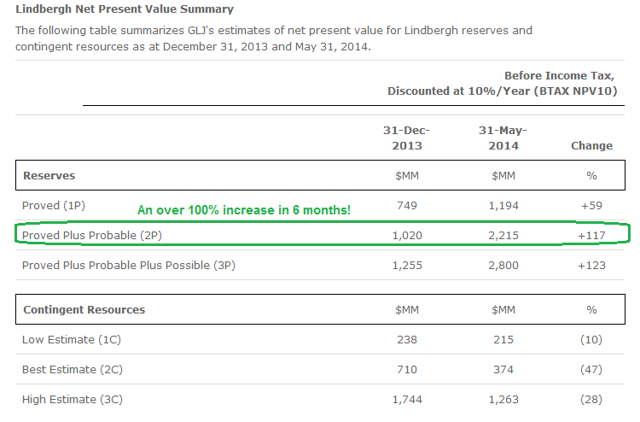 Click to enlarge
Lindbergh construction remains on track and on budget
In its release, Pengrowth also provided an update on the Lindbergh Phase I construction and the two pilot wellheads' performance.
Regarding the pilot wells, Pengrowth noted that it was seeing average production of approximately 1,785 BBL/D and an ISOR of 2.4, compared with 1,780 BBL/D of production and an ISOR of 2.1 for Q1 2014. Both production and the ISOR are slightly above expectations.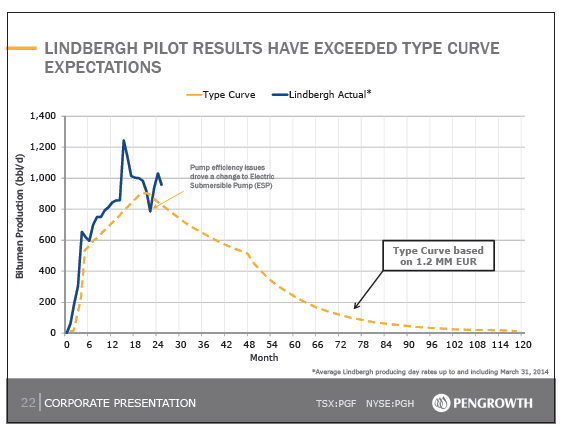 As for Phase I of the Lindbergh ramp-up, Pengrowth is seeing the project remain on schedule. All of the major equipment is on-site, and over 80% of the wells have been drilled. As for the budget, Pengrowth is not expecting to exceed its revised budget, and has so far spent 85% of the planned capex of $630 million. First steam is expected to start in Q4 2014, while the first production is expected by Q1 2015.
Phase I of Lindbergh is estimated to produce around 12,500 BBL/D of thermal crude, expandable up to 50,000 BBL/D. This production will provide a stable source of high netback production for Pengrowth with very modest decline rates.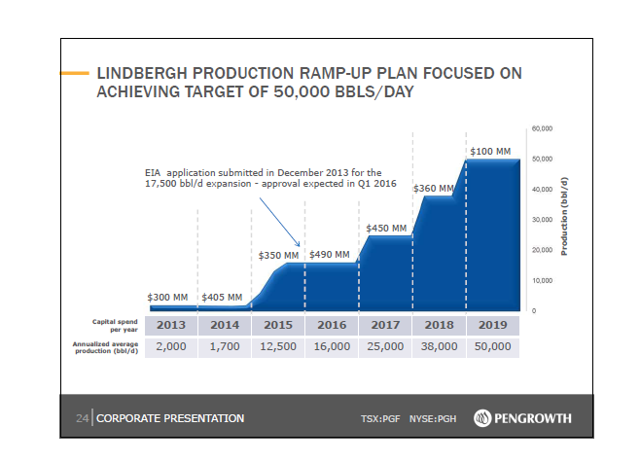 Click to enlarge
Conclusion
Pengrowth appears to be operating well. I still believe the market is not factoring in the future production growth coming from Lindbergh. As I have noted in prior articles, Pengrowth should see its FFO per share increase by over 30% in 2015 (from $1.00 to $1.31) as a result of Lindbergh.
Due to the updated value of the Lindbergh reserves, I am updating my fair value estimate for Pengrowth to $10 to $11 per share, implying 42% to 57% of upside from the current prices of around $7 per share.
Disclaimer: The opinions in this article are for informational purposes only and should not be construed as a recommendation to buy or sell the stocks mentioned. Please do your own due diligence before making any investment decision.
Disclosure: The author is long PGH. The author wrote this article themselves, and it expresses their own opinions. The author is not receiving compensation for it (other than from Seeking Alpha). The author has no business relationship with any company whose stock is mentioned in this article.