Seadrill Limited (NYSE:SDRL) is down close to 3% pre-market as we speak. This stock has long been on our radar but the price just didn't feel right until now. The stock was down 2% during regular trading on 6/24/2014 and if the pre-market activity is any indication, then 6/25/2014 might turn out to be a good day to initiate a position in this stock.
We present a few reasons why we are looking at Seadrill right now. Let us get into the details.
Yield: Let us get the obvious out of the way. Seadrill has always been known as a high-yielding player with the 5 year average yield at 8%. The selling in the last two days has pushed the yield well above 10%. And we must remember this is not the typical high-yielding junkie stock but one that has the unique mix of three "highs". High yield, high quality, and high risk.
Seadrill is not the typical stock for a dividend growth investor but there is no rule that says a dividend growth [DG] investor must not hold other positions. The optimist in us looks at the chart below and thinks "even from a DG perspective, this chart isn't bad so far". Please note that the 2014 numbers are for just two payouts and if the same payments are maintained for the next 2 quarters, then the 2014 dividend will be more than 2013's.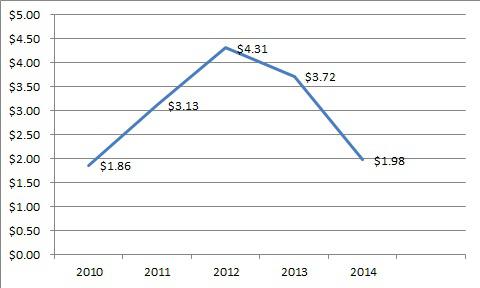 (Source: Data from Yahoo Finance)
Trading Range/Valuation: As we've mentioned in many previous articles, a stock trading at the lower end of its range does not make it a buy automatically. But when you see stocks of companies with good prospects trading at the lower end of the trading range, it might be worth taking a look.
Seadrill closed 2013 at $41 and went as low as $33 in March 2014 before making a rebound to $40 at the end of last week. But the stock is now at the $38 level as of this writing and if the market comes under pressure this week, we could see more selling in high risk names like Seadrill. And therein lies the opportunity for long term investors who can stomach the roller coaster ride that this stock is sure to provide. The "regular" trailing twelve month earnings/share equal $3.41 and that means at $38, the stock is carrying a multiple of just 11. Keep in mind that earnings are expected to grow at 18%/yr over the next 5 years. The key word there is "expected" and take that estimate with a pinch of salt.
Long-term Growth: It is really hard to imagine deep water drilling slowing down in the long term. There will definitely be short term fluctuations in the fortunes of these companies (remember the write offs the company had to take in 2009 or even BP's nightmare in 2010). But Seadrill has been focusing a lot on safety, as evidenced by recruiting efforts for the "Safety Officer" positions in multiple countries like Brazil and Nigeria. As mentioned in this wonderful SA article, a good 90% of its fleet are less than 10 years old.
The company has a well established strong footing in the North Atlantic but it is no one trick pony. The recent deal with Russia's Rosneft (OTC:RNFTF) gives the company an entry point into the promising Russian market. The stock market cheered that announcement and took Seadrill off its downturn but the stock is now almost back to that same price in the late $30s.
Personal Reason: So far, our portfolio consists of mostly proven and venerable dividend growth stocks. The "riskiest" stock in our portfolio right now is Realty Income (NYSE:O) and most would consider that as being too defensive. We've been looking at buying a "high-risk high-reward" stock and Seadrill fits that bill perfectly. Adding the 10% yield does not hurt the income part of it.
Conclusion: So, what are your thoughts on this high yielding driller ? Do you have a place for such stocks in your portfolio ? Please leave your comments below. We will be watching for the price action this week and initiate a position if desired.
Disclosure: The author is long O. The author wrote this article themselves, and it expresses their own opinions. The author is not receiving compensation for it (other than from Seeking Alpha). The author has no business relationship with any company whose stock is mentioned in this article. May initiate a long position in SDRL this week.