Concerns that Microsoft (NASDAQ:MSFT) is lagging in the mobile and tablet markets is causing some analysts to scale back their 12-month price targets for the software giant.
This morning Janney Capital analyst Sasa Zorovic cut his rating on Microsoft to Neutral and lowered his price target from $30 to $28, citing a need for an approach to address broader segments in the market. "A series of stumbles in mobile has led the company to a position where, in our view, it is becoming quite difficult to catch up, and this is the direction in which computing platforms are moving," he said.
He joins Goldman analyst Sarah Friar, who earlier this week reduced her target to $28 (from $32), citing worries about the tablet landscape and the PC refresh cycle. She had raised her target from $31 to $32 earlier in the summer. "We believe the intrinsic value of shares cannot be unlocked if the status quo remains, and we have increased caution near term on a more elongated PC refresh cycle, combined with the newer threat of notebook cannibalization from tablets, where Windows does not yet have a presence."
Oppenheimer's Brad Reback also cut the target on Microsoft in September from $35 to $30, but retained his Outperform rating.
Despite these downgrades, the median price based on the the thirteen most recent targets tracked by Alacra Pulse remains at $32. However, the mean target price has edged down to $31.53 from $32.30 in mid-August. Microsoft closed Monday at $23.91.
Click to enlarge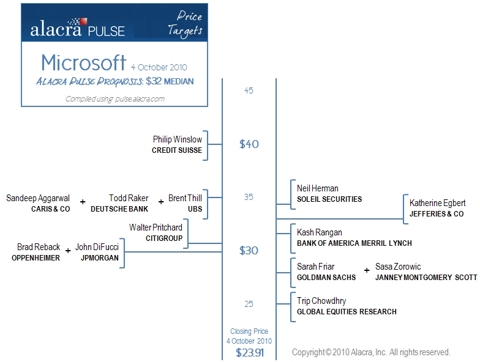 While most analysts are clustered between $28 and $35, Credit Suisse's Philip Winslow in September reiterated his high $40 target and Outperform rating. Trip Chowdhry of Global Equities Research, who started the current round of more negative thinking on Microsoft with a major downgrade in August, continues to bring up the rear with a target of $25 and an Equal Weight rating.
Also in September, Katherine Egbert of Jefferies & Company reiterated her Buy rating on the company and $33 target. She remains bullish on the stock as a result of its recent dividend raise and share repurchase plan. "Our $33 price target applies the current S&P multiple of 12.6x for CY10 to our CY10E EPS for Microsoft, plus $5.03 in net cash. We believe MSFT should be assigned a market multiple given its overlapping product cycles, market dominance, growth and profitability profile."
Citi's Walter Pritchard maintained his $31 price target and Buy rating but also raised the question of the company's ability to address the mobile and tablet challenges. "While secular concerns will likely continue to keep a lid on shares, we expect upward earnings revisions can continue. Medium term, we believe the company's ability to address concerns around tablet, online and phone will drive share performance more than buyback or dividend moves."
PC veteran Jonathan Yarmis (who recently left industry analyst firm Ovum) offers this analysis of Goldman's downgrade and a bleak assessment of Microsoft's future: "With the emergence of new platforms — social, mobile and cloud — unless Microsoft gets more competitive and more aggressive in all three of these areas, it is not out of the realm of possibility to think that Microsoft becomes the CA of this decade, exploiting a captive installed base but doing little else of fundamental interest."