The last time I wrote about Priceline Group Inc. (NASDAQ:PCLN), I stated, "Due to the bullish technicals, great near-term earnings growth potential, and great long-term earnings growth potential, I'm going to be pulling the trigger on a small batch right now." The stock has "popped" 0.64% (but gained as much as 7.9% just a couple of days after the article) versus the 2.6% gain the S&P 500 (NYSEARCA:SPY) posted during that time frame. It's safe to say that the decision wasn't a good one as of yet. Priceline is an online travel company that offers its customers hotel room reservations through Booking.com, priceline.com and Agoda brands. In the U.S., the company also offers its customers reservations for car rentals, airline tickets, vacation packages, destination services, and cruises through priceline.com.
On 8th May '14, the company reported first-quarter earnings of $7.81 per share, which beat the consensus of analysts' estimates by $0.88. In the past year, the company's stock is up 48.17% and is beating the S&P 500, which has gained 22.44% in the same time frame. Since initiating my position back on 26th February '14, I'm down 10.46%, including dollar cost averaging. With all this in mind, I'd like to take a moment to evaluate the stock on a fundamental, financial and technical basis to see if right now is a good time to purchase more of the stock for my growth portfolio.
Fundamentals
The company currently trades at a trailing 12-month P/E ratio of 32.13, which is expensively priced, but I mainly like to purchase a stock based on where the company is going in the future as opposed to what it has done in the past. On that note, the 1-year forward-looking P/E ratio of 18.78 is currently fairly priced for the future in terms of the right here, right now. The 1-year PEG ratio (1.41), which measures the ratio of the price you're currently paying for the trailing 12-month earnings on the stock while dividing it by the earnings growth of the company for a specified amount of time (I like looking at a 1-year horizon), tells me that the company is fairly priced based on a 1-year EPS growth rate of 22.76%. The company has great near-term future earnings growth potential with a projected EPS growth rate of 22.76%. In addition, the company has great long-term future earnings growth potential with a projected EPS growth rate of 19.87%. Below is a comparison table of the fundamental metrics for the company for when I wrote all articles pertaining to the company.
| | | | | | | | |
| --- | --- | --- | --- | --- | --- | --- | --- |
| Article Date | Price ($) | TTM P/E | Fwd P/E | EPS Next YR ($) | Target Price ($) | PEG | EPS next YR (%) |
| 24Apr14 | 1,231.01 | 33.88 | 19.08 | 64.52 | 967 | 1.45 | 23.32 |
| 24May14 | 1,197.12 | 31.92 | 18.66 | 64.14 | 962 | 1.40 | 22.77 |
| 24Jun14 | 1,204.73 | 32.13 | 18.78 | 64.13 | 962 | 1.41 | 22.76 |
Financials
On a financial basis, the things I look for in general are the dividend payouts, return on assets, equity and investment. The company does not sport a dividend to speak of, but is sporting return on assets, equity, and investment values of 19.0%, 30.0% and 22.8%, respectively, which are great values. In this particular instance, I will forego the dividend aspect of the financials because the stock is in my growth portfolio; and in the growth portfolio, a stock does not have to have a dividend.
The really high return on assets value (19%) is important because it is a measure of how profitable the company is relative to its assets, telling us how efficient a management team is at using its assets to generate earnings (for comparison purposes, Priceline has the third highest ROA in the large cap business services sector behind McGraw-Hill Financial, Inc. (MHFI) which sports an ROA of 27% and Moody's Corp. (NYSE:MCO) which sports an ROA of 20%).
Below is a comparison table of the financial metrics for when I wrote all articles pertaining to the company.
| | | | | | |
| --- | --- | --- | --- | --- | --- |
| Article Date | Yield (%) | Payout TTM (%) | ROA (%) | ROE (%) | ROI (%) |
| 24Apr14 | N/A | N/A | 20.1 | 32.7 | 22.8 |
| 24May14 | N/A | N/A | 19.0 | 30.0 | 22.8 |
| 24Jun14 | N/A | N/A | 19.0 | 30.0 | 22.8 |
Technicals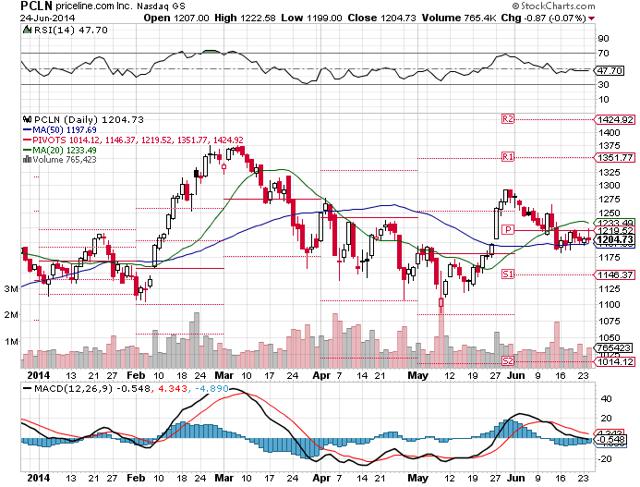 Looking first at the relative strength index chart [RSI] at the top, I see the stock in middle-ground territory with a current value of 47.7. I will look at the moving average convergence-divergence [MACD] chart next. I see that the black line is below the red line with the divergence bars increasing in height, indicating bullish momentum may start to mount again. As for the stock price itself ($1204.73), I'm looking at $1219.52 to act as resistance and $1146.37 to act as support for a risk/reward ratio, which plays out to be -4.84% to 1.23%.
Sitting At The OpenTable
On 13 June '14, OpenTable (NASDAQ:OPEN) agreed to a $103 per share buyout by Priceline; accounting for a 46% premium. The deal cost Priceline a total of $2.6 billion in cash and is expected to close in the third quarter. This move is obviously to the betterment of Priceline as it can now offer additional services in the e-commerce arena. I've yet to see the tender offer documents get filed on the SEC website, but on that document, there should be a section that states if there were any other potential suitors for OpenTable. OpenTable is currently trading for $104.27, which is above the Priceline offer price, so it could be that investors are potentially bidding up the stock hoping for a white knight scenario where someone can swoop in and take it out for a higher price. If it turns out that there were other potential suitors prior to Priceline, it could be very possible one of them becomes the white knight.
My best guess would have been Yahoo (NASDAQ:YHOO), Google (NASDAQ:GOOG) (NASDAQ:GOOGL), or Yelp (NYSE:YELP) taking OpenTable out, not Priceline. In all actuality, I thought Priceline would be sniffing around for something more in the arena of timeshares and the like, not really restaurant seating. The barrier to entry in this reservation-taking industry is pretty much non-existent (Priceline probably felt it was cheaper to buy it rather than build it internally), but it appears Priceline thinks it can make it work. I envision the company incorporating OpenTable to its travel packages where customers can reserve a spot at one of the top restaurants while booking the vacation.
Conclusion
Summer officially kicked off a few days ago and it's during this time that families like to take some time off of work and go somewhere for a little vacation. What better way is there to book your summer vacation other than using a website? One of the top sites to visit is actually Priceline and the rest of its affiliates. Last summer the stock of this online travel company gained 16.74% during the summer (07Jun13 through 30Aug13), could it be in for a repeat performance?
Fundamentally, I believe the stock to be fairly valued on next year's earnings estimates and on growth potential. Financially, there isn't a dividend to speak of but the company sports an excellent return on assets. On a technical basis, the stock appears to have some upward momentum but the risk/reward ratio is pretty high. With the fair valuation, high risk/reward ratio, and the market uncertainty due to the geopolitical turmoil going on right now I'm not going to be adding any shares at this point in time.
Disclaimer: This article is meant to serve as a journal for myself as to the rationale of why I bought/sold this stock when I look back on it in the future. These are only my personal opinions and you should do your own homework. Only you are responsible for what you trade and happy investing!
Disclosure: The author is long PCLN, SPY. The author wrote this article themselves, and it expresses their own opinions. The author is not receiving compensation for it (other than from Seeking Alpha). The author has no business relationship with any company whose stock is mentioned in this article.