Investors whose memories reach back before 1997 remember the allure of the Asian Tigers. They were the fast-growing nations stretching from Malaysia to Taiwan. Together they drove a regional stock boom.
Back then, every financial expert said it was essential to own some of the Asian Tigers in your portfolio or mutual fund. Then the Asian financial crisis hit the region like a cyclone. Over the course of two years a decade of financial progress was wiped out. So were many investments.
Oddly enough it was China that weathered the crisis in the best condition. The current thinking is that China had enough capital and enough central control to ride out the storm. As we know now, China not only survived, it triumphed.
Today, China's economy has weathered an even bigger typhoon, the global financial crisis. And this time China has emerged with enough clout to spur a new regional boom in Asian stock markets. Many Asian stocks are now touching their highest levels in two years. Regional Indexes are showing strong recovery from the worldwide crisis.
Once again, the Asian Tigers have become a place worthy of investment consideration.
Comparing Winners and Losers
Nobody questions that China's roaring economy is behind the regional stock market boom. The remarkable thing is that that Shanghai Composite Index has underperformed its neighbors.
Shanghai Composite Index: Three Months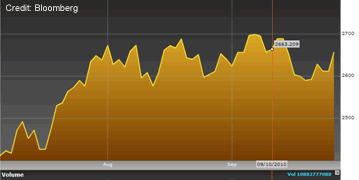 Shanghai's modest gains over the past three months are out of line with the success of the Chinese economy. The likely culprit is the skyrocketing real estate market which is luring away many investors who were burned by the last market crash.
By contrast, Hong Kong's Hang Seng Index has hit a ten-month peak, amid widespread optimism about the China wealth effect.
Hang Seng Index: Three Months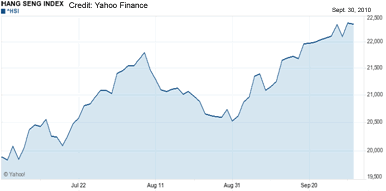 Across the Straits of Taiwan, Taipei's stock exchange is showing a strong rise with a 10 percent gain over 3 months:
Taiex Index: Three Months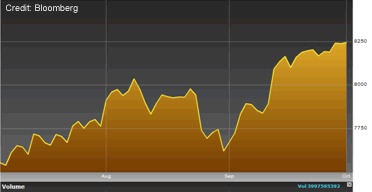 Korea's KOSPI Index is showing even stronger gains in the 12 percent range.
Korea KOSPI Index: Three Months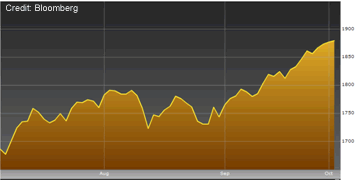 Singapore's Straits Times Index shows a similar gain.
Straits Times Index: Three Months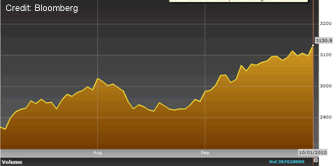 One of the best performers is Malaysia with a 15 percent gain.
FTSE Bursa Malaysia KLCI: Three Months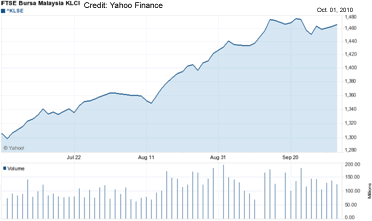 And, the best performer in the region is Bombay's Sensex Index with a gain in the 17% range.
Bombay Sensex Index: Three Months
AND THE LOSERS ARE...
Japan continues to lag regional gains due to systemic financial malaise. Many changes of government and feeble attempts at reform failed to produce results as China sailed past Japan to become the world's number two economy.
Nikkei Index: Three Months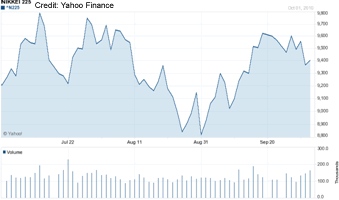 While Japan has been flat, Australia has eked out a 7 percent gain, largely on the strength of resource sales to China.
ASX 200 Index: Three Months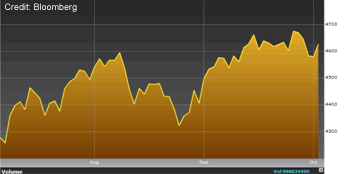 The biggest winner is the biggest surprise. Thailand has been rocked by political strife. But this instability hasn't stopped the stock markets from soaring by almost 20 percent.
Thailand Stock Exchange Index: Three Months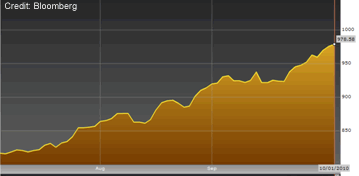 Although some of the Asian Tigers are showing results comparable to the S&P 500, it's worth taking note of the underperformers and outperformers in this region.
Considering the relative strength of the U.S. economy, diversifying one's holdings among the Asian Tigers may make financial sense once again.
Disclosure:
No positions