ServiceMaster Global Holdings Inc. (NASDAQ:SERV), a provider of building maintenance services for businesses and homes, plans to raise $700.1 million in its upcoming IPO.
The Memphis, Tennessee-based firm will offer 35.9 million shares at an expected price range of $18-$21 per share. If the IPO can reach the midpoint of that range at $19.50 per share, SERV will command a market value of $2.5 billion.
Strong Underwriting
SERV filed on March 24, 2014.
Lead Underwriters: Credit Suisse Securities (USA) LLC; Goldman, Sachs & Co.; J.P. Morgan Securities LLC; Morgan Stanley & Co. LLC
Underwriters: BofA Merrill Lynch; Jefferies LLC; Natixis Securities Americas LLC; Piper Jaffray & Co.; RBC Capital Markets, LLC; Robert W. Baird & Co. Incorporated; Samuel A. Ramirez & Company, Inc.
Summary of SERV's Services
SERV is a leading provider of building maintenance services, operating numerous recognizable brands in different maintenance sectors.
The firm's brands include pest control provider Terminix, home warranty provider American Home Shield, disaster restoration specialists ServiceMaster Restore, janitorial service provider ServiceMaster Clean, residential cleaners Merry Maids, furniture repair provider Furniture Medic, and home inspector AmeriSpec.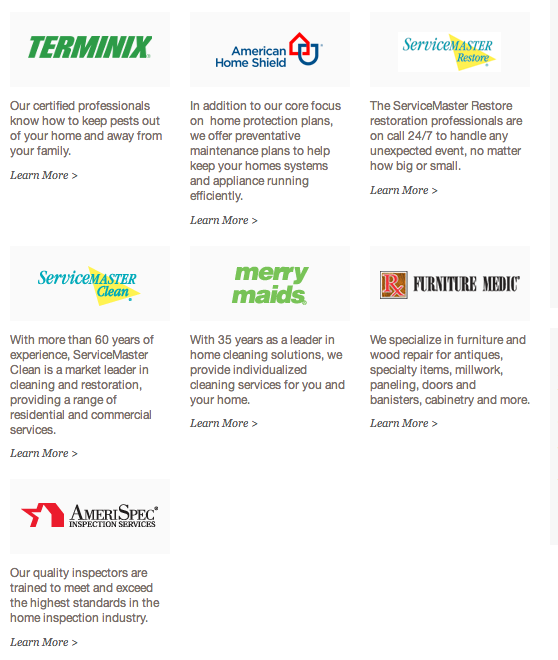 (Source)
Terminix represents by far the firm's largest segment, accounting for some 60% of SERV's revenue in the first quarter of 2014. Home warranties are also a significant element of the SERV's revenue, and SERV believes that American Home Shield is four to five times the size of its nearest competitors.
SERV's network currently includes over 7,000 franchised, company-owned, and licensed locations. SERV believes that it gains some security from risk through its large scale and from its diversity of revenue sources. The firm's customers are distributed across the United States, and while all of the firm's services are related to building maintenance, they are dissimilar enough as to be resistant to company-wide problems.
SERV was taken private by private equity firm Clayton, Dubilier & Rice, LLC (CD&R) in 2007. CD&R will hold approximately 47.3% of SERV's common shares with the conclusion of the IPO. This is a quality PE firm that has a lot to gain by pricing this company's IPO conservatively.
Valuation
SERV offers the following figures in its S-1 balance sheet for the three months ended March 31, 2014:
Revenue: $533,000,000.00
Net Loss: ($113,000,000.00)
Total Assets: $5,197,000,000.00
Total Liabilities: $5,566,000,000.00
Stockholders' Equity: ($369,000,000.00)
Competitors In Each Business Segment
SERV faces different competitors in each of its business segments, though no one competitor offers the same array of services as SERV.
Pest control competitors include Orkin, Inc., a subsidiary of Rollins, Inc. (NYSE:ROL) and Ecolab, Inc. (NYSE:ECL), as well as numerous regional and local firms.
Home warranty competitors are mainly regional competitors; the two largest national competitors are Old Republic International Corporation (NYSE:ORI) and First American Financial Corporation (NYSE:FAF).
Management Overview
CEO Robert J. Gillette has served in his current position and as a director since June 2013.
He previously served as the owner and president of Gillette Properties, LLC, a residential property developer.
He also served as the CEO of First Solar, Inc., and as the president and CEO of Honeywell International, Inc.'s aerospace division. Earlier in his career, Mr. Gillette served in a variety of executive and field roles with General Electric.
Mr. Gillette holds a B.A. in Finance from Indiana University.
Outlook For Investors
We like this IPO if it prices in or below the range.
ServiceMaster is massive in scale, and could benefit from name recognition and the strength of its underwriters; however, the firm simply hasn't been able to consistently generate profits, and that is a concern.
CD&R has had seven years to improve the firm's fortunes. Since it will continue to own a huge amount of the firm after the IPO, it have a lot of incentive to conservatively price the deal so that it goes up in price, so that it can do a secondary over the next twelve months.
We invite readers wishing to join the discussion on IPOs to click the +FOLLOW button above the title of this article.
Note: As a large sample of information sources does not yet exist for SERV, we have taken much of the information for this article directly from SERV's S-1 filing.
Disclosure: The author has no positions in any stocks mentioned, but may initiate a long position in SERV over the next 72 hours. The author wrote this article themselves, and it expresses their own opinions. The author is not receiving compensation for it (other than from Seeking Alpha). The author has no business relationship with any company whose stock is mentioned in this article.