Minerva Neurosciences, Inc. (NASDAQ:NERV), a clinical-stage biopharmaceutical firm seeking to develop and commercialize products for the treatment of central nervous system diseases, plans to raise $60.0 million in its upcoming IPO.
The Cambridge, Massachusetts-based firm will offer 5.5 million shares at an expected price range of $10-$12 per share.
If the IPO can find the midpoint of that range at $11 per share, NERV will command a market value of $187 million.
Underwriting
NERV filed on March 24, 2014
Lead Underwriters: Jefferies LLC
Underwriters: JMP Securities LLC; Robert W. Baird & Co. Incorporated
Summary of NERV Product Candidates
NERV is a clinical-stage biopharmaceutical firm seeking to develop and commercialize treatments for central nervous system (CNS) diseases.
The firm currently has four lead product candidates in development, including MIN-101 for the treatment of schizophrenia, MIN-117 for the treatment of major depressive disorder, MIN-301 for the treatment of Parkinson's disease, and MIN-202, which NERV is co-developing with Janssen Pharmaceuticals for the treatment of primary and secondary insomnia. MIN-101 and MIN-117 are the most advanced of these products, with Phase IIb trials of each planned for late 2014.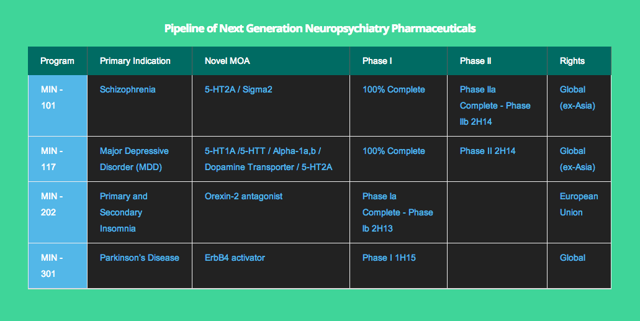 (Source)
NERV has retained global commercial rights for MIN-301, and global commercial rights with the exception of most of Asia for MIN-101 and MIN-117. Pursuant to an agreement with Janssen Pharmaceuticals, NERV will have European Union development and commercialization rights for MIN-202, subject to the completion of the IPO.
NERV has made multiple strategic mergers, acquisitions, and partnerships in order to expand its product portfolio. Aside from its collaboration with Janssen, the firm acquired the shares of Mind-NRG SA to gain the rights to MIN-201, and merged with Sonkei Pharmaceuticals, Inc. to gain the rights to MIN-101 and MIN-117.
Valuation
NERV offers the following figures in its S-1 balance sheet for the three months ended March 31, 2014.
Revenue: $0.00
Net Loss: ($2,938,418.00)
Total Assets: $53,137,881.00
Total Liabilities: $19,052,786.00
Stockholders' Equity: $34,085,095.00
NERV's current lack of revenue is typical of a pre-commercial biopharmaceutical firm, and should not be taken as a predictor of the firm's future success or failure.
The firm will be unable to generate significant revenues or profits until it has commercialized one or more of its product candidates.
Stiff Competition From Powerful Competitors
In the event that they receive regulatory approval, NERV's products will face significant competition from companies that have developed or are in the process of developing treatments for the same indications.
Many of these companies have access to significantly greater financial and technical resources than NERV. Major competitors and potential competitors include Johnson & Johnson (NYSE:JNJ), Bristol-Myers Squibb Co. (NYSE:BMY), AstraZeneca plc (NYSE:AZN), GlaxoSmithKline (NYSE:GSK), Eli Lilly and Company (NYSE:LLY), Pfizer Inc. (NYSE:PFE), and Merck & Co. (NYSE:MRK).
Management Overview
President and CEO Rogerio Vivaldi Coelho, MD, MBA has served in his current roles and as a director since November 2013.
He previously served as the senior vice president-head of Rare Diseases Business Unit, senior vice president-head of Renal and Endocrinology Business Unit, and senior vice president-head of Genzyme Latin America at Genzyme, which he founded in 1997.
He received a medical degree from the University of Rio de Janeiro and an MBA from Federal University of Rio de Janeiro.
Conclusion: Too Early To Tell
We are neutral on this IPO.
Like all clinical-stage biopharmaceutical firms, NERV is heavily reliant on the success of its product candidates, and even its most advanced candidates are still a great distance from gaining regulatory approval.
However, the diseases that NERV's candidates target impact massive and underserved markets, and NERV stands to profit heavily if it can successfully commercialize them.
NERV's multiple product candidates are an encouraging sign, as it is not entirely dependent on the success of any one candidate. The firm's enterprising efforts to acquire promising new product candidates also bode well for its future success.
We invite readers wishing to join the discussion on IPOs to click the +FOLLOW button above the title of this article.
Note: As a large sample of information sources does not yet exist for NERV, we have taken much of the information for this article directly from NERV's S-1 filing.
Disclosure: The author has no positions in any stocks mentioned, and no plans to initiate any positions within the next 72 hours. The author wrote this article themselves, and it expresses their own opinions. The author is not receiving compensation for it (other than from Seeking Alpha). The author has no business relationship with any company whose stock is mentioned in this article.