Yesterday was an interesting day in the market where we saw weakness, we saw strength and then we also saw a lot more weakness. The market got rattled yesterday and for the first time in a while saw a lack of interested buyers on the dip, which is why we ended at session lows.
Even more telling was the move in the volatility index and how investors moved to sell recent winners and exit the market. Much as we thought the market had become far too complacent, yesterday's move seems overdone. We appreciate the move as it shows that investors are not wearing rose colored glasses and can take a step back and recognize that they may have overextended themselves. That is what makes a healthy market and allows bull markets to remain young in some respects.
Chart of the Day:
Everything needs to be put into perspective, and with that said yesterday's move was healthy and injected a bit of reality into the market reminding investors that there are still risks. We have had a number of days like yesterday in the past two years and even periods of time where that type of trading took place, but it has not impacted the overall trend in the market.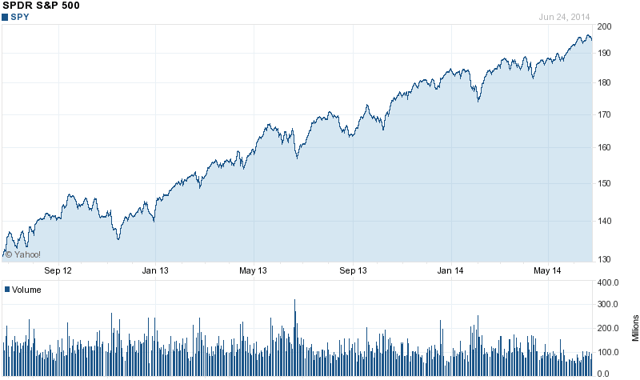 Source: Yahoo Finance
We have economic news today, and it is as follows:
MBA Mortgage Index (7:00 a.m. EST): Est: N/A Act: -1.0%
Durable Orders (8:30 a.m. EST): Est: 0.4% Act: -1.0%
Durable Orders-Ex Trans (8:30 a.m. EST): Est: 0.4% Act:-0.1%
GDP - 3rd Est (8:30 a.m. EST): Est: -1.8% Act: -2.9%
GDP Deflator - 3rd Est (8:30 a.m. EST): Est: 1.3% Act: 1.3%
Crude Inventories (10:30 a.m. EST): Est: N/A Act: 1.742 M
The Asian markets are lower today:
All Ordinaries -- down 0.57%
Shanghai Composite -- down 0.41%
Nikkei 225 -- down 0.71%
NZSE 50 -- down 0.33%
Seoul Composite -- down 0.63%
In Europe, the markets are lower this morning:
CAC 40 -- down 1.46%
DAX -- down 0.91%
FTSE 100 -- down 0.90%
OSE -- down 1.51%
Volatility Spikes
This year we have been bullish of the SPDR S&P 500 ETF (NYSEARCA:SPY) and the iShares Russell 2000 ETF (NYSEARCA:IWM). During recent dips we have even recommended buying these names due to our overall bullishness of the market. In recent sessions however we became worried with volatility at seven year lows amid all of the geopolitical events facing the market and recommended that readers take out an insurance policy of sorts via the iPath S&P 500 VIX ST Futures ETN (NYSEARCA:VXX).
Our logic was that as investors begin to ignore the apparent risks facing the market that once they are faced with the reality of those risks the tendency is to overreact. The pendulum always seems to swing too far into one direction before it is forced to correct, and that was the case with investors buying into this low volatility market.
One can call it luck, but we viewed it as more of an insurance policy. Today we think taking gains on the iPath S&P 500 VIX ST Futures ETN is the prudent thing to do.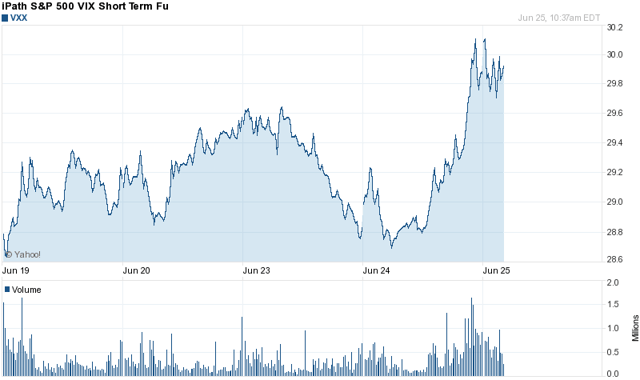 Source: Yahoo Finance
With the 10% move yesterday in the index and nearly 10% move in the ETN we would recommend taking profits on the insurance policy trade and keeping the proceeds in cash for now. Long-term we remain bullish of the overall market, however we do believe that there will be a better entry point for general market buying between now and the end of the year rally.
Supreme Court Ruling
The US Supreme Court has ruled 6-3 that Aereo violated copyright law by using their antennas to deliver broadcasts to consumers. It was a case, which opened many questions about disruptive technologies impacting content creators, and although this does solve one major problem for the content companies, it could open Pandora's box for other types of content later down the road. With that said, investors in CBS (NYSE:CBS) and Disney (NYSE:DIS) are cheering the ruling and pushing shares higher. CBS is leading the entire sector higher with a more than 5% move today.
Disclosure: The author has no positions in any stocks mentioned, and no plans to initiate any positions within the next 72 hours. The author wrote this article themselves, and it expresses their own opinions. The author is not receiving compensation for it (other than from Seeking Alpha). The author has no business relationship with any company whose stock is mentioned in this article. IWM & SPY have previously been recommended.