"Something is rotten in the state of Denmark."

- Marcellus, Hamlet
What Marcellus was alluding to in Shakespeare's classic Hamlet, after Hamlet goes off with the ghost of his father, is the political corruption of the state of Denmark. He knows there's something going on behind the scenes that wouldn't register well on his moral compass, and he's expressing his intuition.
What QTR is alluding to with his classic, The Market Thinks Something is Rotten in the State of NQ Mobile, is that something is clearly going on at NQ Mobile (NYSE:NQ) behind the scenes, but that we don't know what just yet. This doesn't register well on QTR's moral compass, and QTR is also expressing his intuition.
Today is June 25th.
We are now 56 days past when NQ Mobile first said that they were unable to file their annual report on time - which has been held up seemingly by a delay from the company's auditors. Otherwise, there seem to be no other disclosed circumstances surrounding the company that would cause it to not file its financials - which have generally been on time.
This is what the news looked like when it broke for the first - and the second time - the company delayed their filing. From Bloomberg:
The company on April 30 delayed the filing of its audited annual report, known as a 20-F, by 15 days as it waits for the final results of an investigation into Block's allegations. The company said at the time it doesn't anticipate any changes to its previously reported financial results and didn't provide an update on the investigation in today's statement.

"The company is unable to file on time its annual report on Form 20-F because it needs additional time to complete it," Beijing-based NQ Mobile said in its statement today. "The company continues to work to file its annual report for the year ended December 31, 2013 as soon as possible."
I mean, sure. We saw the sell-off on the unfounded rumor that PwC had quit. But, once that was resolved, wouldn't the stock start to perk back up?
Here is how the stock has performed over the last six months: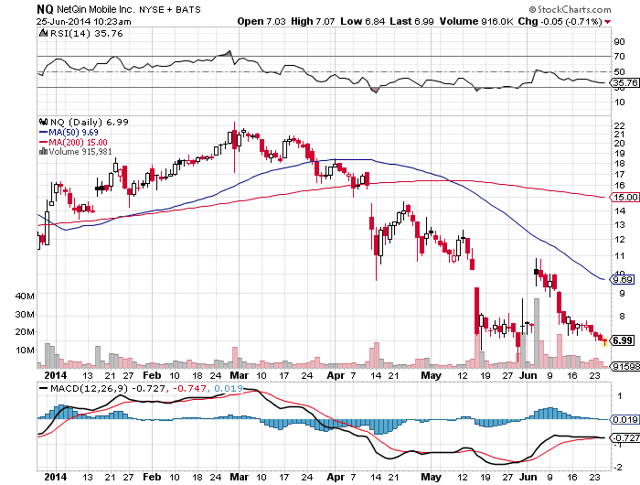 Why hasn't the stock inched upwards in anticipation of a coming audited annual report? Why is it trailing downward?
I'm definitely a skeptic of the company, especially in this "put up or shut up" environment, where they've been unable to produce the necessary documentation for no solid reason. But, let's forget about what QTR thinks, from a personal standpoint on NQ mobile.
The point of showing this chart is to show the way NQ's price has been whittled away by the market. The market believes something is rotten here, it would seem. Every day that goes by without an audited annual report erodes a little bit more of the confidence the market has in the company. In other words, the market is telling us "no news is good news."
And what does the short interest show us here?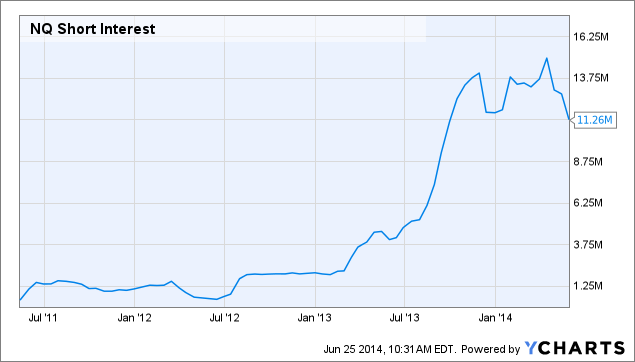 NQ Short Interest data by YCharts
It shows us that the market - which Buffett called a weighing machine in the long term - has decided over a long-term period to be far more skeptical of NQ Mobile than it has been since 2011.
What would cause this skepticism? The combination of circumstantial evidence like:
It is for these continued reasons that NQ Mobile should be considered an avoid at all costs. With so many red flags up in the air, investors should have serious pause about investing any money into NQ Mobile at these levels - where it's basically a lottery ticket. It would appear from this circumstantial evidence and lack of an audit that major risk remains here, and QTR will continue to watch the NQ Mobile story from the sidelines.
I encourage you to do the same, and the market is telling you the same thing.
Best of luck to all investors.
Disclosure: The author has no positions in any stocks mentioned, and no plans to initiate any positions within the next 72 hours. The author wrote this article themselves, and it expresses their own opinions. The author is not receiving compensation for it (other than from Seeking Alpha). The author has no business relationship with any company whose stock is mentioned in this article.