Last week we discussed how a number of card issuers were fighting for survival. But on Monday, American Express Co. (NYSE:AXP) picked a different fight – this one with the US Department of Justice!
While Visa Inc. (NYSE:V) and Mastercard (NYSE:MA) have proposed settlements in similar cases, American Express would rather take its chances in court than agree to the concessions the other two are making.
What's at stake? The Dept of Justice claims that the card processors' practice of preventing merchants to use cheaper forms of cards equates to anti-competitive practices (Reuters). Essentially, merchants who accept Visa, Mastercard or American Express as means of payment are required to follow the card processors' rules which state the merchants cannot offer discounts or incentives to customers for using certain forms of payment which are more cost effective for the merchant.
American Express maintains the industry's most restrictive merchant rules. American Express also has the highest fees of any credit card company. They refuse to give merchants the ability to offer rewards to consumers who use a less expensive card, or even to provide information to consumers about the costs of using American Express's cards.

Because American Express has refused to change its rules, consumers are being held hostage from receiving the expanded choices and lower prices that they deserve under our settlement. We cannot allow this to stand.

~Eric Holder, Attorney General
Restricting card processors' ability to enforce their rules would be especially damaging to American Express because the company currently charges higher fees than its competition. So it makes sense that AXP would fight this suit vigorously even if their chances at success are minimal.
But despite what looks like a long tough fight, American Express is still talking a big game. The company claims that the DOJ's suit is anticompetitive, stating that if merchants are able to steer clients towards certain cards as means of payment, the customer will eventually have to deal with fewer choices when paying for merchandise.
In today's action, the Department has sued a party proven not to have market power. It represents an extraordinary retreat by the antitrust division. Instead of promoting competition, it now seeks to promote regulation that would ultimately limit competition.

We have no intention of settling the case…

We will defend the rights of our cardmembers at the point of sale and our own ability to negotiate freely with merchants. We are confident that the courts will recognize the perverse anti-competitive nature of the government's case and that we will continue providing a competitive, superior service to cardmembers and merchants.

Kenneth Chenault, CEO, American Express
There are plenty of opinions as to how the fight will evolve. American Express could turn out to be successful in defending its "rights" to require merchants to be impartial… The lawsuit could drag out for months – or even years – allowing AXP to continue to generate healthy profits along the way before eventually playing "fair" with merchants and the other card processors.
But throughout the industry, card processors are scrambling to assure investors that everything is ok and business will continue as normal.
The issue of steering has long been a controversial one in the credit-card industry. Merchants are already permitted to offer discounts for cash purchases. Some merchants also encourage customers to use debit cards that require a personal identification number, which is cheaper for the merchant than a debit transaction that requires a signature.

MasterCard, of Purchase, N.Y., played down the effect of the changes, saying it wouldn't have to substantially change its business practices. San Francisco-based Visa also said the new rules wouldn't hurt its business, but acknowledged they would give merchants new leeway. ...

Neither Visa nor MasterCard admitted to any wrongdoing as part of their settlement, which also didn't impose any fines. ...

Merchants, some of which have also privately sued the credit-card companies on the issue, viewed the settlement as a victory.
Our short position in AXP (taken at $42.62 on Friday as the stock fell back from its anemic rally) was quickly rewarded and with today's price action we were able to take attractive profits on half of our position at $37.80 while tightening the stop on the remaining shares. (See horizontal lines on the chart below)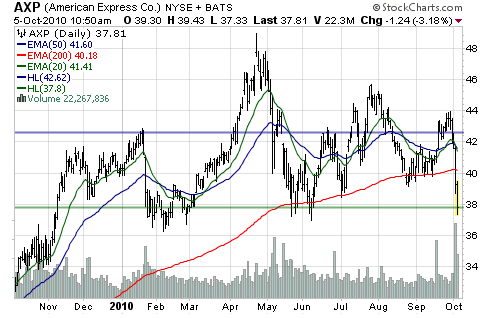 AXP could continue to push lower – as investors' discomfort with the uncertainty mounts. Considering the stock bottomed out below $10 during the financial crisis (and we've still got plenty of dark clouds when it comes to consumers and personal debt issues), there could be significant room for this position to run.
The stock is too extended to add new short exposure at this time, but keep an eye on the pattern as bullish investors are certainly rethinking their long positions.
Disclosure: Short AXP