With a nearly $2 billion market cap,
Incyte (NASDAQ:INCY)
is currently the most valuable biotech stock with no marketed product. Is it justified? Practically all of the company's value is wrapped up in two related Janus Kinase (JAK) inhibitors, both of which are partnered. INCB18424 for oncology is partnered with Novartis and the related compound, INCB28050, for inflammation is partnered with Eli Lilly (NYSE:
LLY
).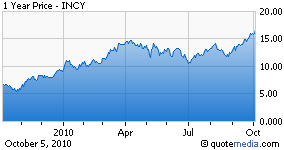 There is a tremendous amount of interest in the JAK inhibitor space. At least six other companies, including such giants as Pfizer (NYSE:
PFE
), AstraZeneca (NYSE:
AZN
), and Sanofi Aventis (NYSE:
SNY
) have compounds in mid to late stage development. Incyte, though, may be first to market, with final data in Myelofibrosis (MF) due end of this year and a regulatory filing expected the first half of next. MF is one of a closely related group of hematological malignancies known as Myeloproliferative disorders (MPDs) in which the bone marrow cells that produce the body's blood cells develop and function abnormally. According to the CEO, INCB18424 has an 18 to 24 month lead on its closes competition.
INCB18424 is also beginning a Phase III trial for a second MPD, Polycythaemia Vera (PV) this year. In this indication, the company feels it has an even larger head start on its competitors than in MF. As with MF, investors have high hopes for success in this trial due to exceptional early data. In addition, the compound is in Phase I/II trials for ALL and Phase II trials for AML, two blood cancer indications.
Focusing only on MF and PV, where INCB18424 is closest to market, Incyte looks well positioned to join the ranks of profitable biotechs. According to the MPD foundation, there are 30,000 patients in the US living with MF and 71,000 with PV. A recent Incyte presentation pegged the number of MF patients at 16,000-18,500 and PV at 95,000. INCB18424 will be priced on par with other new cancer medicines, somewhere between $40k and $60k. Penetration in the MF market is expected to be thorough with high levels of usage due to a lack of alternatives. In PV, the target population is the 20-25% of patients intolerant to hydroxyurea therapy. Usage in this population is also expected to be quite thorough.
Based on these assumptions and estimates, INCB18424 can conceivably achieve blockbuster sales in these two indications in the US alone. It has the potential to be a first in class drug, serving multiple unmet needs.
Incyte's second JAK inhibitor, INCB28050, is only in mid-stage trials for rheumatoid arthritis (RA) so far. Partial data from an ongoing Phase IIa trial showed the compound to be comparable to Pfizer's competitor JAK inhibitor, CP690550. Pfizer's compound is further ahead in the clinic; Phase III results are expected later this year, with a possible launch in 2013. Incyte is to begin Phase IIb trials for its compounds later this year and is about two years behind Pfizer.
INCB28050, CP690550, together with Syk kinase inhibitor, R788, from Rigel/AstraZeneca make up the trifecta of oral compounds knocking on the door of the rheumatoid arthritis/autoimmune disorder market- one currently held firm by anti-TNF therapies. Anti-TNF drugs, including Humira, Remicade, Enbrel, and Cimzia, had sales of $16 billion in 2008. Sales of these biologics are projected to grow to $25 billion by 2014. The top selling drug, Humira, priced at $13,000 during its launch in 2003, is projected to reach sales of $13.7 billion in 2016, placing it solidy as the world's best selling drug. One reason for its success- of all the anti-TNF drugs, it is the only one that can be self-administered.
This bodes well for the oral compounds. Based on early data, INCB28050 certainly appears efficacious. It also has the convenience of oral administration- no more needles. Another advantage: the compound appears to be active as a monotherapy. Compare this to current anti-TNF therapies, which must be taken concurrently with a methotrexate background treatment.
The biggest hurdle to approval remains safety. There is little safety data available for INCB28050 due to its relatively early stage in clinical development. So far, management has painted a picture of a compound with a very clean profile, "adverse events were mild to moderate in intensity with frequency similar to that observed in patients treated with placebo" is how they described results released this May from their ongoing Phase IIa trial. We'll find out more details at the American College of Rheumatology (ACR) meeting come November. But already, management is on the lookout for total cholesterol increases and liver enzyme elevations- two events seen with Pfizer's JAK inhibitor.
If these early results are maintained in late stage trials and the compound isn't derailed by a previously undetected adverse effect, INCB28050 has huge potential. Both management and rheumatologists believe oral therapies will eventually become the standard of care for RA treatment before the use of anti-TNF and other biologics. If Incyte's compound is able to penetrate just 5% of the anti-TNF market, it will be a blockbuster (I certainly see significantly higher penetration levels). It won't all flow to Incyte. Worldwide rights have been licensed to Eli Lilly, Incyte has opted in to co-develop the compound and will receive somewhere between 20-30% in royalties. Not too shabby.
So while analysts are projecting Humira to be the world's top selling drug in 2016, note that it will likely have three novel competitors by then. Don't expect its reign to last.


Disclosure: Long INCY, ABT