By David Russell
The bulls are playing video games.
optionMONSTER's Heat Seeker tracking system detected unusual call activity yesterday in Electronic Arts (ERTS), which is known for titles such as "Medal of Honor." They paid $0.77 to $0.91 for the October 16 contracts.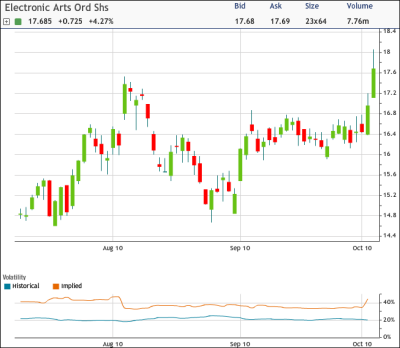 Today the shares rose as much as 6.5 percent, and those same calls more than doubled to as much as $2. The option action continues fast and furious today, but now traders are selling the October 18 calls and the October 18 puts to bet that the ERTS will remain in a range through expiration.
Activision Blizzard (NASDAQ:ATVI) also saw bullish activity as an investor sold October 11 calls for $0.33 and purchased the November 11 contracts for $0.65. The trade, known as a call roll, will provide an additional month of long exposure for a net $0.32. ATVI rose 3 percent to $11.32 in afternoon trading.
The company sells "World of Warcraft," which is the world's top-selling multiplayer game.
Yesterday, the Heat Seeker also detected upside activity in Take-Two Interactive Software (NASDAQ:TTWO), best known for the "Grand Theft Auto" franchise. TTWO is up 0.86 percent to $10.50, although there is little noteworthy options activity in the name.

Disclosure: No positions