Our combined market analysis this past weekend suggested that the market would test a midterm level of resistance and then begin to turn down. The turn down was much more violent than we expected, a more gradual transition was expected, but the turn down happened almost exactly as planned.
In an effort to find stocks that were poised to move with the market, our correlation tools pointed us to Gilead Sciences, Inc. (NASDAQ:GILD), and as a result GILD has been selected as the Stock of the Week by Stock Traders Daily.
By reviewing the graphs below we can see aggressive EPS growth and aggressive increases in the stocks price, and those factor into our observations, but additional news also has played a role in recent volatility, and that plays directly into our hands.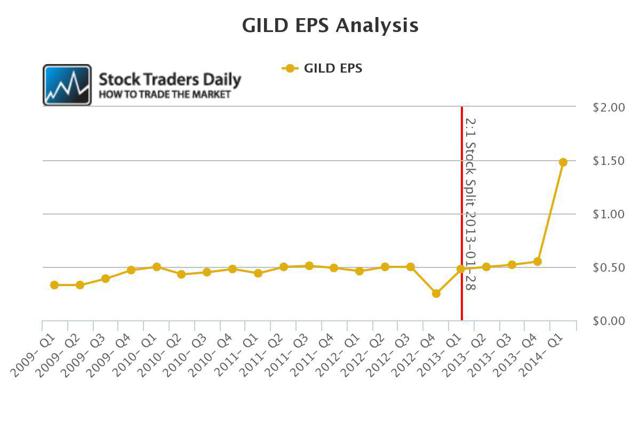 Click to enlarge
This Graph is based on quarterly stock prices to discount the noise.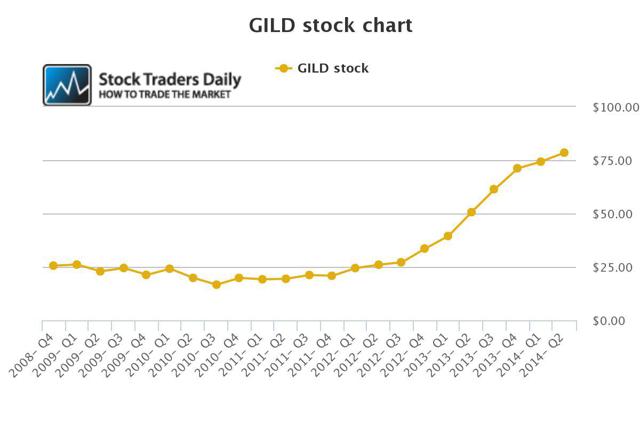 Click to enlarge
Although the Stock of the Week strategy is focused on trading, the fundamental condition of the company must also be evaluated. Our fundamental observations suggest that Gilead not only has had impressive recent earnings growth, but earnings are expected to at least sustain current levels if not grow even more.
For longer term investors, they must also consider additional risk factors that have surfaced, and arguably these are the reasons the stock came under more severe pressure recently, but that is what proactive trading strategies look for. Proactive strategies that take advantage of volatility look for stocks that move, and Gilead has been such a stock.
Initially, as expectations ran high (still running high) for the hepatitis C drug, the stock surged. Investors expected huge results, and then they got them, and as expected some investors decided to sell the news. Then the question about pricing and complaints by government officials hastened the retracement in the stock's price, but that also has seemed to be short lived thus far.
We're not passing judgment on Gilead's product, pricing structure, or the probability of government regulations impeding upon their business model, but instead, this week, we are embracing Gilead as the Stock of the Week because it has been volatile and we expect it to continue to be volatile.
The Stock of the Week strategy was developed in December 2007, before the Credit Crisis hit, it is proactive and risk controlled, and it is designed to work no matter where the market goes. In this immediate example, although Gilead is our Stock of the Week, it has also been called as a short.
According to our combined analysis and our real time trading report for GILD, we first expected the market to increase to test a resistance level during this week's trading session, and then we expected it to begin to turn down. In our stock-correlation filters, Gilead was featured prominently as a stock that was poised to test a resistance level of its own and then turn down too (correlation).
Our correlation filters therefore suggested that GILD may indeed hit resistance and turn lower this week, and trade along with the market after the market tested its own resistance level.
This week is not over, but Gilead has triggered and the position is in play. An integral rule of this Stock of the Week strategy is also to end every week in cash, so regardless of what happens, come Friday at the close of business this strategy will end in cash so we can again approach the market objectively in our evaluation for the forthcoming week. An added bonus is that by ending in cash we also do not carry market pressures with us over the weekend and we're able to be more present with family and friends.
Understandably, that does not seem like a very important quality right now, but when the market declines and pressures mount that is extremely valuable.
Disclosure: The author has no positions in any stocks mentioned, and no plans to initiate any positions within the next 72 hours.
Business relationship disclosure: By Thomas H. Kee Jr. for Stock Traders Daily and neither receives consideration from the publicly traded companies listed herein for writing this article.
Additional disclosure: GILD was selected as the Stock of the Week this week by Stock Traders Daily, and some clients may already be holding this stock short as a result.