Bank of America's (NYSE:BAC) lending system, along with that of JP Morgan (NYSE:JPM) and Capital One (NYSE:COF), according to some financial experts and critics, has not been democratic or beneficial for all customers.
Intensified Screening Processes By Big Banks
As more and more banks issued more constricting restrictions, regular people and businesses who committed only minor violations were treated with the same suspicion as criminals.
Currently, millions of American consumers and small businesses are not even allowed to open new accounts or use banking services, because of mammoth databases, revealing a history of past account overdrafts.
Although many consumers have long since paid off their dues and corrected their overdraft errors, the banks still continue to punish these minor violations.
NY Attorney's Office Cracks Down
New York top attorney office have shown concern over the way national banks like Bank of America, JPMorgan and other leading banks collect information about consumers in their large databases, without regard to how these violate privacy.
The attorney's office could soon crack down on this practice of reducing banking services to average people for minor banking violations in the past.
Capital One has agreed to reconsider some of its policies regarding the use of its huge database stored in Chexsystem. They plan to only track and weed out only serious violators.
N.Y Attorney General, Eric T. Schneiderman and his team have sought a response from the six largest banks in the nation, who have thousands of branches nationwide, asking them to respond to numerous claims of improper and unfair use of databases.
Such stringent, and possibly unnecessary, lending standards leave more New Yorkers lacking access to banking resources.
Further Investigations Into Banks' Barring Access To Ordinary Citizens
Other investigators have begun to analyze the way banks restrict financial services to US citizens and use consumer reporting agencies as screening tools in their databases.
As Julie Menin, commissioner of N.Y.C consumer matters, reported, such tactics have blocked the rights of N.Y citizens to gain access or create new bank accounts, based on account overdrafts of a few hundred dollars.
While there is a law concerning the use of fair consumer reporting practices, many individuals don't know of its existence.
BAC and others seem to take advantage of this fact and use their systems and databases to decide whether to issue a new account or restrict consumer access to their services without consumer's acknowledgement.
In order to defend their practices, banks claim to use them solely for protecting their systems from big violators and fraudsters; however, in many cases, citizens with small violations were barred from creating new accounts for a 5 year period and faced big fees in order to gain at least partial access to banking services.
This threatens the security of their savings long-term.
Those Most Affected
The customers affected the most are regular families with low or medium type of incomes, students using student loans to pay their tuition and expenses and low income earners who feel that their dreams of financial stability have been sabotaged by these unfair screening practices.
Discriminatory lending practices in other arenas have come to light recently, with the City of Los Angeles' lawsuit against JP Morgan for its unfair lending practices to minority borrowers.
Outlook for Bank of America And Its Unlucky Shareholders
While others are embroiled in the scrutiny of lending practices, Bank of America in particular has also been fighting a tough regulatory environment, with a potential minimum $12 billion federal fine on its horizon for faulty mortgages leading up to the financial crisis. This will severely hamper BAC's operations in 2014 and beyond.
Internally, more instances of deception are also coming to light. Here, we have a case that the NY attorney's office believes is truly unfair to its customers who are trying to grow their savings and use BAC's services to facilitate moving forward with their lives.
This isn't the first case of apparently throwing average consumers and customers under the bus. BAC was also recently accused of pressuring customers to purchase credit card add-ons; the Consumer Finance Protection Bureau fined BAC $800 million for these shady practices.
While Bank of America announced it will expand rewards programs for existing customers, full details of how it will support potential customers in the future, have yet to be spelled out.
As both a consumer and investor, it is a very bad sign when your bank does not do its best to support those it serves. Whether selling sour mortgages, pushing customers into unnecessary products to turn a larger profit, or discriminating against clients for minor offenses-all while failing to raise dividend payouts (BAC has not paid more than a penny since 2008 in this respect)-Bank of America has not proved it has the nation's best interests in mind.
What Should BAC Shareholders Do?
We recommend investors consider selling their BAC stock.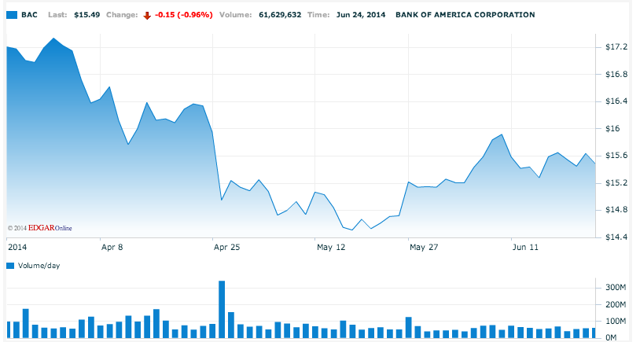 Click to enlarge
(Nasdaq.com)
We recommend that growth investors consider Heritage Insurance (NYSE:HRTG) as a solid, fast-growing, and reputable financial stock.
HRTG reported 2013 net income of over $34 million, no outstanding debt, and a positive regulatory environment, in which the firm is quickly acquiring new policies.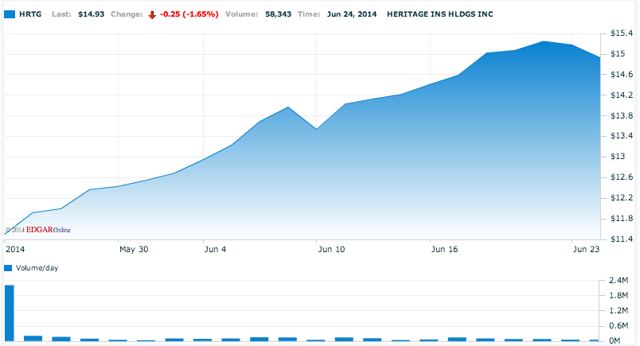 Click to enlarge
(Nasdaq.com)
We invite readers wishing to join the discussion on Bank of America to click the +FOLLOW button above the title of this article and follow @DRDInvestments on twitter.
Disclosure: The author has no positions in any stocks mentioned, and no plans to initiate any positions within the next 72 hours. The author wrote this article themselves, and it expresses their own opinions. The author is not receiving compensation for it (other than from Seeking Alpha). The author has no business relationship with any company whose stock is mentioned in this article.