I've gone on the record and claimed that once the FDA exonerates Questcor's (QCOR) Acthar product from allegations made regarding dilution and poor product labeling, that I'd shut up about it.
I mean that.
But, that hasn't happened, and I think the FDA owes us an answer - which is the purpose of this article.
I will accept that it's been a wild goose chase and move on, should the FDA exonerate Questcor. But, when red flags continue to show themselves and doubt remains, the skeptic in me can't just sit idly by and ignore it.
Ever since Citron has launched their rather serious allegations about the potentially mislabeled Acthar gel, I believe the onus has been on the FDA to report back to the public as to whether or not those claims hold any merit. In the absence of recent double blind clinical trials about the efficacy of H.P. Acthar Gel, the public is left guessing as to what's inside the drug, how it's made, and whether or not - for $28,000 - it's working.
I also found an interesting tidbit in the last NY Times piece that I failed to point out in my last piece. It would appear that there's some type of ongoing review of the allegations that has seemingly lasted these last six months.

Click to enlarge
Additionally, my personal inquiries in to the FDA have also mentioned an "review" and an "ongoing issue". Has the FDA contacted Questcor? Does Questcor know about any type of ongoing issue or review? The public sure doesn't.
As pointed out in my last piece - as obtained by FOIA and now finally in the public forum is the letter that Citron's law firm sent to the FDA, urging them to look at this issue. You can read the entire letter here (which I encourage any and all QCOR and MNK shareholders to read).
In the interest of brevity, here's 2 pages from this extremely serious document.
Again, I encourage you to read the full report, linked above.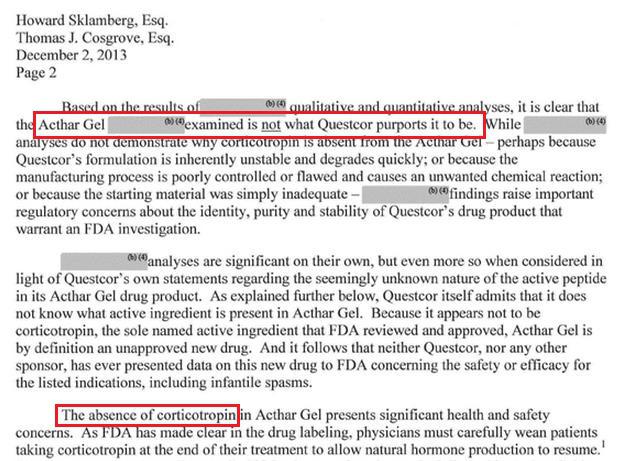 The above shows the initial claims made by Citron's world-class laboratory simply asserting that from their studies, Questcor's Acthar Gel is not what it's purported to be.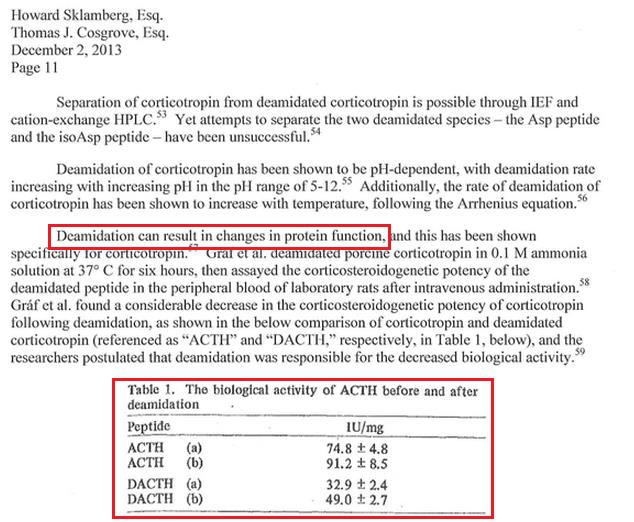 The above shows the difference in protein function between deamidated ACTH, which is what Citron's lab claims to have found, versus pure ACTH, the active ingredient that is noted for H(ighly) P(urified) (ACTH)ar Gel.
So, I ask you to forget, for a second, that I'm currently once again short QCOR via puts and have been a long-time skeptic of the company. Then, I want you to ask yourself the following questions:
Don't you think with the severity of the claims launched against Questcor that the FDA has a obligation to come forth and assure those that are taking Acthar that the drug is in fact what's on the label?
If you are a Mallinckrodt shareholder or insider, are you and your constituency 100% sure that you are as familiar with Questcor's Acthar as Citron's independent lab was?
If you were an Acthar user, had just read the recent NY Times piece about potential adverse effects, stumbled upon Citron's claims that the drug is mislabeled - wouldn't you want some type of assurance from the source that the drug you're injecting into your body is what it's supposed to be?
I sure as hell would.
For better or for worse, the FDA owes us an answer on Questcor's Acthar.
Disclosure: The author is short QCOR. The author wrote this article themselves, and it expresses their own opinions. The author is not receiving compensation for it (other than from Seeking Alpha). The author has no business relationship with any company whose stock is mentioned in this article.