By Steven Carroll
Capital markets firms have continued to perform strongly - with a strong deal pipeline being expected into the foreseeable future. Canaccord (OTCPK:CCORF) (CF.TO), a Canadian financial services firm with both investment banking and wealth management operations, is benefiting from this trend.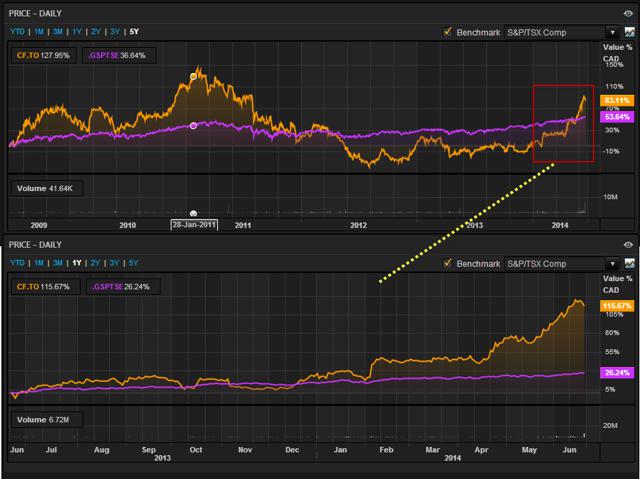 Strike up the band
After a long period of ho-hum performance, the company started to outperform significantly the S&P/TSX composite from the start of the year. The 12-month, 26% performance of the Canadian benchmark looked quite pedestrian next to the 115% return of CF.TO.
As can be seen from chart 1, the outperformance phase for capital markets firms can last a while and certainly the sell side is only just starting to get going. Canaccord currently has an ARM score of 100 - indicating its change of analyst sentiment is in the top 1% for North America. Positive revisions are occurring across the income statement, with every analyst having made an upward revision on revenue since June 4, at an average of 6.3%. At the EPS level, revisions since June 4 have averaged 24.2%, reflecting strong operating leverage.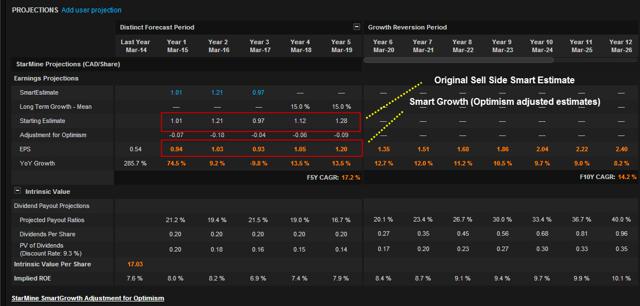 Doing the valuation waltz
In line with the safety premium (should that be termed a better regulation premium?) assigned to Canadian banks, CF is also not genuinely cheap - the current valuation of CAD $12.25 implies 11.7% compound annual growth over the next 5 years. StarMine's smart growth estimates, which remove some of the bias inherent in longer term analysts forecasts, calculates 17.2% - leading to a calculation that CF is trading at 72% of fair value on their DDM model.
Canaccord seems a safe, diversified business with a strong investment banking order book. StarMine's various factors are largely bullish - with excellent analyst revisions scores, valuation metrics and a strong smart holdings model (implying a likely increase in the level of institutional investors). Its Val-Mo score, which combines two valuation approaches with two momentum approaches - is also a highly attractive 97, meaning it's in the top 3% for North America.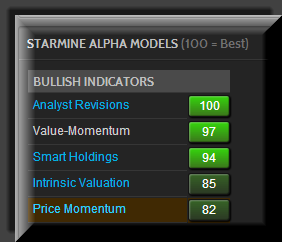 Dessert, anyone?
Thinking about the big picture, Canada, like Australia, probably earns its current premium for the quality of its regulators and Central Bank in the event of further rough weather, Canada has already demonstrated its ability to navigate intelligently through choppy waters. If you want to add to your capital markets exposure - without wishing to take a bet on the balance sheets of the global banking titans - this could be an interesting way to reap similar exposure without having to hold your nose about the current balance sheet. Enjoy the party while it lasts.
Disclosure: The author has no positions in any stocks mentioned, and no plans to initiate any positions within the next 72 hours.
Business relationship disclosure: Alpha Now at Thomson Reuters is a team of expert analysts that are constantly looking at the financial landscape in order to keep you up to date on the latest movements. This article was written by Steven Carroll, independent commentator and analyst. We did not receive compensation for this article, and we have no business relationship with any company whose stock is mentioned in this article.
Editor's Note: This article discusses one or more securities that do not trade on a major U.S. exchange. Please be aware of the risks associated with these stocks.