On March 29, 2010 we highlighted Gymboree (NASDAQ:GYMB) as one of the best in class children's apparel players in the space. As an investment, Gymboree has been a sub-par performer even after Friday's 20% gain following the news the company is up for sale.
click to enlarge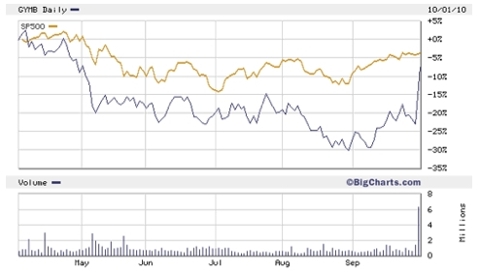 Our initial reaction that Gymboree is on the auction block is positive. The drum beat of peak margins and a mature retail business facing cannibalization by its newer concept Crazy 8 has been difficult to quiet. It has also been difficult to gauge the store performance of Crazy 8, due to management's stance of keeping the progress somewhat a secret and has only added to the bears' notion that Gymboree is in 2nd or 3rd place when compared to its direct peers.
In short, we think Gymboree is much better off as a private company simply from the standpoint of getting rid of the pressure from Wall Street and added expense of being a public company. The management team at Gymboree is best in class and has done a remarkable job in positioning the company for a multi-year growth stage that will be fueled by an appropriate "value concept".
From a valuation standpoint we believe the following transactions give some bearing on what Gymboree could ultimately go for:
Phillips Van Heusen (NYSE:PVH) purchase of Tommy Hilfiger 8.6x
Dress Barn's (DBRN) purchase of Tween Brands 9.6x
At 8x EBITDA, one could conclude Gymboree going for $65 and still allowing its new owners to capture a respectable return. While this may be a stretch given the Bear case view, we do believe Gymboree is an attractive asset and will warrant a reasonable premium.
We are curious what this will mean for Gymboree's related peers. Some have substantial net cash on the balance sheet and/or face their own margin issues. We note Aeropostale (NYSE:ARO), which has a relative high short interest and one of the cheapest valuations in the kids/teen retail space. With the stock under pressure and negative investor sentiment for one of the best "value" teen retailers, we think Aeropostale could be a possible LBO as well. This is purely speculation but with Private Equity firms running out of time to deploy capital, we see "value" brands and retailers with solid management teams and balance sheets ripe for the picking.
Disclosure: Long GYMB, ARO