Due to the massive rally in the stock market, a lot of good companies are now overvalued and it is becoming challenging to find solid value investments. Unlike many other Dow Jones Industrials Components, GE (NYSE:GE) shares are not trading at all-time highs and the company has recently taken steps that I believe will be bullish for the stock.
Reasonable Valuation
As shown by a number of different metrics below, GE shares are not trading at high valuation levels. While GE might not appear terribly cheap based on these metrics, I believe GE is cheap when the broader market is considered. With so many well known companies trading at very high valuations, GE more reasonable valuation is more attractive than would otherwise be the case. I do not think it would be a stretch for GE to trade at 25 times trailing earnings, 20 times free cash flow, or 2 times sales.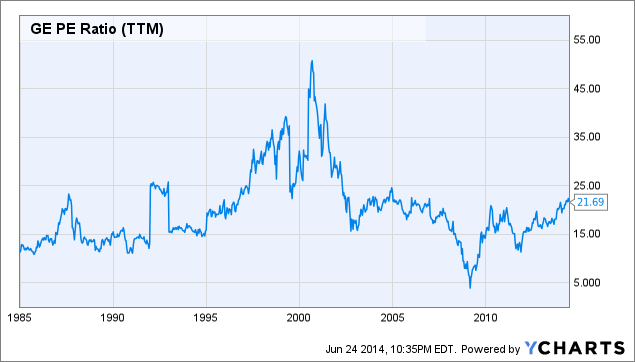 GE PE Ratio (TTM) data by YCharts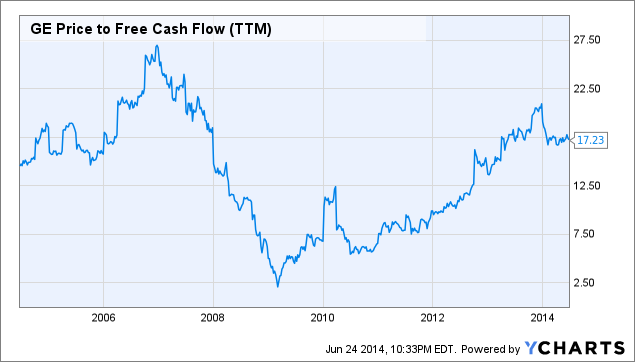 GE Price to Free Cash Flow (TTM) data by YCharts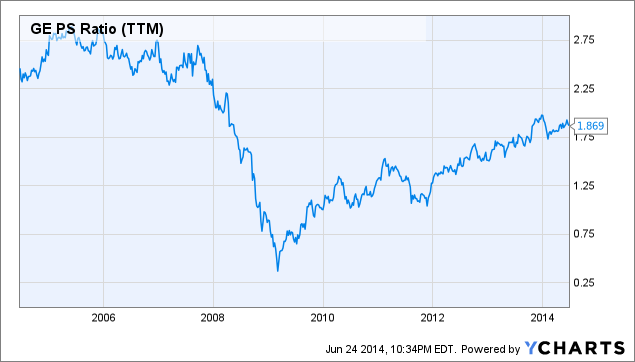 GE PS Ratio (TTM) data by YCharts
GE Capital Spin Off
In March, GE announced that it would spin off its retail lending unit via an IPO of a newly formed company, Synchrony Financial. GE is expected to raise about $3.5 billion from the deal and Synchrony is expected to fetch a valuation of close to $20 billion. GE plans to distribute the rest of Synchrony shares to existing GE shareholders at a later date. I believe this transaction is a positive for GE for a few reasons. Firstly, the deal will greatly reduce the amount of revenue and earnings that GE generates from its financial business. This is important because I believe the market will be willing to pay more for GE earnings as a greater portion will come from its industrial business relative to its financial business. In addition to the boost in valuation that GE shares could receive, the future distribution of Synchrony shares is also a positive for GE shareholders as the company has a lot of potential and there is no reason to believe distributed shares will not do well in the future.
Alstom Deal
After weeks of uncertainty, GE finally appears to have won the bidding war for much coveted Alstom. The Alstom deal is the largest deal that GE has ever done and it should help boost GE's industrial profile. Alstom will help to increase the relative percentage of revenues and earnings that GE generates from industrial businesses relative to financial businesses. GE has said that it expects the Alstom deal to be accretive in year one. The fact that Siemens and Mitsubishi (jointly) were also bidding for Alstom should serve as some indication to the value of Alstom. While, in my view, GE did not steal Alstom I believe GE did make a good deal. In particular, the Alstom deal is a good use of GE's overseas cash which would have been taxed at 35% if GE had decided to bring its cash back to the U.S.
Conclusion
GE is currently trading at a valuation below its historic highs while a large swath of other well known, well run, companies are trading at valuations nearing historic highs. For this reason, I believe GE is attractive relative to the market as a whole. Additionally, the spin off of GE's retail lending unit is a possible catalyst to send shares higher. In addition to being accretive to earnings in the first year and being a good use of GE's overseas cash, the Alstom deal will when coupled with the GE Capital spin off have a significant impact on the company's revenue and earnings mix. GE will become more of an industrial company and less of a financial company. Throughout its history, GE has thrived as an industrial company. GE's move further into the world of financial services has cost the company dearly over the past decade. Over the long-term, I believe GE's shift in strategy will be a major positive for the stock and eventually lead GE shares to new all-time highs.
Disclosure: The author has no positions in any stocks mentioned, and no plans to initiate any positions within the next 72 hours. The author wrote this article themselves, and it expresses their own opinions. The author is not receiving compensation for it (other than from Seeking Alpha). The author has no business relationship with any company whose stock is mentioned in this article.