Coal has remained a vital component of energy portfolios. However, in recent years the Coal Industry has been facing challenges in the shape of lower coal demand and weak coal prices due to environmental regulations, lower natural gas prices and weak economic conditions. The challenging business conditions for the industry have taken a toll on the stock price of coal companies, and they have lost a significant amount of market capitalization. However, I believe the coal market has bottomed out and the market will rebound in the long term due to higher coal-fired electricity generation, an increase in natural gas prices, inventory rebuilding by power producers and better economic conditions. The table below shows the drops in share prices of leading U.S. coal companies since 2011.
| | | | | | |
| --- | --- | --- | --- | --- | --- |
| | Peabody Energy (BTU) | Arch Coal (ACI) | Alpha Natural Resources (ANR) | Walter Energy (NYSE:WLT) | Coal ETF (NYSEARCA:KOL) |
| Drop in Share Price Since 2011 | -75% | -88% | -92% | -95% | -58% |
Source: googlefinance.com
Looking into coal stocks
Coal companies are making efforts, including cutting down costs, improving financial flexibility and cutting coal production, to navigate through the difficult conditions being faced by the industry. Coal companies are closing their high cost coal mines to support earnings in the tough industry conditions. Also, production cuts are being announced, especially by companies with met coal exposure, including WLT, ACI and ANR, to address the concerns of an oversupplied met coal market. However, more production cuts are required to address the oversupplied met coal market, as the latter is believed to have excess supply of 15-20 million tons, and only 10 million tons of met coal production cuts are being announced on an annual basis. As more production cuts will be announced, I believe met coal prices will recover in the long term. On the other hand, the thermal coal market has started to show signs of a recovery, as coal stockpiles at power producers are at low levels and inventory rebuilding will create demand for thermal coal. Total coal supply is expected to be 970.2 million tons in 2014 and drop to 931 million tons in 2015.
Analyst estimates for earnings of coal companies support my bullish stance on the Coal Industry. The following table shows the improving EPS for coal companies from 2014 through 2017.
| | | | | |
| --- | --- | --- | --- | --- |
| | 2014 | 2015 | 2016 | 2017 |
| BTU | | $0.28 | $0.76 | $1.0 |
| Alliance Resource Partners (NASDAQ:ARLP) | | $4.74 | - | - |
| ACI | | -$1.11 | -$0.76 | -$0.29 |
| ANR | | -$1.96 | -$1.65 | -$1.59 |
| WLT | | -$2.88 | -$2.48 | - |
Source: Nasdaq.com
Rising Natural Gas Prices and Coal-Fired Electricity
Lower natural gas prices were among the key reasons for a downturn in the Coal Industry. Natural gas prices dropped below $2MMBtu in 2Q 2012, which resulted in a coal-to-gas switch, and falling coal-fired electricity resulted in lower coal demand. Nonetheless, in the recent past, natural gas prices have been increasing and currently natural gas prices are at $4.47 MMBtu. According to EIA projections, natural gas prices are expected to stay above $4 MMBtu in the future, as shown below in the graph.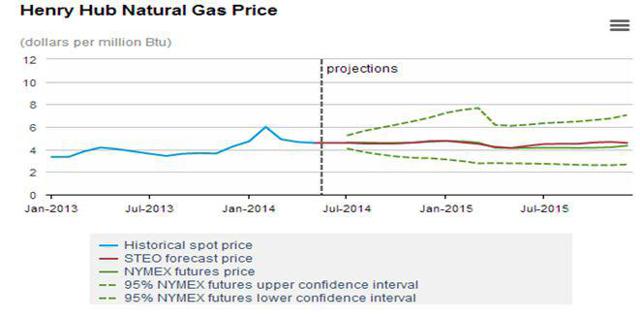 Source: eia.gov
The increase in natural gas prices has promoted power generators to use more coal for electricity production as compared to natural gas; so far this year coal-fired electricity generation has increased by 5.7%, whereas natural gas-fired electricity generation fell by 1.7%. According to the EIA, due to higher natural gas prices, coal-fired electricity generation is expected to increase to almost 41% in 2014, up from 39% in 2013.
Conclusion
The Coal Industry has been going through difficult conditions, as tough environmental regulations, lower natural gas prices in the recent past, and weak economic conditions have adversely affected coal demand. In the long term, I believe the coal market will rebound as a result of better coal supply management and higher coal-fired electricity generation. Moreover, BTU is the best stock to play a coal market rebound, as the company has diverse international exposure, higher gross margin and lower debt to equity as compared to its peers. Also, BTU has a large operational scale and the financial flexibility to navigate through the ongoing difficult industry conditions. The following table shows gross profit margin and debt-to-equity comparison among coal companies.
| | | | | | |
| --- | --- | --- | --- | --- | --- |
| | BTU | ACI | ANR | WLT | Average |
| Gross Margin | 17% | 11% | 7% | 13% | 12% |
| Debt to Equity | 1.49x | 2.41x | 0.83x | 4.38x | 2.28x |
Source: Yahoo finance
Disclosure: The author has no positions in any stocks mentioned, and no plans to initiate any positions within the next 72 hours. The author wrote this article themselves, and it expresses their own opinions. The author is not receiving compensation for it (other than from Seeking Alpha). The author has no business relationship with any company whose stock is mentioned in this article.