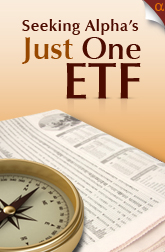 Several times a week, Seeking Alpha's Jason Aycock asks money managers about their single highest-conviction position - what they would own (or short) if they could choose just one stock or ETF.
---
Shishir Nigam is founder of ActiveETFs | InFocus, dedicated to extensive coverage of actively managed exchange-traded funds, and chief editor of Young & Invested.
Which single asset class are you most bullish (or bearish) about in the coming year? What ETF position would you choose to best capture that?
I would say that I'm quite optimistic about emerging-market debt as an area that holds a lot of potential for investors in the coming years. It offers not only diversification from developed market equities, but also developed-market debt, so from the perspective of a North American investor, you're looking at significant benefits.
One ETF that captures this proposition and translates that into an investment strategy is the WisdomTree Emerging Market Local Debt Fund (NYSEARCA:ELD). This fund is an actively managed ETF that invests primarily in local currency-denominated debt from emerging-market governments, agencies and corporations. It has an expense ratio of 0.55% and a stated distribution yield of 4.76%. The fund's investments are focused in Brazil, Chile, Colombia, Hungary, Indonesia, Malaysia, Mexico, Peru, Philippines, Poland, Russia, South Africa, South Korea, Thailand and Turkey, with exposure to each country limited to 20%.
How does ELD fit into your overall investment approach?
When picking investments or running a portfolio, a good way to go about things is to hold a core portfolio of investments and then keep a portion more flexible to allow you to spot and take advantage of shorter-term opportunities if you would like to be more active. The core part of the portfolio needs to be fundamentally driven and based on larger trends that are visible in the market, instead of speculative positions. In that sense, ELD would definitely be part of that core set of investments that forms a solid base for your portfolio.
The fundamental story for emerging-market equities is something that most investors are familiar with by now. But the story behind emerging-market debt has only come to the fore of late, brought to the forefront even more so by deterioration in the credit quality of sovereign issuers in developed markets due to persistent debt issues. In comparison, balance sheets of emerging-market governments are actually in much more solid shape due to more prudent fiscal management in prior years.
Not only is their credit quality likely better, but the yields you can obtain on sovereign debt issues from emerging markets is much higher than what you get from developed-market sovereign debt. The fact that ELD is actively managed also gives me some assurance that the credit quality of the sovereign issuers is being assessed and plays into the weighting of the country in the portfolio.
Tell us more about the area of emerging-market debt. What makes it your top pick?
Prospects for emerging-market sovereign debt have probably never been better. Back in 2005, sovereign issues from developed markets such as the U.K., Japan and United States would have been seen as the "safe bet" while sovereign debt from emerging markets would typically be classified as "risky."

A brief look at the table above shows how strongly that relationship has inverted over the last few years. The numbers were taken from various sources including the CIA World Factbook, The Economist, and PrincipalGlobalIndicators.org. If you were to pick out four countries from the eight above whose debt you would want to hold, based only on the fundamental metrics shown and without knowing the identity of each country, most investors would likely choose to go with the four countries on the right.
Brazil, India, China and Indonesia have all shown resilience through the 2008-2009 period and have come out of it as some of the main growth engines behind the world economy, while developed economies like the U.K., Japan and the U.S. have languished behind, mired by fiscal issues that are posing headwinds to their recovery. In contrast, emerging-market governments and economies are poised to benefit from the fiscal prudence they exercised over the past five to 10 years, choosing to address problems as they arose rather than kicking the can down the road - as many developed governments have done.
Something else that is likely to help this asset class is momentum. Investors holding government debt in developed markets are earning next to nothing right now with low interest rates becoming the norm. Hence, the hunt for yield is definitely on. And just as emerging-market equities have benefited over the past decade from investor flows looking for more growth, emerging-market debt is now likely to experience the same momentum push from yield-starved fixed-income investors in developed markets. You're already starting to see this from more and more assets starting to go into emerging-market bond funds. They attracted $17 billion in net inflows from investors in the first six months of 2010.
Are there alternative ETFs that could be used to capture the same theme? What makes ELD your first choice?
Yes, there are definitely multiple ETFs through which you can get exposure to emerging-market debt. The other options available to investors aside from ELD include the iShares JP Morgan USD Emerging Market Bond Fund (NYSEARCA:EMB), the PowerShares Emerging Markets Sovereign Debt Portfolio ETF (NYSEARCA:PCY) and the Market Vectors Emerging Market Local Currency Bond ETF (NYSEARCA:EMLC). Of these, EMB is easily the largest, with assets in excess of $2 billion.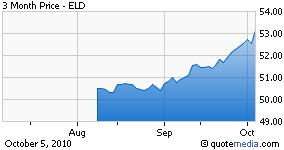 The first reason why I'd choose WisdomTree's ELD over EMB or PCY is because of the currency exposure that ELD provides. EMB and PCY both invest only in USD-denominated debt issued by emerging-market sovereigns, in contrast to ELD, which invests in local-currency instruments. This allows investors to get two sources of exposure, first to the emerging-market sovereign issuer, and the second to the emerging-market currency – something not available through EMB or PCY. In fact, according to Van Eck, there's now $4.3 trillion in local-currency debt versus around $1 trillion in major currency-linked debt. In the last few years, there has been continued debasement of the USD, thanks to continuous quantitative easing measures on the part of the U.S. Fed.
Yes, that may help propel the U.S. to a strong recovery, but there is little doubt that all the measures being enacted by the Fed are hurting the strength of the greenback. In contrast, emerging-market currencies are facing appreciation pressures from increasing investor capital flowing into their economies and also from growing exports.
Yet another point to support the case for local-currency debt is that governments are less likely to default on local-currency debt than on USD debt - because they actually need foreign exchange, obtained through exports, in order to make payments on USD debt. In contrast, local-currency debt can be serviced from the traditional revenue sources of the local government.
Considering that logic, the debate comes down to ELD and EMLC, both of which offer exposure to local-currency emerging-market sovereign debt. The fact that ELD is actively managed, with Mellon Capital Management being the sub-advisor on the fund, gives it an edge, I believe. Yes, ELD has a higher expense ratio of 0.55%, compared with EMLC's 0.49%, but 6 basis points is a premium I'd be willing to pay for active management. And do note that EMLC's gross expense ratio is 0.60%, and 0.49% is what investors pay after a fee waiver of 0.11% from Van Eck that is contractually agreed upon - but that agreement expires on Sept. 1, 2011.
The value of the active management is visible if you look at the portfolio composition of each fund. EMLC tracks the J.P. Morgan Government Bond Index Emerging Market Core Index (GBIEMCOR), which allocates an even 10% weighting to Brazil, Malaysia, Mexico, Poland and South Africa and then smaller weights to other emerging markets.
If you compare ELD's holdings to EMLC's, ELD's active managers significantly overweight Indonesia - making it their top country allocation - and underweight Poland, holding only a 7.6% allocation in the country. Indonesia has been recognized by many as the next growth hub in Asia, given its young population and now stable political situation, and ELD's active managers seem to believe so as well. As another example, compared to iShares' EMB, which has 9.23% of the fund in Russia, ELD only allocates 3.54% to Russian debt.
But why I'm more keen on active management in this space is because there will still be the bad apples amongst emerging markets, who may succumb to overspending or poor fiscal management. We all know that in many of these regions, like Colombia (3.6% allocation in ELD) and Thailand (7.3% allocation), political situations can arise overnight, putting prospects for the country in jeopardy. In those situations, I'd want the portfolio manager to have the ability to reduce allocation to problem cases rather than having to stick to the index allocations.
Are you saying essentially that active management of this fund can also help with the "bums" problem, where passive bond funds are giving more weight to countries the more debt they issue? That passive funds may be far riskier in that sense than actively managed ones?
I'm not sure how much the index construction for the indices underlying the above-mentioned passive ETFs relies on the "amount of debt" issued by each country, but that is definitely one of the issues that active management addresses. That would be one example of a situation where having a dynamic allocation to each emerging country could be useful.
For example, Russia is one of the component countries in the passive indices and could easily be the largest issuer of bonds amongst emerging markets. I'm not sure that you'd want your largest allocation to be to Russia, especially given how much more potential other economies hold.
Ultimately, the larger point is to avoid having static allocations through an index that cannot adapt quickly enough to macro developments. For example, the Greece debt crisis sprang into public attention quite quickly and within a few months Greek CDS spreads were skyrocketing and Greek debt was in the dumps. So even if indices holding Greek debt only changed their compositions quarterly, they could have easily missed the boat and handed their investors losses. While Greece is not one of the component countries in ELD, you could use Thailand or Mexico as an similar example. If the political situation deteriorates suddenly, you do not want to be stuck in a static allocation to those countries.
Does your view differ from the consensus sentiment in this area?
The sentiment is very much in favor of emerging markets. There are certain investment themes where one could consider being a contrarian, but this not one of them. When the global markets and where economic growth is coming from are both telling you that the action is in the emerging markets, it's hard to have a justifiable reason to be contrarian.
Again, it's just like in the last decade, where everyone has believed for good reasons that emerging-market equities are going to outperform because their growth story is so much stronger than developed-market equities. Now, a similarly strong logic is taking root where emerging-market sovereigns are much stronger and healthier than developed-market sovereigns - it's hard to go against the grain on something so fundamentally clear. Yes, there will be exceptions where certain emerging markets lapse back into conflict and poor governance, but by and large emerging-market sovereign debt as a whole will benefit from the healthy balance sheets of their governments.
What catalysts, near-term or long-term, could be significant for emerging-market debt?
I think many investors already see that most developed-economy governments are going to be mired in fiscal problems for the next five to 10 years, trying to reduce heavy debt loads that they have racked up. But what could serve as a catalyst for emerging-market debt is if more investors start seeing that emerging-market economies are much better placed to prosper in the coming decade due to their healthy national balance sheets. And a direct beneficiary of those healthy government balance sheets would be sovereign debt issued by those governments, which at the moment offers much better yields than developed-market sovereign debt.
The superior risk-adjusted return on offer from emerging-market sovereign debt needs to be recognized by more investors, and as that happens, you could see greater demand for them come through.
Greater political stability across emerging markets could also help make this asset class more attractive to investors. Many of the countries we are talking about, like Indonesia, Chile and Brazil, have all made big leaps in making political stability the norm rather than the exception in their countries. The more countries follow that model, the more confidence investors will have in their sovereign debt.
What could go wrong with your pick?
Finance textbooks will tell you that there are two parts to assessing the attractiveness and risk of emerging-market debt: assessing the ability of the government to meet debt payments and assessing the willingness of the government to make those payments. The healthier fiscal condition of emerging-market governments reinforces their ability to service the debt, but their willingness is determined more by the political environment.
If there are certain emerging-market governments that are faced with political problems, then you could see issues with the choices they make with regards to servicing their debt - in other words, it would affect their willingness to service the debt, even though they may have the ability to do it. So the political situation in each of those countries is definitely a factor and one that can be more aptly handled through an actively managed portfolio than a passive one.
The second big risk in investing in local currency debt is the currency risk. Regardless of how poor the fiscal situation is in the United States, the U.S. dollar is still the world's preferred reserve currency. And when crises hit, money always flows back to the safety of the U.S. Dollar.
Many commentators contend that the U.S. dollar is not as "safe" anymore, but it really comes down to a case of "relative safeness." Would you rather hold the euro or the U.S. dollar? As of today, many people still believe the answer is the U.S. dollar. And so if a new Asian financial crisis or a Latin American currency crisis was to emerge, an investment in ELD would suffer not only from falling bond values but also from sudden depreciation of the local currency - thereby creating a double whammy for the fund. So that's the one big risk to be aware of with ELD.
Thanks, Shishir, for sharing your ideas with us.
Disclosure: No positions in above-mentioned names.
Disclaimer: Views and opinions expressed on above are those of the author alone and do not in any way represent the official views, positions or opinions of the employers - both past or present - of the author in question, or any other institutions and corporations associated with the author. EtfsHub is not an investment advisor and neither the information nor any opinions contained or expressed above and elsewhere on EtfsHub constitutes or should be construed as a solicitation or offer by EtfsHub to buy or sell any securities or other financial instruments or to provide any investment advice or recommendations. EtfsHub shall not be liable for any claims or losses of any nature, arising indirectly or directly from use of the information on or accessed through the site. Please see full disclaimers here.
Read more Just One ETF interviews »
If you are a fund manager and interested in doing an interview with us on just one stock or ETF position you'd hold, please email Rebecca Barnett.