Most investors who follow SBUX are well aware of the consistent flow of commentary that appears on investment related sites, such as this one. Whether bearish or bullish, most articles usually revolve around Starbucks' fundamentals, margins, growth prospects, etc. and some type of implied valuation. The importance of these metrics can't be understated when making an investment in any company, but the drivers of these numbers are much less understood and discussed. In this article, I'll cover a few areas that have been responsible for Starbucks success and merit attention if considering a new or additional investment at this price level/valuation.
Technology Leader
Given that Starbucks operates in the beverage and food industry, it may come as a surprise that it has played an important role in bringing innovative, technological conveniences to customers around the world. In 2001, Starbucks was among the first companies to introduce Wi-Fi service on a broad basis within its stores. Based on the state of mobile computing and wireless network technology at that time, this move in hindsight looks especially premature.
But over the next 10 years as networks evolved and free Wi-Fi service became ubiquitous, Starbucks was poised to capitalize. Stores became the default work space/retreat for millions of travelers, business executives, freelance workers, and students. Taking into account the obstacles and setbacks encountered along the way one has to admire this level of foresight from a company in any industry, let alone from a coffee company. Stores were no longer a place where you'd stop for a quick coffee or snack, but a place where customers would go for several hours to work, congregate, and drink lots of coffee.
Mobile Payment Platform
In early 2009, Starbucks rolled out its mobile card app in 16 stores. This allowed customers with a QR equipped smartphone to pay for purchases directly via bar code scanner at the register. The technology and payment methodology were in its nascent stages and not enabled, or even available on most smart phones. Starbucks built its own system before the likes of Square wallet, Clinkle, and PayPal Wallet and this gave them a huge lead in mobile payments. Just five years later Starbucks' platform has become best in class and the company is even considering licensing the technology. With 10 million active mobile customers the company is processing more than 5 million transactions per week, accounting for roughly 14% of total transactions.
This past March, based on customer feedback, Starbucks added a feature that allows customers to leave a tip for his or her barista. Today, the rewards card program is available in 28 countries and accounts for over one-third of transactions in the U.S. and Canadian stores.
Wireless Charging
Earlier this month, a partnership with Duracell was announced that will allow for wireless smartphone charging. Given most phones are not equipped to be charged wirelessly without purchasing additional equipment this may be of little value, at least initially. The same assessment can be made of the previous two examples. But it's not much of a stretch to imagine in a few years that most mobile devices will be equipped for wireless charging. These are few examples of what Starbucks has done over the past decade to stay very relevant in an increasing technological and connected world.
Quality and Innovative Stores
With more than 14,000 stores in North America, investors may feel this market already saturated. And based on a person's perspective who lives in a large coastal city, this would be mostly correct. However, in large swaths of the Midwest, Gulf Coast, and mid-Atlantic regions, Starbucks is not nearly as visible. In fact, Starbucks CEO, Howard Shultz, has really gone on record stating that many markets, including N. America, are still under-stored. The company plans to open 1,400 new locations worldwide this year, with 600 in the N. American market.
For anyone that has visited more than a few Starbucks are well aware of its attention to store design and quality. Everything from the tables, chairs, and bathrooms are generally a bit nicer, cleaner, and more comfortable than most large chains. The company is admittedly very conscious about creating stores that are complementary to local style and culture. This attention to detail, in addition to excellent customer service have helped earn Starbucks a very loyal customer base.
Beginning in late 2011, Starbucks began utilizing repurposed shipping containers to create efficient, LEED certified, walk and drive-thru locations. Shipping containers have about a 20-year life span and then often destined to rust in rail yards or shipping ports for another 20. However, Starbucks has found that these containers can be transformed into small, 600-800 square foot, locations that might have otherwise been inaccessible to traditional stores. Fifteen of these modular, pre-fabricated stores are now operating in several cities across the U.S. with more on the way.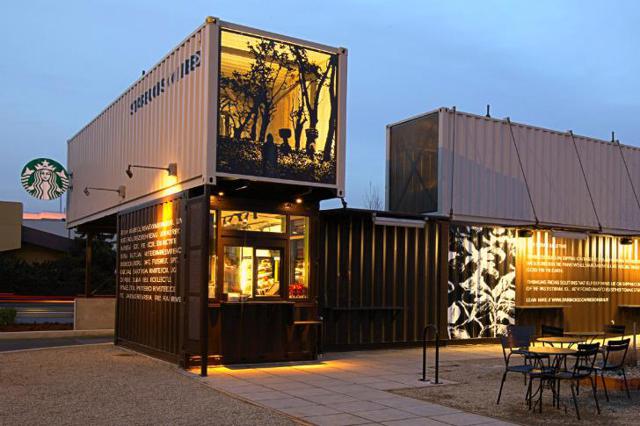 Source: Google images.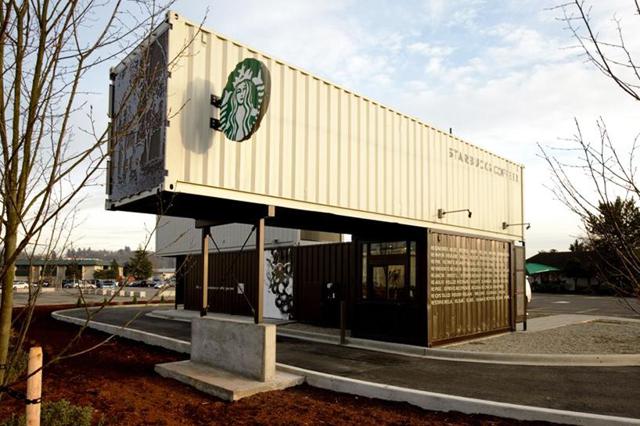 Source: Google images.
Low Correlation With Coffee Prices
While still a major cost, actual coffee prices only account for about 10% of Starbuck's operating costs. The company has long, solid relationships with so many farmers it's able to mitigate a lot of the risks associated with higher and often volatile commodity prices. Over the last five years SBUX has exhibited a -.508 correlation with the iPath ETN, JO that tracks coffee prices. One represents a perfect correlation between two investments and -1 the opposite.
Between June 2010 and April 2011, JO increased from $37 to over $78 per note, a 110% increase. During this same time SBUX increased 37%, going from roughly $27 to $37 per share. The ensuing decline in coffee prices has provided a nice tailwind to performance over the past 2.5 years. Starbucks has locked in coffee prices for the remainder of this year and for 40% of 2015.
Click to enlarge image.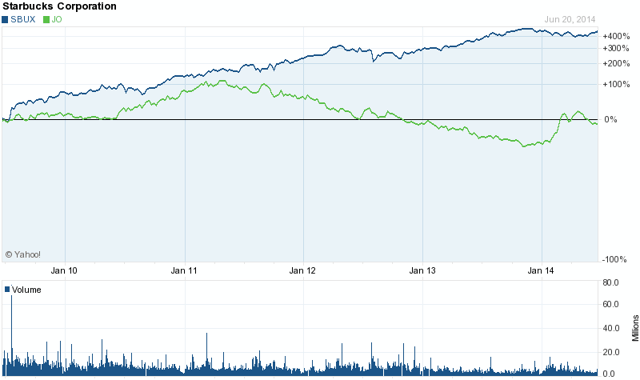 Valuation, Conclusion
Subtracting the one-time charge due to the Kraft Settlement last November, hence the inflated P/E that's been cited as a bearish indicator in a recent Seeking Alpha article, SBUX earned $2.26 per share for FY 2013, and trades at roughly 34 times earnings. With a forward P/E and PEG ratio in the 25, and 1.4 ranges, respectively, the stock is trading near the upper range from a valuation perspective. But with a broader market that has returned close to 20% annually the past five years this is not surprising. The S&P 500 is trading around a 19 P/E multiple and 17 times forward earnings so on a relative basis the valuation is not excessive. Based on continued 10% revenue growth, improving margins, and EPS growth in the 20% range SBUX fundamentals should continue support this valuation. This revenue and earnings guidance was reiterated in the company's recent earnings call.
While a general market correction would likely provide a better entry point, investors with at least a 18 month time horizon should do well purchasing shares at current levels. Industry leaders such as SBUX don't go on sale very often. 2009 was most likely an aberration that will not happen again for a very long time. Fortunate investors were able to pick up shares at rock bottom prices, but a lot have sat idle watching the shares move higher and higher, waiting for the 'inevitable' correction.
SBUX is an investment that could be a part of a wide range of investor portfolios. Whether it's the recent college grad looking setup a direct stock purchase plan or a parent funding a college fund that will be used in 10 years, Starbucks is the type of company you want exposure to. Even with a modest decline in P/E levels and conservative estimate of $3.10 EPS next year, 20% upside is very attainable and much more over the next three to five years.
Disclosure: The author is long SBUX. The author wrote this article themselves, and it expresses their own opinions. The author is not receiving compensation for it. The author has no business relationship with any company whose stock is mentioned in this article.