Companies that are in industries categorized as an oligopoly are able to enjoy lucrative margins and provide shareholders with high returns on their investments. In the mid 20th century, the tobacco industry was able to benefit from this lack of competition and shareholders rejoiced. Today, the pervasive nature of regulation has led to healthy competition to eliminate situations where companies hold too much power. The closest example of an oligopoly, in recent times, is the wireless service provider industry. However, with the proliferation of promotions, possible T-mobile (NASDAQ:TMUS) and Sprint (NYSE:S) merger, and competition from new entrants, the industry is about to experience a disruption.
Wireless Service Providers- Current Market Share
Verizon (NYSE:VZ) has remained the dominant player in the industry with a 35% market share. AT&T (NYSE:T) is not far behind with 32% of the market. (With their recent purchase of Leap, they technically have a 34% market share now). After those two players, there is a far drop off to the next largest, Sprint. Sprint has 16% of the market and T-Mobile has 14%. In the event of a merger, they will still only have 30% of the market, which will still put them behind AT&T and Verizon. Thus, it is likely that regulators will approve of the proposed Sprint and T-Mobile merger which will create more competition as a third major carrier enters the fray.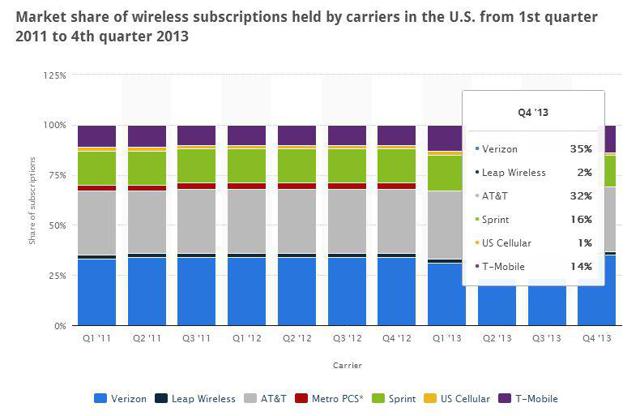 Source: Statistica.com
Evidence of An Advantage
The most salient way to determine if a company is benefiting from oligopoly-like pricing power is to view their margins. Upon reviewing the operating margins and profit margins between the four main players in the industry, it is clear that Verizon and AT&T have a significant advantage. Their operating margins are over 5x that of Sprint and T-Mobile. Further, their profit margins are substantially higher than the later two as well. A merger of Sprint and T-Mobile will increase their combined margins while driving down Verizon's and AT&T's.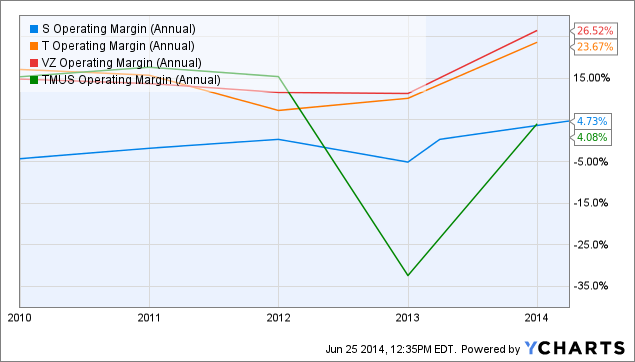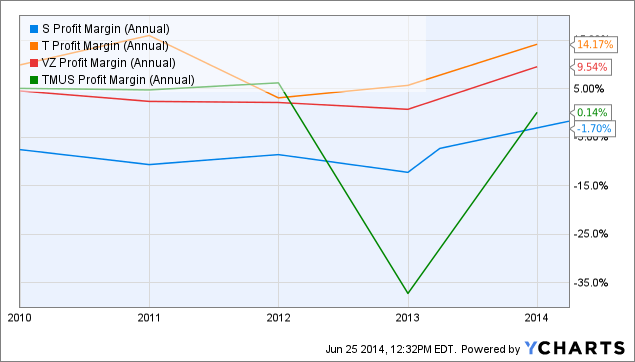 Previous Lack of Coverage
T-Mobile & Sprint have certainly been active in promotional activity to drive interest to gain customers. Unfortunately, a major impediment to gaining market share has been the lack of nationwide coverage, these smaller players have. Sprint and T-Mobile just do not pale in comparison to AT&T and especially Verizon in terms of network coverage. Even if they offer better plans, many customers just simply don't have access to it. However, the combined company will have coverage that is comparable to the others and this coupled with the promotions will put pressure on the VZ & T.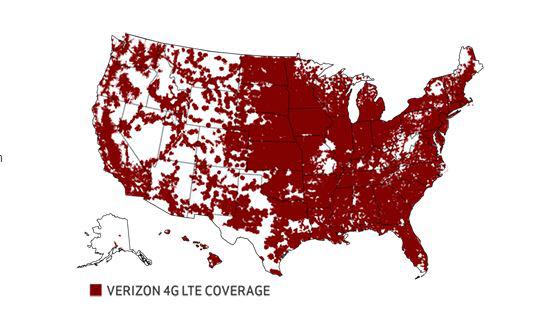 Source: Verizon.com
New Promotions
The wireless service provider industry has been quite stagnant over the past few years. Most providers had two year contracts for customers with hefty termination fees, data plans were costly, and consumers had to pay dearly for exceeding their data allowances. Negative sentiment from consumers over these business practices has led to an alteration of this antiquated model.
T-Mobile has been at the forefront of providing customers with a better alternative. Unfortunately, in the past, consumers have not had access, so they could not switch and benefit. However, if the merger goes through, consumers will be able to take advantage of these promotions.
T-Mobile Promotions
The number of novel promotions coming from T-Mobile is staggering. A few months ago, they began a promotion in which they offered to pay the hefty termination fee to "break up" with your old provider. They also introduced a one year upgrade option which other providers have subsequently adopted. Further, they have given consumers the option to get a phone for $0 down and finance their purchase as well as give consumers unlimited data for tablets for life.
The most recent promotion announced could prove very beneficial. They are offering customers the ability to try out their service for 7 days for free and "cheat on their carrier." This program will allow customers to have a new iPhone for a week and test out the service. Many customers who are hesitant to switch may be assuaged by this brilliant promotion.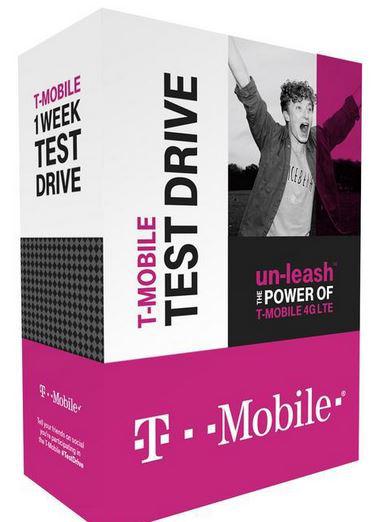 Source: IBTimes.com
Sprint has adopted their own way to gain market share. Their biggest promotion is an unlimited data plan for life. Verizon and other providers have been wary to offer these plans since they can be a drain on their networks. However, this offer may drive others to follow suit to prevent from losing customers.
With the expanded coverage coupled with innovative promotional activities, the combined Sprint and T-Mobile has the ability to hurt the margins of AT&T and Verizon tremendously. The latter two will have to offer these promotions too if they would like to retain their customer base. Their competitive advantage of a vast network will be deteriorated and they will be subject to an onslaught of price battles.
New Entrants
Not only will AT&T & Verizon face pressure from a consolidation within the industry, but they also will have heightened competition from new entrants. Cricket Wireless offered consumers a new type of offering-phones without contracts and many more plan options. Another entrant, FreedomPop, is offering consumers something never thought possible, a "free mobile phone plan."
Leap Wireless (Cricket)
Cricket gave consumers the ability to choose exactly what goes into their plan. Customers chose how much data they want per month and could even choose the type of speed their phone receives from the network. The incentive of not being tethered to a contract was tempting and consumers flocked to the service. The threat of this was evident to the large players and last month, AT&T completed its $1.2 billion acquisition of the business. The success of Cricket shows that the market is ripe to be disrupted and consumers are begging for less constraining options.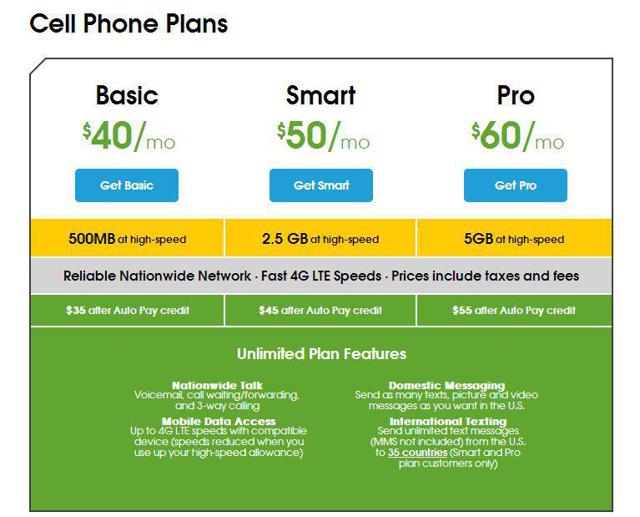 FreedomPop
FreedomPop is a new wave telecom company that launched in October 2012. It is headquartered in Los Angeles and is backed by Skype founder Niklas Zennstom's Atomico, Mangrove Capital, and DCM. FreedomPop currently offers customers free 4G mobile phone service, free wireless internet, and free home broadband. FreedomPop's high speed wireless internet service runs across Sprint's LTE network, 4G WiMax, and 3G CDMA networks.
New Offering
FreedomPop is developing a "pay as you app" feature that allows users to buy data allowances for specific applications. The company is also planning to launch a "sponsored" service that will provide consumers with free data allowances for specific mobile apps, for a period of time. The service will launch in the third quarter and will be offered in conjunction with FreedomPop's basic mobile service, which provides users with 500 MB of free 4G usage per month.
This type of unbundling is what wireless service providers are nervous about. Consumers will be able to slash their monthly phone bill and get access to exactly what they want. Moreover, if they choose the sponsored route, they will have free access to data.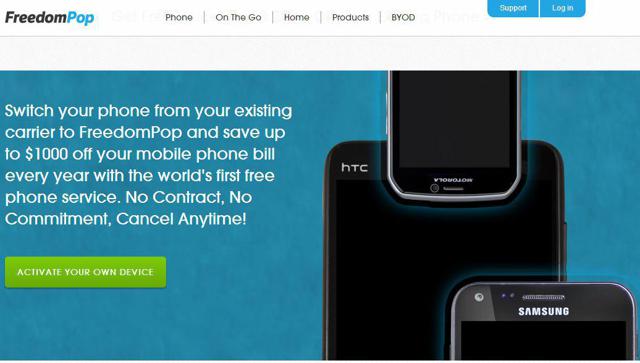 Source: FreedomPop.com
Facebook Entering The Industry?
In recent months, Facebook (NASDAQ:FB) has acquired companies that could hint at it entering the industry as well. The purchases of Whatsapp, Ascenta (a wireless drone company), and Pryte (a company that sells short-term data access), provide evidence of a Facebook entrance into the industry. Following these purchases, it is interesting to note Facebook CEO, Mark Zuckerberg, met with many wireless service provider executives.
It seems likely that Facebook will look to coupling these services together to further its internet.org initiative of connecting the world. If the service is successful, in remote areas such as Africa, Facebook may eventually bring the service back to the United States and further disrupt the wireless service provider industry. More can be found on Facebook's possible new direction here.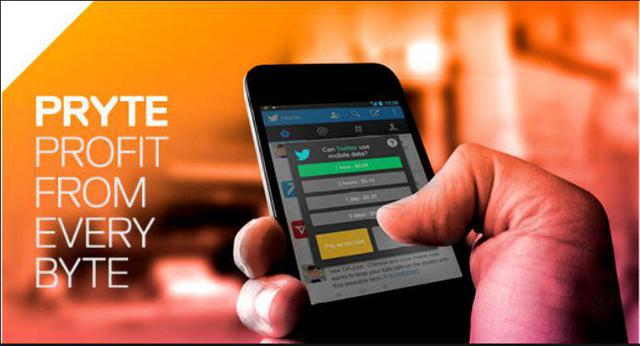 Source: Deia.com
Closing Remarks
AT&T and Verizon have long enjoyed pricing power in the wireless service provider industry. However, a possible merger between Sprint and T-Mobile and the threat of new market entrants presents a significant risk to their antiquated business models. Expect margin compression from these levels which will make it difficult for them to create much shareholder value. Be wary of an investment in oligopolies that are about to be disrupted.
Disclosure: The author has no positions in any stocks mentioned, and no plans to initiate any positions within the next 72 hours. The author wrote this article themselves, and it expresses their own opinions. The author is not receiving compensation for it (other than from Seeking Alpha). The author has no business relationship with any company whose stock is mentioned in this article.