When it comes to the Oil & Gas sector (NYSEARCA:USO) (NYSEARCA:UNG), there are a number of factors I tend to consider before deciding on whether or not I'm going to track and subsequently invest in any one company. Sitting at the top of my list of considerable factors is the idea that any time a company is able to demonstrate a steady increase in its proved and probable reserves, there's a very good chance its share price could rise in both the near term and the long term. With that said, and in the wake of its recent news with regard to overall 2P valuations, I wanted to highlight a number of reasons behind my decision to stay bullish on shares of Pengrowth Energy (NYSE:PGH).
A Brief Summary of the Company:
Headquartered in Calgary, Alberta, Canada, and together with its subsidiaries, the company acquires, explores, develops, and produces oil and natural gas reserves in the provinces of Alberta, British Columbia, Saskatchewan, and Nova Scotia, Canada. According to its website, "the company's corporate strategy is to use funds flow from our existing conventional operations to sustain our current dividend and to fund a portfolio of low decline and long reserve life assets aimed at supporting production and a long-term stable dividend".
Pengrowth's 2P Valuation at Lindbergh More Than Doubles:
On June 24, Pengrowth announced that the value of its proved and probable reserves (2P) at the Lindbergh thermal oil sands project in Alberta have more than doubled to $2.2 billion from a previous valuation of $1 billion.
In its press release the company notes that, "The Lindbergh 2P reserve value reported at 2013 year-end represented 20 percent of Pengrowth's total 2P 2013 year-end reserve value of $5,148 million and equated to $1.95 per share (based on 522,031,117 shares outstanding at December 31, 2013). The 2P reserve value in the current Lindbergh update has more than doubled compared to the 2013 year-end estimate, representing an even larger portion of the corporate 2P reserve value and equates to $4.20 per share (based on 527,470,168 shares outstanding as at May 31, 2014)". Based on those numbers, there's a very good chance the company's Lindbergh-based 2P reserve value could exceed $3.0 billion by the start of the fourth quarter.
From a dividend perspective, and in keeping with the company's corporate strategy that is built around the idea of dividend sustainability, I strongly believe we could see the company's current annualized dividend of 0.44/share increase by a margin of at least $0.06-to-$0.10/share within the next 3-6 months.
Recent Performance And Trend Behavior
On Tuesday, shares of PGH, which currently possess a market cap of $3.58 billion, a forward P/E ratio of 31.00, and a dividend yield of 6.48% (0.44), settled at a price of $6.79/share. Based on a closing price of $6.79/share, shares of PGH are trading 2.01% above their 20-day simple moving average, 4.91% above their 50-day simple moving average, and 10.44% above their 200-day simple moving average.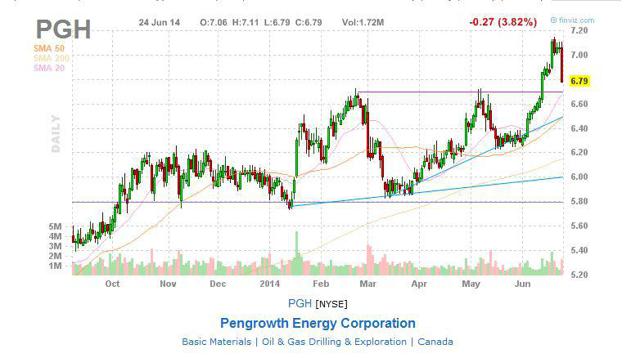 It should be noted that these numbers indicate a short-term and long-term uptrend for the stock, which generally translates into a moderate buying mode for both near-term traders and long-term investors. If the company can continue to demonstrate strong 2P valuations over the next several months, while maintaining (and potentially increasing) its annualized dividend, there's a very good chance these trends could continue well into the second of the year, if not beyond.
Conclusion:
For those of you who may be considering a position in Pengrowth Energy, I strongly recommend keeping a close eye on the continued development of the company's operations at the Lindbergh project. If the project meets the company's production-related expectations, there's a good chance shareholders could see the company's share price surpass $10/share and full-year Lindbergh-based 2P valuations exceed $3 billion by the end of 2015.
Disclosure: The author has no positions in any stocks mentioned, but may initiate a long position in PGH over the next 72 hours. The author wrote this article themselves, and it expresses their own opinions. The author is not receiving compensation for it (other than from Seeking Alpha). The author has no business relationship with any company whose stock is mentioned in this article.