Kraft Foods Group (KRFT), the 4th largest North American grocery manufacturing and processing conglomerate, is well positioned in the sector where top-line growth of all key players is currently muted due to harsh economic conditions. Despite a struggling revenue base, the company has managed to grow its earnings and EPS with its competitive cost cutting strategy. Moreover, its margins, through improvements in its productivity, are poised to grow in the long run. Furthermore, KRFT is on track to grow its top-line and bottom-line results through effective pricing, innovation and marketing initiatives.
Struggling Revenue = A Problem for All
Weak economic conditions in the U.S. have lowered the purchasing power of consumers. This downturn in the economy has equally impacted all food and beverage companies. Along with weak economic conditions, KRFT's recent quarter's performance was significantly affected by input cost pressures from higher dairy, protein and coffee bean costs.
Revenue for the company was down 2% year-on-year in 1Q14. All key players in the industry continue to struggle to expand their top line results due to tough economic conditions; net sales of Kellogg (NYSE:K) were down 3.1% year-on-year in 1Q14 and net sales of General Mills (NYSE:GIS) were down 1% year-on-year in 3QFY14. The U.S. economy has started to show signs of recovery, which I believe will portend well for the industry and KRFT's sales.
Growing Bottom Line
Despite the weak top line results, KRFT has managed to grow its EPS in the recent quarter. The key reason behind the company's EPS increase of 12% year-on-year is its effective cost strategies. The recent quarter's $14 million in cost savings gives an insight to the management's commitment to make the company's cost structure leaner. I believe the future EPS is highly likely to grow in coming quarters, as the management has pledged to save $150 million by the end of FY14. The following graph shows EPS for the company in recent quarters.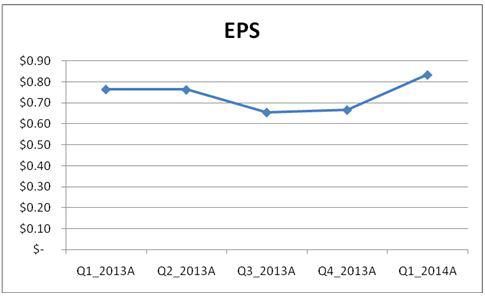 Source: Company's Quarterly Earnings Report
Expanding Margins
KRFT has been growing its margins and remains an attractive stock. On the basis of the recent quarter's results, the expanding gross and operating margins of the company are positioning KRFT well among its closest competitors in the sector. This growing margin base is a result of the company's continuous efforts to bring improvements in its productivity and save more in costs. Going forward, the management's efforts to save more in costs, through cost reduction/productivity improvement, as a result of supply chain management techniques, will portend well to further expand the company's margins.
The following chart shows the recent quarter's margins for KRFT, positioning it well among its key peers, K and GIS.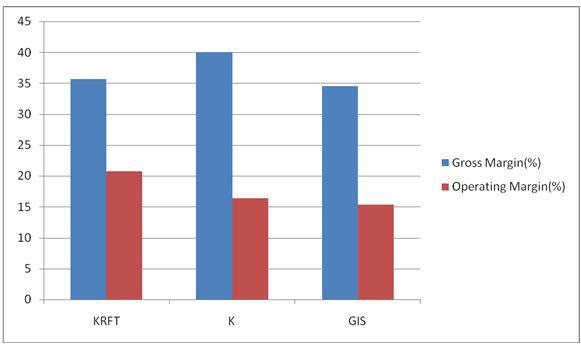 Source: Companies Quarterly Earnings Report
Promising Future
In a highly competitive Food and Beverage Industry, the company's core strategy to grow through innovation is helping it to cater well to the intense competition in the sector. Going forward, the company will bring in more product innovation in almost all of its products to grow its market share at a faster pace. The CEO and Director of KRFT, William Anthony Vernon, in the recent quarter's conference call, said: "In addition to renovation and innovation, we're also redefining great marketing with breakthrough and buzz-worthy public relations and social media campaigns. For example, Oscar Mayer's Twitter campaign to lease the iconic Wienermobile for a day and its disruptive Wake Up & Smell The Bacon app, which got all sorts of press and social media word of mouth, and the continuation of edgy and impactful new TV ads from Miracle Whip, with an added focus on recipes. And our most successful Hockeyville campaign to-date for Kraft Canada, where we had more than 500 communities in Canada nominated to become this year's Hockeyville, more consumer voting than ever, and Kraft scale in store merchandising coast-to-coast across Canada, but we are not stopping there."
I believe going forward these efforts in innovation and renovation, coupled with the ramping up of marketing initiatives of the management, will portend well to grow the company's sales base by drawing more customers towards KRFT's products. Furthermore, the company's profitability will also get a boost from these efforts.
Conclusion
I am bullish on KRFT. Despite the company's struggling top-line results in the given tough economic conditions, I believe in the growth potentials of this long term growth generating stock. Also, with improving economic conditions, KRFT will be able to grow its top line results faster than its peers due to strong dominance in the market. Moreover, the company is on track to excel in the long run with its promising growth formula, focus on innovation, cost management and marketing strategies. Due to the aforementioned factors, I believe there's an upside in this stock; therefore, I have a buy rating on KRFT.
Disclosure: The author has no positions in any stocks mentioned, and no plans to initiate any positions within the next 72 hours. The author wrote this article themselves, and it expresses their own opinions. The author is not receiving compensation for it (other than from Seeking Alpha). The author has no business relationship with any company whose stock is mentioned in this article.