Initially, my gut reaction to the headline of Twitter (NYSE:TWTR) extending the length of tweets was… bad. But then it turns out that the change in direction may play to Twitter's strength, as there are some serious limitations to re-tweeting.
According to The Wire:
With Retweet with Comment, users could add their own message (140 characters, per usual) to the previous tweet. The original tweet would become a "Twitter Card," and you could add your commentary above it. That's a total of 280 characters in one message, and just the latest attempt to expand your tweeting options.
So the "Retweet with comment" extends the length by 280 characters, assuming the quoted Tweet uses up the full 140 characters, and you have commentary of your own that's just as long. Currently, Twitter is trying to boost engagement, as the company earns incremental revenue on each additional user that spends more time on the social network. Also, they're only in the testing stage, and it's unclear whether this social feature will be implemented into the final product.
However, assuming Twitter does become an effective alternative to real-time dialogue, the number of users that use the platform may increase, and the average time a user spends on the timeline could also increase. This two-fold effect can drive revenue growth even as incremental costs continue to decline.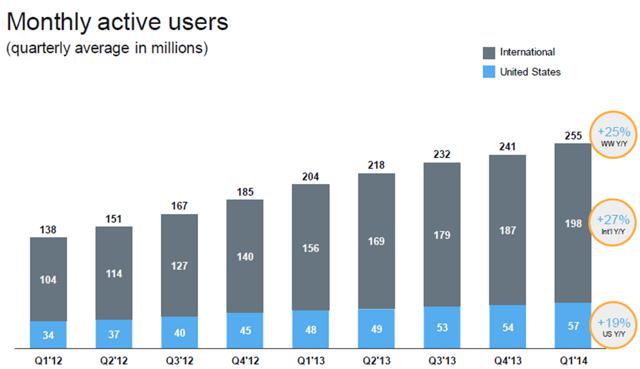 Source: Twitter
Looking at the company's historical performance, the company grew monthly active users by 19% (within the United States). Since the company uses Vine as a means to opening accounts, it's pretty obvious Twitter is on a roll. Twitter has the potential of cross-selling Vine users into its primary service, Tweeting.
Alex Roetter, VP of Engineering, states in a blog post:
It's rare for a day to go by when we're not releasing at least one experiment. You may see some features that your friend doesn't see, or vice versa. This is all in service of making Twitter the best it can be.
The core Twitter service remains largely intact, and I find this potential change in re-tweets may improve advertisers awareness of what in the heck is going on. Advertisers thrive on data, and the added space may give marketers useful insights on what's trending.
It's safe to assume that Twitter will remain an ongoing experiment. The company seems to be adding features in a time when LinkedIn (NYSE:LNKD) and Facebook (NASDAQ:FB) are unbundling their applications.
Is it the right direction for Twitter? I think so. I think that if the company can drive engagement with added features, it should pursue those kinds of strategies.
However, I don't know if Twitter will develop a top 10 mobile property in the months and years ahead. Other social companies are unbundling because they know they can generate better engagement from multiple applications, but if in the case they fail, they have a back-up plan. For example, Facebook can offset product flops with buyouts of smaller, more successful mobile properties.
LinkedIn, on the other hand, can offset unbundling through international expansion. Plus, LinkedIn offers real benefits to users; job employment. That's hard for anyone to turn down (including yours truly).
Twitter on the other hand, lacks the financial resources to gobble up smaller properties, nor can it always land a smash hit application. Even so, over the long haul, I expect Twitter's core business to grow as ad-revenue per user, plus user growth will sustain high growth rates on top and bottom line.
Overall, I reiterate my buy rating on Twitter.
Disclosure: The author has no positions in any stocks mentioned, and no plans to initiate any positions within the next 72 hours. The author wrote this article themselves, and it expresses their own opinions. The author is not receiving compensation for it (other than from Seeking Alpha). The author has no business relationship with any company whose stock is mentioned in this article.