Rogers Communications (NYSE:RCI) is slowly moving in an attempt to succeed in a highly competitive Canadian telecom sector. Through its large scale investments and impressive pricing strategies, the company is pushing its wireless segment towards a point of success among the key peers in the sector. Moreover, RCI will explore new business opportunities in a competitive telecom industry by developing its 4G-LTE. Furthermore, RCI's expansion in British Columbia with $450 million worth of investments is likely to portend well in terms of growing the company's struggling subscriber base. However, customer losses in its cable segment, due to intense competition offered by BCE's (NYSE:BCE) Fibe TV, maintains concerns for the cable segment.
RCI, with its wireless, cable, business and media segments, operates as a diversified communication and media company in Canada. The company's wireless segment, providing voice and data communication services, along with its cable segment providing high-speed internet access and cable telephony services, is contributing well to the overall revenue base of the company as shown below in the pie chart.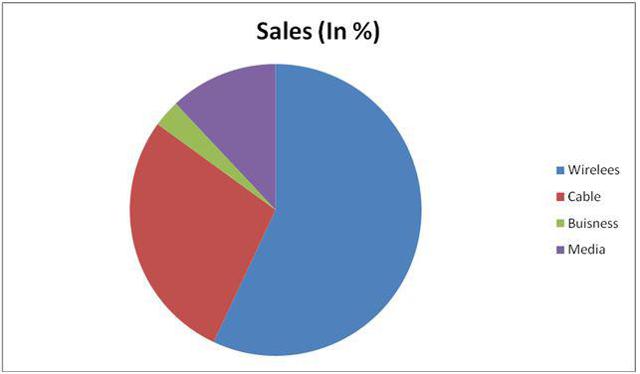 Source: Company's Quarterly Earnings Report
Wireless Segment = Carved out plans to succeed
Over the past few years, wireless services are growing at a much faster pace in the telecom sector. Canadian telecom companies are now benefiting from high wireless penetration in Canada. In the highly competitive environment for wireless service providers in Canada, RCI is growing its wireless segment at a decent pace. The intense competition among Canadian wireless service providers is more about effective pricing policies. However, RCI's competitive pricing policy proved to be a drag on the company's wireless segment's revenue base; the wireless segment's results for the recent quarter were down 2% year-over-year.
Nonetheless, RCI's effective pricing policy did well to lower the wireless segment's subscriber losses. The recent quarter's 2 basis points improvement in its churn rate was driven by the increased customer traffic, directed towards the company's simplified customer-friendly and all-in pricing plans. Moreover, the company's improved network quality, with the deployment of its 4G-LTE network after the 700MHZ spectrum auction, also added towards modest postpaid subscriber additions in the recent quarter.
On the flip side, the 4G-LTE rollout by peers like TELUS (NYSE:TU) and BCE, coupled with higher propagation of smartphone and tablets, have intensified competition in the sector. The recent quarter's postpaid net additions of 2,000 by RCI are way behind TU's 48,000 and BCE's 34,000 net additions.
RCI is going for high scale investments to grow its subscriber base, which is lagging behind its peers. The company recently announced a partner market agreement with Vodafone (NASDAQ:VOD). The agreement will allow RCI to expand its 4G-LTE program more effectively in Canada. Moreover, the deal will enable RCI to explore new business opportunities in the competitive Telecom Industry, benefiting from VOD's big international infrastructure. I believe RCI's partnership with VOD will prove vital for the growth of its subscriber base.
Furthermore, RCI has taken the decision to invest $450 million by collaborating with Premier Christy Clark for the deployment of its wireless network in British Columbia in the next three years. This collaboration will expand the company's 4G-LTE network across 70 new communities in British Columbia. I believe the company's decision to aggressively deploy its wireless network across the highly profitable market of British Columbia will not only portend well for growth of its wireless segment's revenues, but will also give an uplift to its struggling subscriber base.
Moreover, the company's efforts to save costs in the wireless segment stay on track, as gross margin in the recent quarter came out to be 48.3%, up 280 basis points year-over-year. As the management remains committed to further lowering costs by bringing operational efficiencies in its wireless segment, I believe that investors should remain optimistic that the company's profitability base will grow in the near future.
Cable Segment = Key Area of Concern
With the customers turning their heads towards BCE's Fibe TV, RCI continued to suffer the impacts of significant TV subscriber losses. However, the company's TV subscriber losses did reflect signs of moderation, as in the recent quarter the company observed a loss of 20,000 subscribers, as compared to 25,000 losses in the same quarter the previous year. BCE's 54,680 net new Fibe TV customers in Q1FY14 kept the company's cable segment under pressure. Moreover, the recent quarter revealed the operating profit of the cable segment was also down due to a 4% year-on-year increase in its operating expenses. The cable segment will remain pressurized as BCE continues to roll out its Fibe TV at a greater pace.
Conclusion
I reaffirm my hold rating for RCI. The company faces intense competition in the industry. A shift in the management's focus towards aggressive investments to expand its 4G-LTE network, along with its steady cost cut efforts remain positives for the company's future performance. Despite the company's weak wireless subscriber base, I believe the company's road map for growing its subscriber base is heading it in the right direction. However, the cable segment is likely to remain a drag on the consolidated financial performance of the company.
Disclosure: The author has no positions in any stocks mentioned, and no plans to initiate any positions within the next 72 hours. The author wrote this article themselves, and it expresses their own opinions. The author is not receiving compensation for it (other than from Seeking Alpha). The author has no business relationship with any company whose stock is mentioned in this article.