With the stock market near record highs, it's getting tough to find real value in stocks and many other asset classes. Of course, everyone says they want to buy low and sell high, but psychology makes that very tough to do. Most people want to own "winners" and end up chasing stocks that they see going ever higher, especially when they see other people making money. By contrast, it is hard to buy something that is a "loser" which has been dropping in value. After all, who wants a stock or asset that has not been performing like a winner? However, contrarians like Warren Buffett often go against the crowd and buy depressed assets when few investors are interested. That is what led him into buying shares of Bank of America (NYSE:BAC) when it was trading for just a few dollars. While it seems that many investors are jumping back into the real estate and stock market, not too many are bullish on silver and that could be one sign of a real bargain. Warren Buffett is not known to be a big fan of precious metals but he has bought significant amounts of silver in the past and according to one article, he did buy about 130 million ounces.
Regardless of what Mr. Buffett is currently doing, it seems clear that silver and precious metals in general, are an unloved asset class. It also seems clear that precious metals might be at bargain-like levels. Furthermore, the hardest part of buying something that has dropped in value is wondering if it will keep going down after you buy it. However, that is why many investors look at the charts for signs of a clear bottom and that is exactly what seems to be the case for silver now. Let's take a look at the chart for silver and review a few other reasons why it might be the world's most undervalued asset class:
Reason #1: As The Global Economy Grows, Industrial Demand For Silver Will Increase
While many investors bought gold as a hedge against some type of financial disaster that has not played out, so many precious metals have lost some luster in recent months. However, even though falling gold prices can also take down silver and platinum to a certain point, a time will come when silver and platinum can rebound along with the global economy and that time might be now. Silver and platinum are heavily used in a wide variety of industries, which includes electronics, automobiles, and more. Both the electronics and auto sector are seeing robust demand and that should continue and even increase as the European economy picks up steam. A Bloomberg article details why silver prices could be on the rise later this year thanks to increasing demand from a number of industries. This article also notes that silver prices could benefit from a drop in production. The article states:
"This year demand from the electronics industry will drive growth, Krebs said. Industrial uses for silver, including electronics and photography, represent about half of total demand. The silver market will receive a boost as larger mines such as BHP Billiton Ltd.'s Cannington mine in Australia, the world's largest silver mine, end production, Krebs said. Scrap availability is also falling, he said."
Reason #2: There Are Technical Signs That Silver Has Bottomed Out And Could Now Be Poised To Rebound: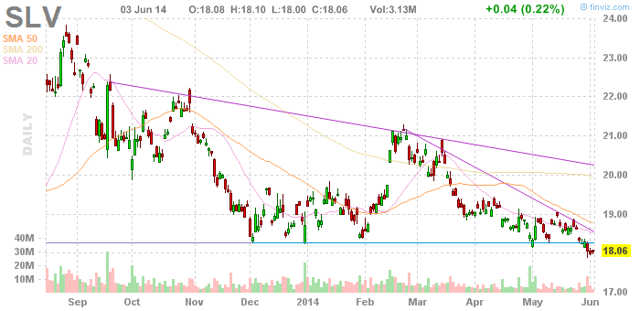 As this chart above shows, silver has bottomed out a number of times at around $18 per ounce. The fact that it has put in a "multiple bottom" around this level since December shows that it has very strong support at this price and it also means the potential downside risk could be very limited from these levels. Additionally, it means that silver might be positioned to start trending higher. In fact, silver now appears to be in the early stages of a breakout past the recent trading range as it has suddenly been showing new strength. This could soon start to take many silver stocks higher because silver is currently trading above the 50-day moving average, which is $18.72 per ounce. Silver also just took out the 200-day moving average of $19.69 per ounce, which appears to confirm a bullish breakout move. This appears to indicate that the downtrend has reversed and now a new uptrend has begun. It is still early to call this a major trend, but if it continues, that means there could be plenty of gains left for investors who buy silver and silver stocks now.
Reason #3: Some Analyst Predict Cyclical Inflation Is Coming:
Inflation has not been a problem for years, but that trend could also soon reverse. Paolo Santos recently wrote this Seeking Alpha article titled "Inflation Is Rearing Its Ugly Head," in which he points out that "There are some signs inflation is showing up, after years of money printing." A recent Barron's article also details why analysts at Deutsche Bank (NYSE:DB) see signs of cyclical inflation, and rapid acceleration in the rate of inflation, it states:
"Deutsche Bank says the consumer price index has been running at a 2.8% annualized growth rate over the past three months, the fastest pace since the summer of 2011. Deutsche Bank expects the year-over-year rate, currently at 2.0%, to rise to 2.3% by year end and 2.5% a year later, which would be consistent with gains of 1.9% and 2.0% in the core PCE deflator, one of the Fed's preferred inflation metrics. Meanwhile, Deutsche Bank says, U.S. household finances continue to improve "at a rapid rate."
Reason #4: Too Many Shorts Have Piled Into Silver And That Overly Crowded Trade Has Helped To Make Silver Undervalued
As mentioned earlier in this article, silver is at a level where some mines are better off cutting production. Plus, new mines in high cost areas are more likely to be put on hold. It appears that shorts may have gone too far in pushing silver down. When the price of an asset falls so low that new production in some parts of the world no longer makes sense, this can be yet another strong case for making the claim that silver could be one of the world's most undervalued assets. Earlier this year, Theodore Butler made a case for that very point in an article, which stated:
The best thing about silver's extreme undervaluation is that the reason for it is as clear as is the undervaluation itself; not in terms of legitimacy, but certainly in terms of clarity. As I have reported recently and for years, COMEX silver has the largest concentrated short position of any traded commodity. Eight traders, led by JPMorgan, are responsible for silver being the most undervalued asset in the world. The world's largest concentrated short position should logically result in the world's most undervalued asset. I think this is good news because it would be impossible for me to show conclusively that silver was the cheapest investment asset of all without providing a definitive explanation for the unprecedented undervaluation.
Reason #5: Trading Volumes In Silver Are Rising And Some Silver Stocks Are Starting To Make Big Moves
Trading volumes in gold and silver ETFs have been surging lately which shows renewed interest in precious metals. Volume in the iShares Silver Trust (NYSEARCA:SLV) recently saw a 400% surge in the average daily volume. Furthermore, some silver and gold stocks have been starting to make big moves as well with some stocks jumping about 45% in a single day according to this article. That shows there is a lot of potential upside and also possible gains from short covering in many "left for dead" mining stocks. Barron's is seeing the upside potential in precious metals and recently stated "After a few false starts this year, the technicals have finally lined up to suggest the time is right to nibble." Investors who want less risk should consider buying silver ETFs. However, for investors willing to take on more risk for potentially much larger rewards, small and low-priced silver company stocks like the one I wrote about in this article recently, could offer far more upside.
Data is sourced from Yahoo Finance. No guarantees or representations
are made. Hawkinvest is not a registered investment advisor and does
not provide specific investment advice. The information is for
informational purposes only. You should always consult a financial
advisor.
Disclosure: The author is long SLV. The author wrote this article themselves, and it expresses their own opinions. The author is not receiving compensation for it (other than from Seeking Alpha). The author has no business relationship with any company whose stock is mentioned in this article.