Overview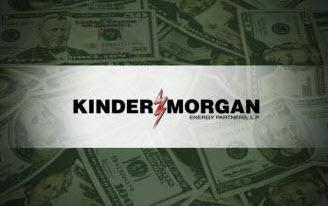 I recently put forth a four-part series (I, II, III, IV) regarding the enormous amount of expansion presently underway for Kinder Morgan's (KMI) (NYSE:KMP) pipeline business. The expansions underway are part of the already identified $16.4 billion in backlog projects for the company. This article details the $15 billion in new growth opportunities for the pipeline segment that are currently under review.
Kinder Morgan pipeline new growth opportunities overview
Kinder Morgan already has an expansive and intricate pipeline network across North America. The company breaks it down into four major regions - East, West, Central and Midstream. This article will focus on the $15 billion in new growth projects currently on the drawing board for the four regions.
Primary overall growth drivers
The primary growth drivers are shale-driven expansion and extensions, new LNG export liquefaction facilities and associated pipeline infrastructure needs, increased gas demand due to regional demand growth and coal plant retirements, potential exports to Mexico, and repurposing opportunities.
Summary of new growth projects by region
Below is a summary table detailing the new growth opportunities for each region totaling $14.96 billion in new growth projects identified.

(Source KinderMorgan.com)
The following is a breakdown of the new potential growth drivers and opportunities for each individual region provided by Tom Marlin, the president of the Kinder Morgan Natural Gas Pipeline Group.
East Region - $7.7 billion in new growth opportunities
Potential regional growth drivers
Marcellus/Utica shale plays production growth
The enormous production increases in these two shale plays should provide expansion and greenfield opportunities to move more gas into the Northeast and significant quantities south to the demand centers on the Gulf Coast. Major new growth considerations are as follows:
Additional Marcellus/Utica southbound expansion on TGP
Marcellus project on TGP to the Northeast at Wright
Greenfield project from Utica for larger volumes
Northeast gas and electric initiatives
New infrastructure is needed in the Northeast for load growth in gas and power markets. Kinder Morgan's Northeast expansion project is under review to address these needs.
Southeast power and industrial growth
Power growth in the Southeast U.S. continues to be an opportunity for SNG. The TGP and SNG both continue to have inquiries from the industrial sector for new plant builds. The following are the two primary growth drivers are as follows.
LNG exports
Gulf LNG liquefaction expansion
Freeport LNG
Repurposing opportunities
Conversions for NGL service
Rich gas service for Utica Shale
The following is a detailed review of one major growth opportunity in the works at this time for the east region.
TGP - Northeast Growth Opportunity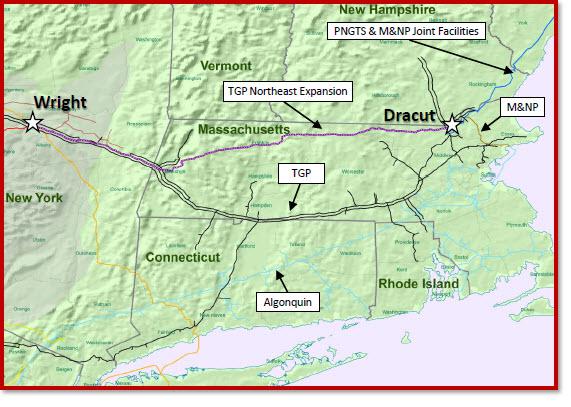 Capacity: 1.0+ Bcf/d
Capital: Approximately $1.75 - $2.75 B
Estimated In-service: November 2018
Project Scope:
Approximately 175 miles of greenfield pipe for connection to TGP and M&NP
Compression
Laterals as necessary to serve customers
The commercial benefit of the project would be additional gas supply for the pipeline-constrained New England market. The company is actively pursuing commitments from LDCs and power generators at this time.
West Region - $5.6 billion in new growth opportunities
Potential regional growth drivers
Growth in exports to Mexico
Total incremental growth for Mexico by 2025 is projected to be up by 2.1 Bcf/d. This can be served from Kinder Morgan's current EPNG footprint. The demand growth is derived from incremental power generation demand growth on the Willcox, Samalayuca laterals and Sierrita. This demand growth creates opportunity above and beyond current planned capacity additions already in the works.
Dramatic growth in production
Furthermore, there is dramatic growth in unconventional oil and liquids production in the area. The growing Permian production has created oil conversion opportunities on the EPNG Freedom Pipeline. Dry to wet service conversions are needed as well. The Niobrara shale, Powder River Basin and DJ Basin and the tight gas sands of the Wind River Basin and Uinta Basin are also contributing significant production growth that needs to be addressed.
Growing demand for natural gas in power generation and industrial sectors
Several factors are contributing to a significant uptick in demand growth. Additional markets in the desert Southwest regarding coal-to-gas conversions, power plants and LDCs are in a constant state of increase. Furthermore, with the recent a de-emphasis regarding nuclear power options due to the Fukushima tragedy, the needs for alternatives has been vastly exacerbated. The following is a detailed review of the major growth project on the drawing board for the region.
Mexico Incremental Gas Demand Potential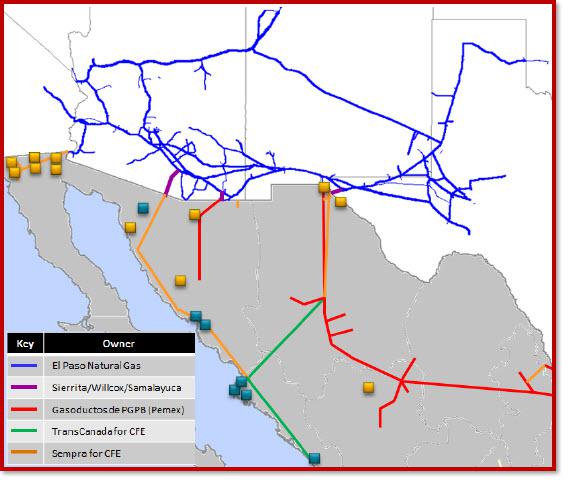 Key Metrics table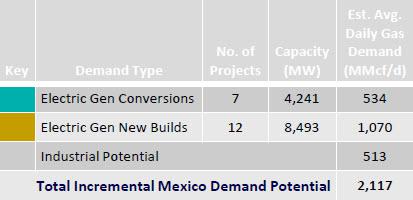 Capital: $240MM - $2.8B
Estimated In-service: Staged over the next 15 years
The commercial benefit of the growth project is the opportunity for additional contracting and expansion of the EPNG pipeline system to serve growing demand for natural gas from industrial and electric generation projects in the area.
CIG Powder River Lateral Conversion to NGL Service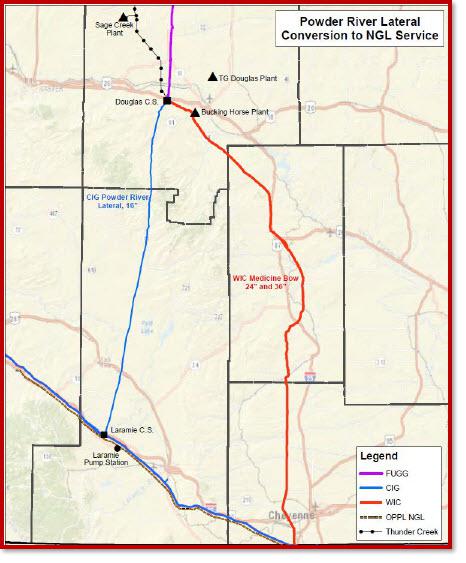 Capacity: 60-100 MBbls/d
Capital: $75-100MM
The project is estimated to be placed in-service by 2015. The project scope is as follows:
Conversion of 16-inch lateral to liquids service
Connect with Overland Pass Pipeline at Laramie
Requires pump and meter stations
New processing plants in Douglas area provide opportunity for liquids takeaway
The commercial benefit is repurposing to NGL service.
Midstream region - $1.0 billion in new growth opportunities
Potential regional growth drivers
Mexican Exports
Electric generators in Mexico are looking toward natural gas to fuel new plants to meet growth and replace other fuels such as oil.
South Texas LNG Liquefaction
There are several proposed LNG liquefaction projects in South Texas currently under review. If these projects are green lit, will create an enormous demand for new pipeline infrastructure in the region.
New processing and gathering demand growth
The continued growth in production from shale plays in the area provides a tremendous amount of new opportunities for Kinder Morgan's Midstream segment. The Kinder Morgan Utica project is one example of this. Furthermore, the company has several opportunities related to the continued leveraging of Copano's gathering and processing experience and expertise. This could lead to an expanded footprint and services to include the development of new NGL initiatives.
Industrial Load Growth
The Texas intrastate system continues to have inquiries from the manufacturing sector for brownfield and greenfield plant expansions. Specific requests have been made related to further enhancements to the West Clear Lake storage facility and expansion of existing or development of additional caverns at the Dayton storage facility. The following is a detailed review of the major growth opportunity for the Midstream region.
Gulf Coast LNG Opportunities
Several LNG export terminals are projected to come on-line in 2017-19 along the Texas Gulf Coast. Below is a map of the terminals followed by a breakdown of the terminals' processing capabilities.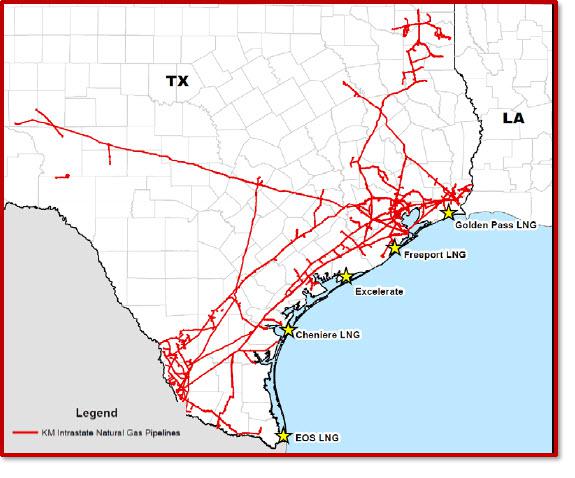 Golden Pass LNG (Sabine Pass, TX) - 2.1 Bcf/d
Freeport LNG (Freeport, TX) - 2.1 Bcf/d
Excelerate (Lavaca Bay, TX) -1.4 Bcf/d
Cheniere LNG (Corpus Christi, TX) - 2.1 Bcf/d
EOS LNG (Brownsville, TX) - 1.6 Bcf/d
Central region - $600 million in new growth opportunities
The Central region's large asset footprint provides numerous opportunities for expansion and capital investment. The Central Region's asset footprint is strategically located to serve a tremendous amount of liquefaction and support new power generation plants due to come online in the near future. Furthermore, growing liquids and oil production in the region are creating expansion opportunities as well.
Potential growth inhibitors
These projects have yet to be approved and formally included into the backlog for the company. There are several developments that could stymie these projects from coming to fruition. The major ones are as follows.
Regulatory risks related to Products Pipeline FERC / CPUC cases, Natural Gas FERC rate cases, and potential legislative and regulatory changes.
Upstream operator crude oil production volume uncertainty
Commodity price uncertainty
An economic downturn
Rising interest rates - The full-year impact of a 100 basis point increase in floating rates equates to an increase of approximately $53 million in interest expense for KMP.
Conclusion
The immense growth of North American natural gas and oil production, coupled with the increase in demand from around the globe, will keep Kinder Morgan very busy for years to come. This secular growth story should provide investors with steady and predictable income streams for the foreseeable future. This will underpin distributable cash flow and dividend yield growth for the foreseeable future. Moreover, when you make an investment such as this, you want to have visibility as to the future prospects for organic growth to ensure you have steady and stable cash flow during your retirement years. I can think of none better than the enormous growth projected by Kinder Morgan. Nevertheless, I suggest layering into positions over time to reduce risk.
Disclosure: The author has no positions in any stocks mentioned, and no plans to initiate any positions within the next 72 hours. The author wrote this article themselves, and it expresses their own opinions. The author is not receiving compensation for it (other than from Seeking Alpha). The author has no business relationship with any company whose stock is mentioned in this article.