Colony Financial Inc. (CLNY) is a commercial real estate finance company engaged in acquiring, originating, investing in, financing, and managing a diversified portfolio of real estate-related debt investments. It primarily focuses on commercial mortgage loans, CMBS, mezzanine loans, real estate owned properties, debtor-in-possession loans, B-notes, bridge loans, etc. It is externally managed and advised by a wholly-owned subsidiary of Colony Capital LLC -- a privately-held independent investment firm founded in 1991. Colony Capital has an extensive global footprint and experience. A number of deals are done in conjunction with Colony Capital. CLNY is a U.S. REIT.
CLNY does invest in RMBS, but it is primarily a commercial real estate finance company. Does that mean it has done better or worse than most of the other REITs that are perhaps not quite as commercial real estate-oriented? If you are talking about book value alone, then CLNY has clearly done better than most of its peers. CLNY's book value was $18.30 as of December 31, 2012. Its book value as of March 31, 2014 was $18.98 per common share, for an approximate +3.72% gain over the intervening five quarters. The stock price was $19.50 on December 31, 2014; and it was $21.95 on March 31, 2014. This was already a premium to the March 31, 2014 book value of $18.98; and the stock price has, since Q1 2014 end, risen to $23.00 as of the close on June 24, 2014. This is a 21.2% premium to the March 31, 2014 book value. Since the book value only rose +$0.26 in Q1 2014, the current stock price is likely far too much of a premium; and CLNY is overvalued. However, good stocks often become overvalued; and this may mean that investors should want to own CLNY long term. However, they may wish to buy it on a dip. The following table shows how this compares to New York Mortgage Trust Inc. (NASDAQ:NYMT) and Invesco Mortgage Capital Inc. (NYSE:IVR). Both of these real estate REITs have both RMBS and commercial real estate investments.
| | | | |
| --- | --- | --- | --- |
| Stock | NYMT | IVR | CLNY |
| Current Price (at the close June 24, 2014) | $8.04 | $17.67 | $23.00 |
| Annual Dividend | 13.4% | 11.3% | 6.3% |
| Book Value as of December 31, 2012 | $6.50 | $20.83 | $18.30 |
| Book Value as of March 31, 2014 | $6.48 | $18.53 | $18.98 |
| Stock Price at the close December 31, 2012 | $6.32 | $19.71 | $19.50 |
| Stock Price at the close March 31, 2014 | $7.78 | $16.47 | $21.95 |
| Change in Book Value from December 31, 2012 to March 31, 2014 | -$0.02 | -$2.30 | +$0.68 |
| % Change in Book Value from December 31, 2012 to March 31, 2014 | -0.31% | -11.04% | +3.72% |
As investors can see from the table above, CLNY has the lowest dividend. However, it was a clear outperformer in terms of book value gains during the period from December 31, 2012 to March 31, 2014. This period was a truly terrible one for primarily Agency fixed rate mortgage REITs. Even for the REITs invested in more commercially-oriented investments, it was a tough time. New York Mortgage Trust Inc. has been one of the outperformers during that period; and it still lost a small amount of book value. IVR lost -11.04% over that period. CLNY's book value went up. It may have had the lower dividend, but it outperformed Invesco Mortgage Capital Inc., when you factor in book value losses and consequent stock price losses. For those investors that love stable investments, CLNY proved its worth during that troubled time of rapid interest rate increases.
CLNY has more of a hybrid model than the above two companies. It trades at lower leverage than most other mortgage REITs, without dependence on overnight mark-to-market financing. Instead, it provides a balanced mix between current yield and capital appreciation potential. The charts below illustrate this point well.

The charts below give a more specific breakout of CLNY's investment types.

As investors can see from the pie chart on the right, only 12% of the portfolio is composed of fixed rate loan originations bearing a high average coupon of 12%. Instead, 28% is composed of loan originations with equity participations and/or floating rates. 60% is composed of discounted loan acquisitions (both fixed and floating) and real estate equity -- performance linked to underlying economic and real estate market fundamentals. The Fed has seen to it that these have had a consistent upward trajectory in recent years. It is not as clear that the Fed will be backstopping the U.S. real estate market so thoroughly in the future.
As for the valuation of the company, it is a hard company to value based on the book value cited alone. The company has prepared the following slide to give its take on the valuation, which it obviously considers to be too low.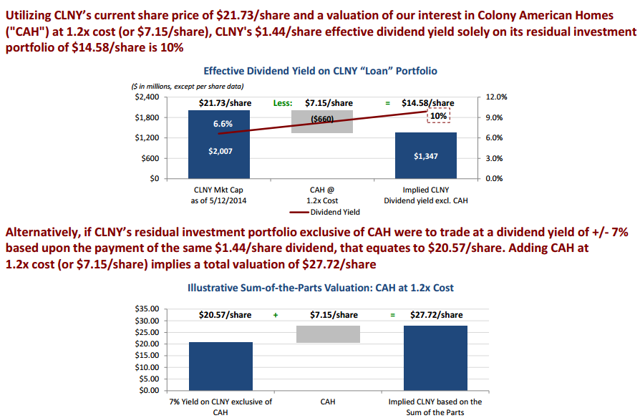 CLNY's point seems to be that if you take out the subsidiary Colony American Homes (NYSE:CAH), which generates little dividend, the dividend return would be about 10% for the rest of CLNY. This would put CLNY in the ballpark of other mortgage REITs' dividends. CLNY then turns the argument around. If CLNY without CAH is a good value with its 6.3% dividend, then adding in the approximate $7.15/share that CAH represents should bring the share price to $28-$30/share. I am not sure I buy either argument; but they are not without merit.
CLNY has invested $550 million in Colony American Homes, a Colony-managed platform created to acquire, renovate, and rent single-family homes. All told, CAH is capitalized with $2.3B of equity and a $1.2B credit facility. It is one of three +10,000 homes operators with scale in acquisition opportunities, renovation work, certain property management costs, access to the private and public capital markets, and exit alternatives. It has vertically-integrated management and scalable operating infrastructure, with about 800 full-time employees, consultants, and affiliate relationships.
In April 2014, CAH completed a securitization transaction backed by income from approximately 3,400 single-family homes in its portfolio by selling $514 million in bonds with a blended rate, including servicing fees of LIBOR plus 1.78% (0.25% LIBOR floor).
Renovation and leasing productivity keeps improving. In Q1 2014, approximately 500 homes were renovated per month and 800 homes were leased per month. Renovation spend per home is approximately $21,000. As of May 5, 2014, the overall portfolio is 73% leased, up significantly from 61% leased as of Q4 2013. CAH continues to focus on Colony American Financial (CAF), its wholly-owned subsidiary that lends to other owners of single-family homes for rent. Expansion of this lending program is a strategic initiative for 2014. Once scaled, CAF's loan portfolio may be financed with securitizations in the future.
Overall, single-family homes for rent is arguably the largest macro distressed real estate opportunity to emerge from the "Great Recession" financial crisis. CLNY is taking full advantage of this; and investors should be encouraged by its leading position in this field. Investors will also be gratified to hear that CAH has a very diversified portfolio (see graphic below).
Getting away from CAH, CLNY has about $2.5 billion invested and about 20,600 loans/assets. In Q1 2014, it had Core Earnings of $27.1 million (or $0.33 per basic and diluted share) and net income attributable to common shares of $16.4 million (or $0.20 per basic and diluted share). The company reported total income of $59.2 million. This was almost double the total income of the year-ago quarter of $33.6 million. The net income comparison was much less impressive. CLNY had net income of $16,375,000, compared to $14,052,000 in Q1 2013. On a per common share basis, CLNY actually earned more in Q1 2013, at $0.22 per common share in net income versus only $0.20 per common share in Q1 2014. This is discouraging. The Core Earnings results were better, with $0.33 per common share in Q1 2014 compared to $0.27 per common share in Q1 2013.
All told, I do not buy CLNY's logic with regard to its book value, without a plan in place to spin off CAH. CLNY would be only one of many companies that possibly has more value after it is broken up. That said, the book value as computed by the company changes usually slowly. This means the underlying value of the company is not likely to change greatly from one quarter to the next. CLNY's March 31, 2014 book value of $18.98 is likely within $0.50 of the book value that will be announced for June 30, 2014 with the Q2 2014 earnings report. CLNY's book value will probably be higher than $18.98. However, it will likely be far lower than the current stock price of $23.00 per share. Likely CLNY is trading at a more-than-15% premium to its book value. For a stock whose value is based on assets that generally do not change value quickly, this is probably too much of a premium.
CLNY appears to be a great company that many investors would like to own long term. However, the +15% premium of the stock price over the book value is too much for prudent investors to pay (a +21% premium when the stock price is compared to the March 31, 2014 book value). This makes CLNY a hold. More active investors may want to sell their shares until they encounter a dip. I do not mean to say anything bad about CLNY. It appears to be a solid stock that should do well going forward. However, now may not be the time to make such a purchase. It is probably better to wait until you see a dip, even though CLNY's business sounds logically and strategically sound.
The two-year chart of CLNY provides some technical direction for a trade.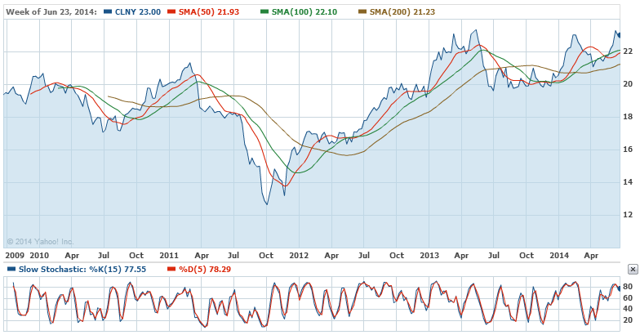 The slow stochastic sub chart shows that CLNY is overbought. The main chart shows that CLNY is in a weak uptrend. The March 31, 2014 book value of $18.98 indicates that the current $23.00 per share stock price is too high. Investors probably want to wait for the price to fall before buying. However, CLNY does have a great business. It pays a great 6.3% dividend. Its business seems relatively resistant to interest rate increases.
A hot economy would almost certainly mean a hot real estate market. Therefore, CLNY is much better positioned than many mortgage REITs for a rising interest rate environment. Many investors will like this attribute of the stock. Many will be willing to pay a premium. The CAH subsidiary would look that much better in a hot economy. Even in a so-so economy, CLNY should do well. Investors should make up their own minds whether or not they wish to take the expensive, overbought premium risk. I choose not to; but I am not always correct. The average analyst gives CLNY a mean recommendation of 2.0 (a buy). CAPS gives it four stars (a buy rating). I like the company; but I would wait for a dip to buy the stock.
NOTE: Some of the above fundamental fiscal data is from Yahoo Finance.
Good Luck Trading.
Disclosure: The author has no positions in any stocks mentioned, and no plans to initiate any positions within the next 72 hours. The author wrote this article themselves, and it expresses their own opinions. The author is not receiving compensation for it (other than from Seeking Alpha). The author has no business relationship with any company whose stock is mentioned in this article.