The last time I wrote about Corning (NYSE:GLW) was in November of last year, shortly after shares declined due to an announced deal between its competitor GT Advanced Technolgies (GTAT) and Apple (NASDAQ:AAPL). In my previous article I argued that shares offered value, and they have run-up quite a bit since: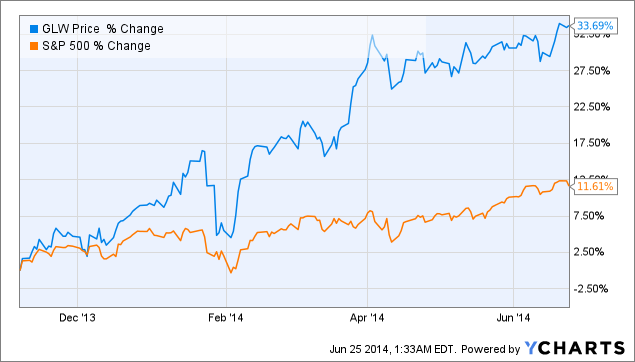 I also wrote that fears of Gorilla Glass being replaced were overblown. This was not only due to the fact that Gorilla Glass was more economically feasible than Sapphire, but also because it wasn't as big of a contribution to revenues as many seemed to think. I wrote specifically that "Perhaps Corning investors, as of now, should be more worried about LCDs than Gorilla Glass".
Another strong quarter
Corning reported its Q1 earnings on April 28, 2014, with Core sales growing to $2.4 billion (an increase of 32% year-over-year) utilizing non-GAAP financial measures. According to the company, "Core performance metrics (non-GAAP) are adjusted to exclude the impact of changes in Japanese yen foreign exchange rate, as well as other items that do not reflect ongoing operations of the company."
Net sales using GAAP were $2.3 billion, or a 26% increase on a year-over-year basis. Below are the results broken out by segment:
| | |
| --- | --- |
| Segment | Sales |
| Display Technologies | $1 Billion |
| Environmental Technologies | $275 Million |
| Optical Communications | $593 Million |
| Specialty Material | $261 Million |
| Life Sciences | $210 Million |
As can be seen, the Display Technologies segment continues to carry most of the revenue-weight, increasing by 55% year-over-year.
According to CFO Jim Flaws, this was largely "driven by the additional sales from a now consolidated operations in Korea, Corning Precision Materials." Flaws also pointed out that:
Sequentially volume was down mid-single-digits a little softer than we had expected driven mainly by a technical issue at one customer in Korea. Our volume growth was lower in the quarter than the overall LCD glass market due to this issue, but we expect to reverse in Q2 as glass volumes returns to previous levels at this customer.
This is encouraging for next quarter, especially considering it's the largest contributor to the top line. Research firm Susquehanna Financial Group seems to agree, citing "continued strength in TV demand, particularly larger- and thinner-screen models, which combined with a stabilization in the PC industry and strong demand for smartphones and tablets helps with double-digit growth in glass demand in calendar 2014."
This all bodes well for Corning's next quarter, and also for its long-term prospects.
Back to the other segments, and Gorilla Glass
Corning's arguably most famous product is actually part of its Specialty Material segment, which overall experienced relatively flat growth y-o-y. Gorilla Glass itself, however, grew in the high single digits, according to management. This segment is expected to grow by 20% to 25% sequentially, led by increasing demand for Gorilla Glass, whose sales were impacted throughout 2013 due to an inventory buildup in 2012. As it continues to work its way through the supply chain, the buildup should be a tailwind for future sales.
"Exceptional sales growth" in the Optical Communications and Environmental Technologies segments also exceeded management's expectations. Optical Communications increased by 26% y-o-y, and Environmental Technologies increased 21%. The Life Sciences segment was relatively flat y-o-y.
Valuations
Corning continues to maintain an exceptional balance sheet, ending the quarter with $5.6 billion in cash and only $3.3 billion in debt. The company is highly liquid with a current ratio of 4.7 and is in great financial shape with a debt/equity ratio of just 0.17.
It should also be noted that only $1.4 billion of the company's cash is located in North America, and Corning's CFO has indicated that $600 million of it will likely be used for the company's current repurchase plan. Flaws also further explained during last quarter's conference call Q&A session that:
We have metrics around cash greater than that, doesn't have to be as great as $2 billion. I don't think we're likely to add to the leverage of the company, but I think the Board has demonstrated they are prepared to commit to shareholder returns to dividends and repurchase, and I'm sure that they will continue to focus on that after the current program ends.
Moving past the balance sheet, valuations have stretched out since the last time I wrote about Corning (back in November, shares traded at a little under 14 times earnings and around 10 times forward earnings):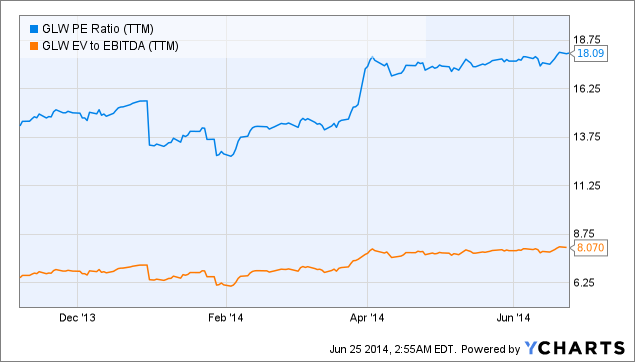 GLW PE Ratio (TTM) data by YCharts
Shares look expensive currently, but going forward they are priced much more attractively, trading at around 13 times forward earnings, with a PEG of only 0.96.
The bottom line
Corning isn't the bargain it was in November. Synergies from buying out its stake in its former LCD joint venture with Samsung, however, should continue to bear fruit and facilitate increasing earnings. The company's CEO Wendell Weeks also noted during the conference call that this integration will continue "building momentum in the coming quarters".
This is especially important for its largest segment, Display Technologies. CFO Flaws expects this segment to drive gross margins to 46% for Q2. Flaws is also bullish on the future of televisions, saying during the conference call:
While we still expect ultra high definition televisions to be a high-end category in 2014 and beyond, we believe ultra high def has the opportunity to be a major driver of the area of demand in the near future. We expect about 10 million sets to be shift in 2014 up from 1.5 in 2013. And all these ultra high def sets have a higher average screen size.
Bigger screens means bigger profits for Corning. Its strong balance sheet is also a positive, and it will continue to buyback shares. These shares only yield 1.8%, but with a PEG under 1 and bright long-term growth prospects, continuing to hold them looks like a good idea.
Disclosure: The author has no positions in any stocks mentioned, and no plans to initiate any positions within the next 72 hours. The author wrote this article themselves, and it expresses their own opinions. The author is not receiving compensation for it (other than from Seeking Alpha). The author has no business relationship with any company whose stock is mentioned in this article.
Additional disclosure: Articles I write for Seeking Alpha represent my own personal opinion and should not be taken as professional investment advice. I am not a registered financial adviser. Due diligence and/or consultation with your investment adviser should be undertaken before making any financial decisions, as these decisions are an individual's personal responsibility