Amazon Fire (NASDAQ:AMZN) may have a long way to go profitability, and in my opinion it's a long shot. Whether it sells the phone at $650 or $300, whether it tries to make back the losses on application sales through its store, or attempt to generate added e-commerce volume through the Fire Fly application, the hurdle seems too high for Jeff Bezos this time.
When the iPhone 6 and Samsung Galaxy S5 Prime are launched, it's highly likely that Amazon will have to reduce the price of the Amazon Fire phone. If that's the case, Amazon may be a leader in the low-end, but the limitation of being tied to AT&T severely constrains Amazon's potential market.
When journalists got wind of AT&T (NYSE:T) becoming the exclusive distributor of Amazon Fire that's where everything went downhill. In this article I went into greater depth:
Currently, the handset upgrade cycle is expected to reach two years by 2014. This indicates that of AT&T's current installed base, about 1/8th of the installed base will be making upgrades over the third quarter of 2014. That limits Amazon's smartphone market to 6.48 million potential customers (per quarter).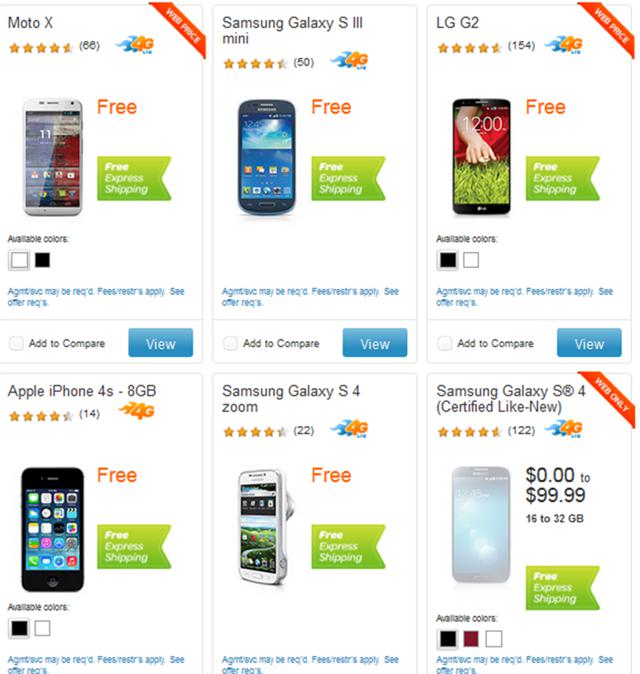 Source: AT&T
So even with price cuts, the path to break even isn't exactly easy. Furthermore, the devices that are sold in the low-end are pretty competent. By the time iPhone 6 is released, we can imagine the iPhone 5 or iPhone 5C becoming the new $0 device.
Assuming Amazon is sold at $0 on contract, Amazon would have to price Fire at $300-$330 off contract. As it stands, Amazon has a pretty daunting challenge with breaking even at $650.
At present, I estimate that Amazon's variable cost per phone is $250-$300. For Amazon to break even I estimate the company would have to sell 2.69 million phones at a retail price of $650 (assuming variable cost is $250).
I detail my analysis in more detail over at Amigo Bulls. I'm going to go ahead and quote some of the stuff I have already said about Amazon Fire:
For Amazon to release a smartphone it would need to produce 7 million units. This is where things get extremely tricky for Amazon, as it would need to produce 7 million units and sell all 7 million units to breakeven.
Taiwan Semiconductor Manufacturing's lowest scale manufacturing for wafers (10K) is around 7 million die. With a 3D interface, Amazon would need a custom solution, and because production will ramp-up, and have to be operated at 7 million capacity, Amazon would need to sell a pretty high portion of those phones in order to break even.
Originally I was operating under the assumption that Amazon would price itself near bill of materials at $200-$250, but instead Amazon went ahead and launched the product at $650 off contract.
This certainly makes it a little less difficult for Amazon to break even. But it still comes with constraints as I have mentioned - in any given quarter, the number of post-paid subscribers that are able to purchase a phone is limited. I expect buyers to upgrade into current generation Samsung and Apple devices, or anticipate some form of pent-up demand for the iPhone 6/Galaxy Note 4.
Furthermore, my earlier breakeven figure works with $650. However, when pricing drops to $300-$350, the new break-even is in the 10 million unit range. I make this case because BlackBerry's (NASDAQ:BBRY) CEO John Chen estimates that his break-even for smartphone devices is 10 million. Furthermore, the ASP for BlackBerry handsets is in the $300 range. Therefore, it would be a miracle if Amazon could break even given the current dynamics of the market.
I estimate that Amazon will sell 100,000-500,000 phones. I estimate that Amazon will convert a small fraction out of the 2 million people who are upgrading their phones in lower-tier brands (basically everything besides Apple and Samsung). I have to assume that Amazon's sales will come from the remaining 2 million consumers who own lower tier brands because Apple and Samsung have yet to lose market share over a sustained period of time in the United States.
I go with 13.5% out of 2 million because that's the minimum threshold for early stage adopters for products based on the innovation defusion curve. Assuming Amazon does sell 270,000 handsets per quarter, how much money does Amazon lose?
Well, if we assume 270,000 devices are sold in the first quarter of release at $650, and 810,000 devices are sold for $300, the total revenue is $418.5 million.
At a $250 variable cost per device, on a 7 million unit production run, the company will have to generate $1.75 billion in sales to break even. As it stands I estimate $418.5 million in sales, which leaves me with the impression that Amazon will absorb a loss in the avenue of $1 billion to $1.25 billion.
Can Amazon recoup a loss of a couple billion dollars through its app store? The answer is a resounding no.
According to a Forbes article, the average application generates $.10 in revenue for Apple (the publisher). However, the average smartphone user downloads 26 applications, which totals a whopping $2.60 in average revenue per user.
The impact is so unmeaningful to Amazon, I'm sure anyone can deduce that a loss-leading strategy is bound to be a train wreck.
However, Rocco Pendola presents a counter argument over at TheStreet:
Amazon should have just priced the phone free or at minimal cost to existing Prime members as well as Amazon customers who sign up for Prime in the next six months or a year. Bill it as a limited edition phone that does all of these things the other phones can't do (even if that's untrue). See how that goes. And, if it worked, put out a sequel and do the same thing all over again.
As it stands, Amazon is set to lose a billion dollars from its latest smartphone project. I don't think the company can reach the necessary unit threshold to break even. I don't think there's anything Amazon can do to avert losses in the early stages of its smartphone market entry.
Disclosure: The author has no positions in any stocks mentioned, and no plans to initiate any positions within the next 72 hours. The author wrote this article themselves, and it expresses their own opinions. The author is not receiving compensation for it (other than from Seeking Alpha). The author has no business relationship with any company whose stock is mentioned in this article.