Panera Bread (NASDAQ:PNRA) has fallen by over 20% since this point in time of last year, and yet, the stock still remains one of my favorites in the consumer services industry. I see it as a step up from Subway, as it has tremendous food and deliver excellent service. Growth has been solid right through the recession, and at the price point that it is currently trading at, the company is a wise play for investors who are looking to capitalize on its coming growth.
Investment Summary
Panera has fallen significantly from its all-time high from May of last year, due to decreased consumer confidence in the company. It posted a low 0.1% comparable sales growth in its bakeries during its Q1 results this past April, and its annual same-store sales have fallen to 1.7% from their traditional 4% to 8% value. Many investors are also worried about the stiff competition that its sector rivals such as Chipotle (NYSE:CMG) have to offer, as many believe they are eating up a sizeable chunk of Panera's market share. Whatever the case, the company's recent hindrances should not undermine its overall fundamental value and potential growth going forward. Despite its shortcomings over the past year, the company is poised to become a successful play for investors at this very cheap valuation, as it still has an incredibly strong financial track record and is also revamping its strategy for the future.
In order to compete with its rapidly growing rivals, Panera is looking to expand on the existing number of stores that it currently operates. With a mix of 1,600 company-owned and franchised stores in over 40 states, Washington D.C., and Ontario, the company is set to open 115 to 125 new stores by the end of this year. These locations will be pivotal to Panera's long-term success, as it will be able to make its menu more accessible to larger quantities of its target demographic. If we see slightly better or comparable sales growth in the coming years, the company can double its number of stores by the start of the next decade.
One of the existing concerns that investors and consumers have regarding Panera is that it is comparatively slow compared to its competition, which, according to Bloomberg GICS, is composed of Chipotle, Starbucks (NASDAQ:SBUX), Potbelly (NASDAQ:PBPB), as well as a few other companies. However, one should take the time to ask if Panera is actually comparable with them at all. The company has a unique design, marketing itself off of its casual yet upscale atmosphere, so it is unique in that sense compared to its competitors. In addition, Panera tackles all three major segments of the day, including breakfast, lunch, and dinner, something that Starbucks is looking to adjust to in the coming years. With its design, though, comes a cost. Consumers are beginning to feel that the price points that Panera offers are simply too high for what it is offering, and that the quality and timeliness of its service is declining and just too slow. To address this, Panera's management has made this problem a key priority going forward, and the company presented strategies for this concern in its last investor presentation.
In the presentation, the company stated that it is set to invest $15 million by the end of this year into labor training, with an emphasis on speed and accuracy. This is especially important if it is to counter its critics who complain about its slow service. In addition, the company will invest money into kitchen restoration and see a 64% increase in IT investment. One of the key points in IT that Panera mentions is its significant push towards Panera 2.0, a system which will improve the customer experience and increase the efficiency of its many locations.
Panera 2.0's main draw is that it will enhance the customer experience by improving the time it takes to get orders completed, as well as allowing customer-specific customization in individual orders. One of its features includes rapid pick-up, designed similarly to what existing national pizza chains and stores such as Jimmy John's are using, which will allow customers to order online and specify a designed time to pick up their food. Additional features of Panera 2.0 include an in-café kiosk, a revamped website, and a mobile application that is designed to retain its most loyal customers. CEO Ronald Shaich says,
"[Panera 2.0] is meant to create a truly frictionless and personalized experience for each of our guests in all of their need states."
The company just announced that 100% of its franchisees have committed to implementing the Panera 2.0 system, which bodes well for the program's success in the long term. Locations currently testing Panera 2.0 have noted that orders taking longer than three minutes have dropped by over 20%, and the company is expecting every location to adopt Panera 2.0 by the end of 2016.
For existing shareholders, much is to be anticipated, as the company has also initiated a new stock buyback of $600 million in place of its existing program, which was due to expire in August 2015. The share repurchase highlights the company's positive outlook towards the future and its confidence in its financial performance. Shaich remarks,
"We continue to look for opportunities to deploy our capital to drive shareholder returns. While investing in our core business remains our number one priority, the Board's willingness to extend and refresh the repurchase program is a vote of confidence on the growth potential of Panera and its ability to generate long-term profit growth and appropriate returns for our shareholders."
Peer Analysis
Comparing Panera to its competition, namely Chipotle, Starbucks, Potbelly, and a few others, the company has significant upside and wins in almost every respect. Its key ratios are mostly in line with its peers, and its high sustainable growth rate will allow it to grow without having to increase its financial leverage and borrow funds. In regards to its EBIT margin, it currently experiences a slightly better figure than its peers, but this could take a hit as Panera 2.0 continues to roll out. ROIC may potentially stumble as well, depending on how customers adapt to the company's investment into Panera 2.0 and other improvements. The company has no debt under its Q1 results, which is a positive. However, Panera recently took out a five-year $100 million loan from Bank of America, Wells Fargo, and TD Bank, but such a small amount of debt can easily be managed, as the company has an extraordinarily high interest coverage ratio.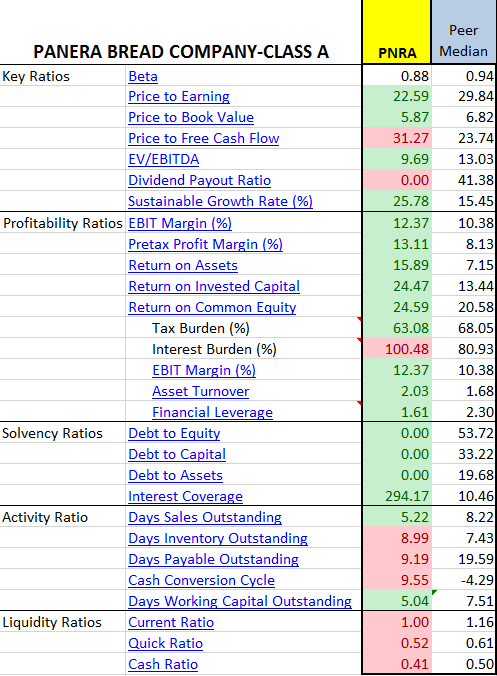 Bollinger Bands
Technical analysis is not particularly my favorite, but a simple look at its Bollinger Bands shows that the company recently hit its lower bound, making it a favorable opportunity for the time being.

Valuation
I constructed a DCF, which shows that the company is currently trading at a discount to its theoretical price. I tried to keep this as objective and reasonable as possible, creating assumptions that are not too far-fetched from what Panera can actually expect.
Sales growth is projected at 15.00% for the coming years, based on how I feel Panera 2.0 will impact the company's revenue. In addition to attracting a new market, the program is designed to retain existing customers by improving their current experience, as well as encouraging them to order in the future as a result of increased convenience and accessibility. I lowered the company's EBITA margin from the values of the previous two years because of the company's new investment, but I eventually raised that back up to a modest 13.30%, starting in 2017. Bloomberg has the WACC set to 8.8%, which is very impressive compared to its current ROIC value of 27.91. This spread shows that Panera is using its capital effectively.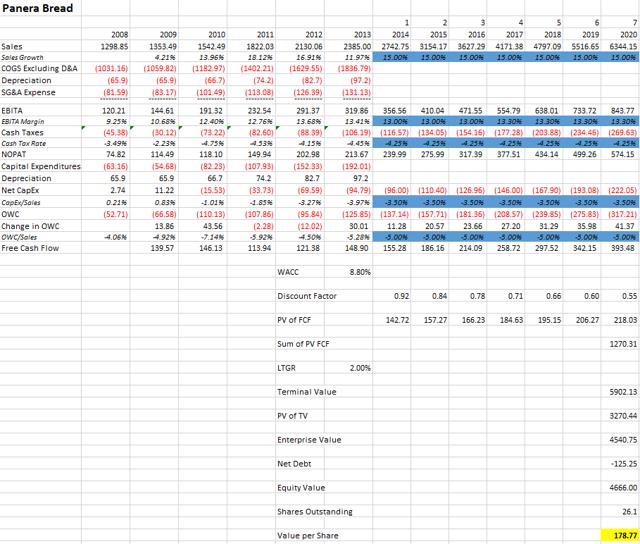 Investment Risk
The primary risk to this investment depends on the strength of Panera's strategy to revitalize its store efficiencies, in order to improve growth in the future. As I primarily see this play as a growth investment with significant opportunities to be captured in the long term, what we will probably see in its short-term performance is a relatively flat but steadily growing improvement. I have no doubt, however, that comparable sales growth will eventually pick back up to its previous levels and the company will see improved margins and gross profits. Panera will have to thoroughly fend off its competition, such as its rapidly growing competitor, Chipotle. However, its foundation of being a healthy and upscale alternative to fast food gives it a unique edge that will allow it to regain its market share.
Conclusion
At its current price point, near the very bottom of its 52-week performance, Panera is an attractive buy. It maintains a unique advantage over its competition through its atmosphere, and its new improvements and movement towards IT and the Panera 2.0 system bode well for the company. I see a recovery to its previous levels, and believe that it will outperform going forward.
I recommend a "BUY," with a price target of $180.
Disclosure: The author has no positions in any stocks mentioned, and no plans to initiate any positions within the next 72 hours. The author wrote this article themselves, and it expresses their own opinions. The author is not receiving compensation for it (other than from Seeking Alpha). The author has no business relationship with any company whose stock is mentioned in this article.