Nike Inc. (NYSE:NKE) is set to report FQ4 2014 earnings after the market closes on Thursday, June 26th. Nike is one of the most iconic sports gear and athletic wear brands on the planet. The famous sportswear brand may not be an official sponsor of the World Cup, but Nike is still hoping the buzz in Brazil will drive higher sales. One of Nike's main competitors, Adidas, spent an estimated $100 million to use the official World Cup logo in its commercials.
Nike may not be using the official FIFA World Cup emblem in its ads, but that's not stopping the company from advertising its soccer products heavily through commercials featuring some of the most popular players on the planet including Neymar and Cristiano Ronaldo. This quarter Wall Street expects Nike's earnings to remain flat compared to last year while sales increase by nearly 10% on a year-over-year basis. However, investors are expecting Nike to outperform Wall Street's expectations on Thursday afternoon.
The information below is derived from data submitted to the Estimize.com platform by a set of Buy Side and Independent analyst contributors.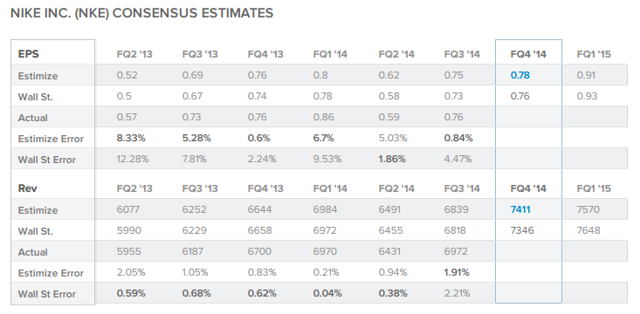 (Click Here to see Estimates and Interactive Features for Nike)
The current Wall Street consensus expectation is for Nike to report 76 cents EPS and $7.346B revenue while the current Estimize.com consensus from 41 Buy Side and Independent contributing analysts is 78 cents EPS and $7.411B in revenue. This quarter the buy side as represented by the Estimize.com community is expecting Nike to beat the Wall Street consensus on the top and bottom line by a moderate margin.
Over the previous six quarters, the consensus from Estimize.com has been more accurate than Wall Street in forecasting Nike's EPS and revenue five times and once respectively. By tapping into a wider range of contributors including hedge fund analysts, asset managers, independent research shops, students and non-professional investors, Estimize has created a data set that is more accurate than Wall Street up to 69.5% of the time.
The magnitude of the difference between the Wall Street and Estimize consensus numbers often identifies opportunities to take advantage of expectations that may not have been priced into the market. Here we are seeing a moderate-to-large differential between the two groups' expectations compared to previous quarters.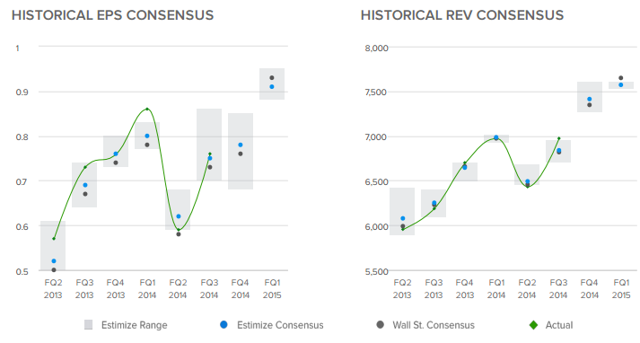 The distribution of earnings estimates published by analysts on the Estimize.com platform range from 68 cents to 85 cents per share and from $7.266B to $7.600B in revenues. This quarter we're seeing a relatively wide range of estimates on Nike's EPS compared to previous quarters.
The size of the distribution of estimates relative to previous quarters often signals whether or not the market is confident that it has priced in the expected earnings. A wide range of earnings estimates signals less agreement in the market, which could mean greater volatility post earnings.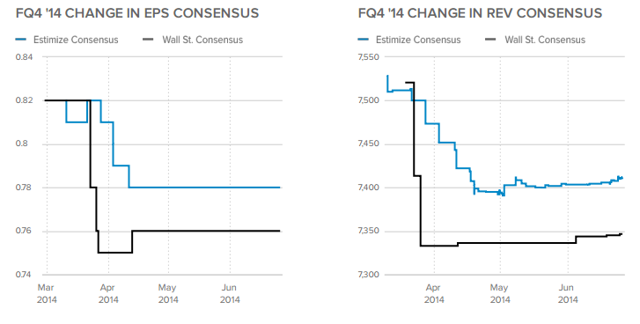 Over the past three months, the Wall Street consensus fell from $1.03 to 95 cents while the Estimize consensus declined from 98 cents to 95 cents. Meanwhile the Wall Street revenue forecast sank from $7.521B to $7.346B while the Estimize sales consensus dropped from $7.528B to $7.411B. Timeliness is correlated with accuracy and the directionality of analyst revisions at the end of the quarter are often a leading indicator. In this case we see marginally increasing revenue estimates going into the report.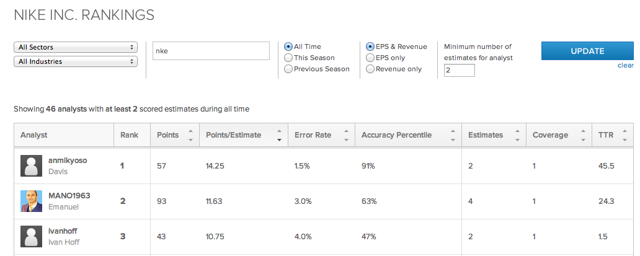 Among 46 analysts with at least two estimates scored on Nike, anmikyoso has been the most accurate with an average of 14.25 points per estimate. Points are scored by analysts for making estimates that are more accurate than the Wall Street consensus. anmikyoso is a student who is ranked 38th overall among over 4,550 contributing analysts. This season anmikyoso has been more accurate than Wall Street in forecasting EPS and revenue 82% and 55% of the time, respectively, throughout 11 estimates.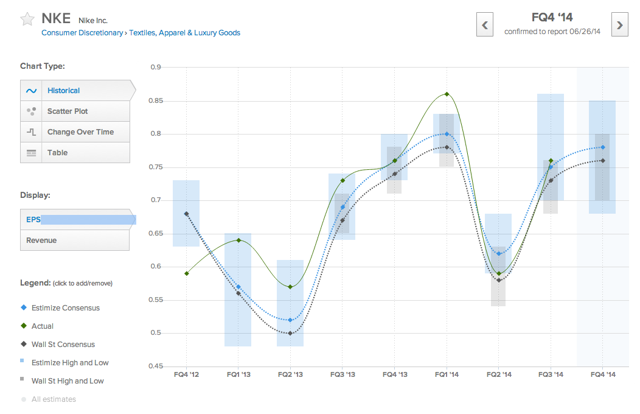 Last quarter Nike posted great results beating the Wall Street earnings consensus by 3 cents per share and $154 million in sales. This period the Estimize community is expecting another healthy report from Nike and predicting the sports gear and athletic wear company will beat the Wall Street forecast by a comfortable margin.
In calendar 2013 Nike reported $1.9 billion in soccer-related sales, and that number is expected to be boosted this year by World Cup hype especially between FQ4'14 and FQ1'15. While higher sales are predicted, advertising costs are expected to rise too as a result of the push to promote Nike products during the World Cup. On Thursday, the bottom line will be the number to watch, but it's reasonable to expect that advertising costs will continue to pay off with elevated soccer sales into the next quarter as the world continues to watch the tournament in Brazil.
Disclosure: None.