A couple of weeks ago, I detailed how Tesla (NASDAQ:TSLA) shares had basically been stuck in neutral. Since the stock had broken below a key moving average, shares had barely moved in a couple of months. Something needed to happen to wake up this sleepy stock. Well, for the second time this year, it turned out one of my Tesla articles basically marked a short-term bottom in the stock. The other time was right before the Q4 deliveries announcement in January.
My latest article was published in the early morning hours on June 16th, and that day the stock certainly woke up, rising by more than $18. The rally topped out around $35, although shares have pulled back a little since. In the past couple of days, we've gotten a couple of negative reports in regards to Tesla. Today, I'll detail those items and discuss why investors need to be a little cautious at this point.
A make or break quarter:
There seemed to be a bit of a stir caused by Barclays analyst Brian Johnson, who recently stated Tesla may need a huge June to meet Q2 delivery guidance. Johnson stated the following:
Barclays estimates that North America deliveries in April and May totaled ~2,400 units, and implies total worldwide deliveries ex-China for the first two months of the quarter of ~3,500 units; if China contributes a modest ~1,000 units for the quarter, it implies that North America and Europe combined need ~3,000 deliveries in June to meet Q2 Model S delivery guidance of 7,500 units.
You may remember back in early April when we had similar concerns over Tesla's Q1 period. The company was able to shake off those worries as Norway saw nearly 1,500 deliveries in March, after just 563 in the first two months of the year/quarter. Tesla was able to deliver 6,457 vehicles in Q1, compared to guidance for 6,400. While the company was able to meet its guidance in Q1 after a big March, you hope the company is not walking this tightrope again. This is especially true when you have a stock trading at such a lofty valuation. Tesla needs to be perfect every quarter.
Whether or not you agree with the analyst, one thing is certain. Q2 could be a make or break quarter for Tesla, if it wants to deliver more than 35,000 vehicles during 2014. In the table below, I've shown why this is the case. The table shows Tesla's first half total based on Q2 deliveries, and what would be needed in the second half to make at least 35,000 deliveries possible. The second half percentage represents what percent of the yearly total would be needed in the second half.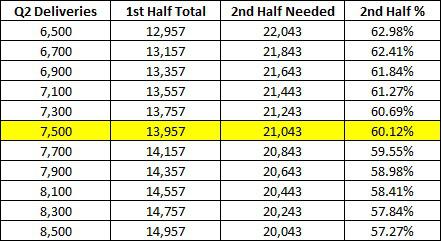 At Tesla's Q2 guidance of 7,500 units, Tesla would need a little more than 21,000 deliveries in the second half of the year. That's a little more than 60% of the total. But if Tesla only delivers 6,500 units in Q2, then basically 63% of the year's total would be needed in the second half. Obviously, the math gets easier if Tesla beats, but will that happen? That's why Q2 could be the make or break quarter.
Short interest declines again:
One of the parts of the bull case for Tesla that I have been detailing is the potential for another major short squeeze. Tesla has always been a highly shorted stock. However, as you can see in the chart below, short interest has come down a bit recently.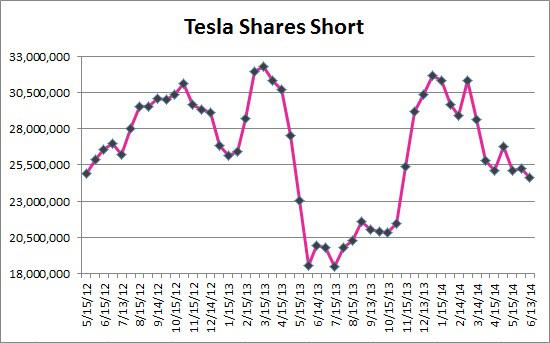 At the most recent update from NASDAQ, short interest was down to about 24.6 million shares. The most recent high was at the end of 2013, and since then more than 7 million shares have been covered. That's a decline of more than 22%, meaning short interest is at its lowest point since the end of October 2013.
Tesla is still heavily shorted though, with more than 27% of the float and a little less than 20% of the outstanding share count short. However, those 7 million shares do make a difference, especially if this trend continues. If Tesla goes into its next earnings report with maybe 22 million shares short, the short squeeze potential will be a lot less than if 32 million shares were short. Additionally, in that case, there would be a lot of room for short interest to expand, pushing shares lower. Remember, Tesla's share count increases by the quarter, so that should theoretically also allow more shares to be shorted as well.
Tesla still has a lot to prove:
Regardless of what happens specifically in Q2, there are still a number of long-term questions regarding Tesla. Even though I've been a decent Tesla bull at times, these issues do need to be resolved if you expect shares to continue higher over time.
First, profitability is a major concern. Tesla lost about $725 million between 2011 and 2013 on a GAAP basis. In Q2 this year, the company is expecting to be marginally profitable on a non-GAAP basis despite over $810 million in expected revenues. With analysts continuing to lower non-GAAP EPS estimates, Tesla closed Wednesday at 200 times 2014 expected non-GAAP EPS. While this is a great growth company with a lot of potential, that's still a hefty price to pay on a non-GAAP basis.
Tesla is also not cash flow positive at this point on a yearly basis, and the company stated in the Q1 investor letter that it expects to be "slightly free cash flow negative in 2014, before considering the equity required for leasing". Tesla had almost $2.6 billion in cash and investments on the balance sheet at the end of Q1, but that was mostly due to a number of convertible debt transactions in recent years, plus some equity raises. You can see all of the most recent balance sheet information in this 10-Q. Over the past year, Tesla's outstanding share count has risen from 115.16 million to 124.04 million. More dilution is expected, which will hurt EPS and could allow for more short selling, as I detailed above.
Perhaps the most critical long-term issue for Tesla is demand. This year, the company is expecting to deliver around 35,000 Model S vehicles. The bull case says that the gigafactory Tesla is about to start construction on will be able to produce batteries for 500,000 vehicles annually. If the math is off just slightly, or expenses rise too much, Tesla shares are very vulnerable.
That gets us to valuation. The stock is priced for perfection with a market cap of $30 billion currently. If the company gets to $30 billion in revenues by 2020 (estimates for 2015 call for $5.36 billion in non-GAAP revenues), you'd be looking at a price to sales value of roughly 1.00, and that's assuming no movement in the stock and that the share count stays the same. Both of those seem unlikely at this point. Currently, established automakers like Ford (NYSE:F) and General Motors (NYSE:GM) trade for about 1/2 of the year's sales or even less, as a comparison. Tesla currently fetches about 7.9 times the average non-GAAP revenue estimate for 2014.
Final thoughts:
Tesla shares have certainly woken up since my latest article, but after a $30 rally, investors do need to have some caution. One analyst is worried about Q2 deliveries, and this quarter could be a make or break one for Tesla's 2014 hopes. Short interest has also decreased a bit recently, which reduces the bull case. Tesla continues to be priced for perfection, and the company does have to prove itself on a number of fronts over the longer term.
So what should investors do now? Well, as much as I have supported Tesla in the past, I have to think we are approaching levels where a short position may be warranted. I really liked Tesla in the $180 to $200 range, but at $237 the story changes completely. Tesla is now up about $60 since the May 9th low, which was right after earnings. That's despite revenue estimates decreasing slightly for Q2 and earnings estimates dropping like a rock for 2014 and 2015. If Tesla was at $200 I'd be singing a different tune, but as we start to approach $250 again, caution is justified and a short position may be the best thing.
Disclosure: The author has no positions in any stocks mentioned, and no plans to initiate any positions within the next 72 hours. The author wrote this article themselves, and it expresses their own opinions. The author is not receiving compensation for it (other than from Seeking Alpha). The author has no business relationship with any company whose stock is mentioned in this article.
Additional disclosure: Investors are always reminded that before making any investment, you should do your own proper due diligence on any name directly or indirectly mentioned in this article. Investors should also consider seeking advice from a broker or financial adviser before making any investment decisions. Any material in this article should be considered general information, and not relied on as a formal investment recommendation.