Qualcomm (NASDAQ:QCOM) is set to deliver a strong performance for the second half of 2014. The company forecasts gains in its Mobile Device Chipset division as a number of new and upgraded mobile devices will continue to use Qualcomm products. The workhorse for the company is its innovative Snapdragon 800 chipset series. The product's broad spectrum capabilities allow for increased performance, enabling smartphones, tablets, and other mobile devices to run on both 3G and LTE infrastructure. Qualcomm provides a solution to the fragmented wireless infrastructure that is constantly changing throughout the world.
Qualcomm's share price can be divided into two revenue generating divisions; its Mobile Devices Royalties division and its Chipset Product Line division. With over 250 licensees and a strong patent portfolio of 3G and LTE technology, Qualcomm continues to sit back and collect royalties. One reason is its shear market domination of CDMA chipsets. Currently Qualcomm receives royalties on each CDMA handset sold. Qualcomm also charges a onetime licensing fee from CDMA chipset vendors for the use of its proprietary technology. Qualcomm generated $6.8 billion in profits on a 3.2% average royalty for 2013.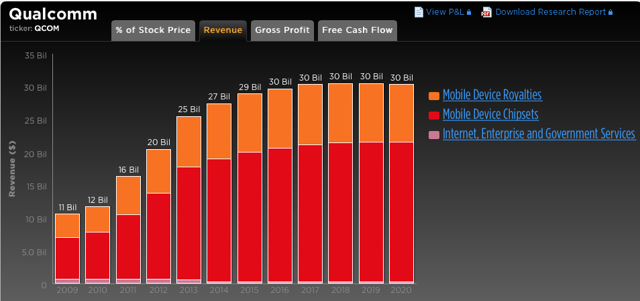 Source: Trefis-Qualcomm Revenue
Qualcomm is active in creating the best mobile device chipsets in the entire industry with the Snapdragon 800 processors. Qualcomm has shown its ability to lead the way with the integration of the Long Term Evolution, LTE, modem on its Snapdragon app processor. Allowing for LTE-capable handsets to perform with higher power efficiency, sleeker designs, giving manufacturers and designers more freedom to bring new products to market. Qualcomm saw its Mobile Device Chipset market share increase marginally to 67% in 2013, but expects to continue this expansion through 2014 due to the vast number of devices using Qualcomm's chipsets. Mobile device chipsets generated $8.8 billion in profits on $16.875 billion in revenue, displaying the company's healthy margins still being maintained in a highly competitive industry.
Qualcomm will have upward mobility over the next 12 months because of the vast expansion in its mobile device chipsets. The strength the industries demand for Qualcomm is displayed in the array of new and recent products. Industry leading companies like Apple, LG, and Samsung, a company that makes chipsets themselves, are all using the Snapdragon chipset. Amazon just released its new Fire Phone that runs on the Snapdragon 800. Amazon has integrated the Snapdragon into its Kindle Fire and Kindle Fire HDX. Another prominent customer is LG which uses the Snapdragon in its LG G2 Phone, LG G Pro 2, and the LG Nexus 5.
Apple's in-house production
One issue of concern for Qualcomm is that Apple (NASDAQ:AAPL) is rumored to have started making baseband chipsets in house. In April, two hardware engineers from Broadcom, Qualcomm's biggest competitor, left the company to work with Apple on a rumored baseband project that would replace the need for some of Qualcomm's products. Apple has hired around 30 baseband engineers from Broadcom in the past three years. The developments will most likely roll out in 2015, according to JP Morgan analyst, JP Hall, who reaffirmed that Apple is unlikely to use in-house baseband chips for iPhones and iPads until late 2015. Implying that the iPhone 6 and other mobile devices for 2014 should still use Qualcomm's modem and RF power management system.
Apple's business accounted for up to 25% of Qualcomm's revenues in 2012. Losing Apple as a customer would be huge. Fortunately, as discussed earlier, other industry giants are using Qualcomm, leaving shareholders with confidence that demand is extremely strong for Qualcomm's product line.
China Mobile Impact
A positive catalyst that will benefit Qualcomm is China Mobile's recent reversal to its initial 4G terminals. China Mobile dictated that mobile phone makers must support five-mode 4G handsets. Qualcomm benefits from China Mobile's demands through the companies royalties and patent division. Qualcomm's five-mode handset patents carry higher royalties than the three-mode handsets. Goldman Sachs analyst Donald Lu reported that Qualcomm has the best chip-design expertise to benefit from China Mobile's move;
"We believe Qualcomm offers the most mature five-mode (devices) today and, more importantly, could be in a position to charge a $5 royalty for W-CDMA in five-mode,"
China Mobile's decision has such a large impact due to the fact that China Mobile is the largest wireless carrier in both China and Globally, with over 750 million subscribers.
Qualcomm will still benefit from the release of the new Apple product line for 2014; until announced differently, investors should assume this with confidence. Investors should see strong Q3 and Q4 for 2014. The fact that Qualcomm chipsets are in dozens of mobile products coupled with the mandatory change dictated by China Mobile, investors should feel comfortable about the near future. Currently Qualcomm pays a dividend of over 2%. Just last week RBC raised its price target on Qualcomm to $90. The company currently is trading at $78 per share, which is off from its 52-week high of $81.66. Qualcomm has strong financials, with over $30 billion in cash. Waiting for a market correction could provide for a better price point, however, holding shares now is still a good idea. Qualcomm will deliver strong numbers in the short term. However shareholders should look towards the company's guidance in Q3 to see how they respond to the possible Apple dynamic.
Disclosure: The author is long QCOM, AAPL. The author wrote this article themselves, and it expresses their own opinions. The author is not receiving compensation for it (other than from Seeking Alpha). The author has no business relationship with any company whose stock is mentioned in this article.