Shares of Banco Santander (NYSE:SAN) are up ~42% since I first got behind the bank ten months ago. At that time, the potential for profitability was evident but the risk of a failed European Recovery was too discouraging for many investors. Towards the end of 2013, SAN management outlined its three phase plan with the intent to reduce risk and increase profitability; this plan has commenced successfully. In addition to the internal changes implemented by management, Santander is also seeing improvement in several metrics such as Net Interest Income, Non-Performing Loans, Fee Income, Cost of Credit, and Loans.
Three Phase Plan
Step One was to "increase the profitability of capital to a more efficient allocation" via an internal investigation of its various operating regions. This investigation was focused on discovering which departments were using capital inefficiently and could benefit from restructuring or integration. Once the bank identifies the regions in which operational efficiency can be increased, it will take action to do so. Step One will transition to Step Two, which is to achieve €1.5 billion in cost savings over the next three years through the re-alignment of certain businesses. Restructuring has already begun in Spain, Portugal, and Poland. SAN is on track to achieve €750 million of those savings this year, as projected. The third and final step is dependent upon profitable completion of the first two steps. Given the global reach and influence of the bank, management plans to evaluate the findings from the internal investigation to establish the most efficient operating practices used in each individual region. These methods will then be integrated across all segments around the world. Santander's ambitious plan is still in its infancy but has the potential to deliver cost savings for years to come. It will also create an environment in which all the regions where the bank has a footprint will communicate and share information. This kind of consolidation across the company will ensure that each individual region is operating as efficiently as possible (relative to other regions).
Improving Metrics
Santander's past quarter was one in which the company as a whole was able to increase profitability and decrease costs. Q1 2014 also reflected an improvement in NPL which stood at €2.5 billion, down from an average of €4 billion per quarter in 2013. NII increased 4% over last quarter for an annualized rate of 16%, double what SAN achieved last year. Fee Income is also accelerating at more than double what it was last year, jumping 2% this past quarter for an annualized rate of 8%. Santander has also managed to significantly decrease its cost of credit to 1.65% from 2.45% only a year ago. Management claims that this metric is following a normalization trend and expects its improvement to continue as 1.65% is higher than the level seen before the financial crisis. Loans showed strong growth in almost every region with the exception of Portugal and Brazil. Given the restructuring in Portugal and the current turmoil in Brazil, it's reasonable to expect loans to drop in the coming quarters with potential for a rebound in the long term. All of these statistics were found on the Q1 Conference Call.
Expansion
In addition to the restructuring efforts already underway as well as the possibility of further structural changes is the expansion occurring in America. The U.S. currently commands only 9% of the company's total profit being trumped by Brazil, the U.K., and Spain.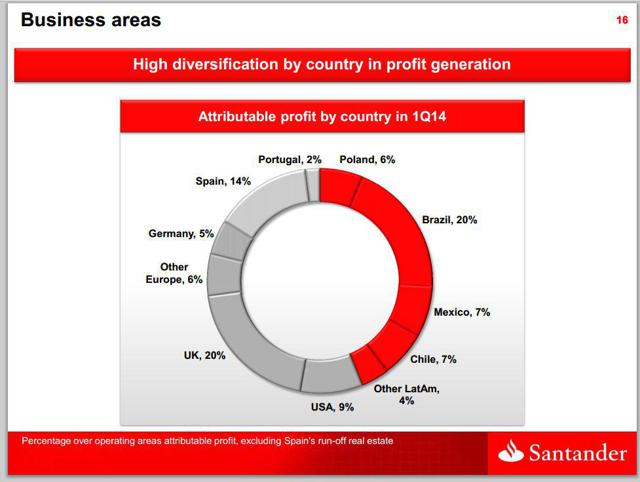 SAN's strategy to boost profit in the USA revolves around two aspects as CEO Javier Romano explained on the Conference Call. The first element of Santander's approach is to "complete the franchise at Santander Bank." This will be done primarily by making Americans aware of SAN's presence in the country as well as adjusting its practices to American regulations; the latter of which has gotten off to a bumpy start with the Fed rejecting the bank's initial capital return plan. However, the deadline for resubmission of this plan has been extended all the way to January 5th, 2015.
The second focal point of Santander's expansion in America is Santander Consumer U.S.A. (NYSE:SC) which is benefitting from an agreement with Chrysler for new car loans. Management expects SCUSA's true value to be unveiled when provisions fall to a more normal level; they are very high currently due to the dominating proportion of new loans.
Conclusion
At the height of the financial crisis, Banco Santander was a very risky investment within an even riskier industry. The company has been making strides to make its stock more attractive to risk averse investors over the last five years and the benefits of these efforts are becoming very apparent. While not all of SAN's operating regions are in perfect condition, overall the company is performing well enough for me to continue to recommend the stock with optimism regarding future profitability. Profit being stabilized, restructuring efforts, and the gradual expansion in America all point towards better things for Santander and its stock in the future.
Disclosure: The author is long SAN. The author wrote this article themselves, and it expresses their own opinions. The author is not receiving compensation for it (other than from Seeking Alpha). The author has no business relationship with any company whose stock is mentioned in this article.