In this article I will follow up on my previous analysis of the Russell Reconstitution's effect on Business Development Companies. As a reminder, all publicly traded BDCs will be removed from the Russell indices at the close of trading this Friday, June 27, 2014. BDCs represent roughly 0.05% of the Russell 1000 and 1.12% of the Russell 2000. Their removal came as a result of the SEC's unwillingness to address fee reporting standards which required funds to include BDC expenses in their net expense ratio. Every year the Russell Reconstitution creates opportunities and risks for small-cap investors. This year in particular, the reconstitution will provide BDC investors with the opportunity to acquire or add to positions in many high quality undervalued names. In addition to an updated examination of short-interest trends in each BDC, I will provide readers with a background of what occurs on the day of the reconstitution and how stocks involved in the reconstitution have performed in the past.
Short Interest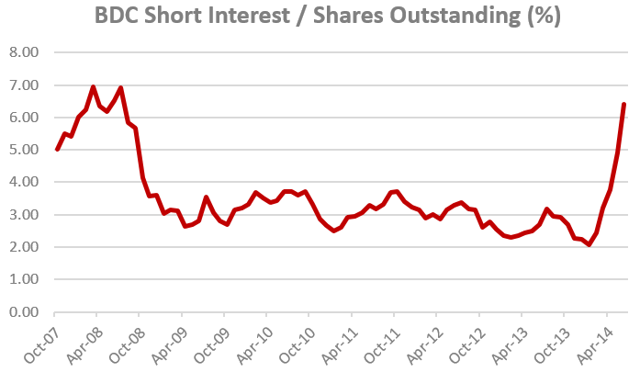 (Data provided by NASDAQ)
Since my original article was published last week, NASDAQ and NYSE have released updated short interest data from settlement on June 13, 2014. As I previously discussed, short interest as a percentage of float is an important metric to gauge market sentiment, particularly for high-dividend paying stocks where the short seller must also pay the dividend. Average short interest for the sector jumped from 4.9% to 6.3%, the highest since it peaked around July 2008. The table below shows short interest information for the 37 BDCs I follow as compared with settlement two weeks prior:
| | | |
| --- | --- | --- |
| Ticker | Short Interest 30 May 2014 | Short Interest 13 June 2014 |
| TriplePoint Venture Growth BDC (NYSE:TPVG) | 0.3% | 0.1% |
| Monroe Capital Corp. (NASDAQ:MRCC) | 0.2% | 0.4% |
| Capital Southwest Corp. (NASDAQ:CSWC) | 3.8% | 1.5% |
| Full Circle Capital Corp. (FULL) | 1.8% | 1.6% |
| TPG Specialty Lending Inc. (NYSE:TSLX) | 0.3% | 1.6% |
| Garrison Capital Inc. (NASDAQ:GARS) | 1.7% | 2.0% |
| American Capital Ltd. (NASDAQ:ACAS) | 2.4% | 2.5% |
| Ares Capital Corp. (NASDAQ:ARCC) | 2.2% | 2.7% |
| Apollo Investment Corp. (NASDAQ:AINV) | 4.5% | 4.9% |
| Capitala Finance Corp. (NASDAQ:CPTA) | 1.0% | 5.1% |
| NGP Capital Resources Co. (NGPC) | 4.4% | 5.1% |
| Stellus Capital Investment (NYSE:SCM) | 4.8% | 5.4% |
| PennantPark Floating Rate (NASDAQ:PFLT) | 4.3% | 5.5% |
| WhiteHorse Finance (NASDAQ:WHF) | 2.1% | 5.6% |
| TICC Capital Corp. (NASDAQ:TICC) | 4.8% | 6.1% |
| Gladstone Investment Corp. (NASDAQ:GAIN) | 5.6% | 6.2% |
| MVC Capital Inc. (NYSE:MVC) | 4.9% | 6.2% |
| Solar Capital Ltd. (NASDAQ:SLRC) | 5.4% | 6.2% |
| New Mountain Finance Corp. (NYSE:NMFC) | 4.9% | 6.4% |
| Medley Capital Corp. (NYSE:MCC) | 5.7% | 6.5% |
| Fifth Street Finance Corp. (NYSE:FSC) | 5.6% | 6.6% |
| BlackRock Kelso Capital Corp. (NASDAQ:BKCC) | 6.0% | 6.9% |
| Fidus Investment Corp. (NASDAQ:FDUS) | 5.9% | 7.2% |
| Medallion Financial Corp. (TAXI) | 5.2% | 7.2% |
| Horizon Technology Finance (NASDAQ:HRZN) | 5.4% | 7.3% |
| Solar Senior Capital Ltd. (NASDAQ:SUNS) | 5.5% | 7.3% |
| THL Credit Inc. (NASDAQ:TCRD) | 5.4% | 7.3% |
| Main Street Capital Corp. (NYSE:MAIN) | 6.7% | 7.4% |
| PennantPark Investment Corp. (NASDAQ:PNNT) | 6.7% | 8.2% |
| MCG Capital Corp. (NASDAQ:MCGC) | 7.8% | 8.8% |
| Triangle Capital Corp. (NYSE:TCAP) | 7.7% | 9.0% |
| Golub Capital BDC Inc. (NASDAQ:GBDC) | 5.4% | 9.2% |
| Gladstone Capital Corp. (NASDAQ:GLAD) | 7.9% | 9.2% |
| Prospect Capital Corp. (NASDAQ:PSEC) | 7.1% | 9.2% |
| TCP Capital (NASDAQ:TCPC) | 8.6% | 10.3% |
| Hercules Technology Growth (NASDAQ:HTGC) | 10.0% | 11.7% |
| KCAP Financial Inc. (NASDAQ:KCAP) | 10.1% | 12.4% |
| Average | 5.0% | 6.3% |
(Data provided by NASDAQ)
Across the board, short interest rose with Full Circle Capital, Capital Southwest Corporation, and TriplePoint Venture Growth BDC being the only exceptions. Not surprisingly, Monroe Capital Corp., Full Circle Capital and TPG Specialty Lending Inc., three BDCs not in the Russell indices have lower short interest. American Capital and Ares Capital, both listed in the Russell 1000 and thus with less overall exposure, also showed low short interest. More surprising was Prospect Capital, which saw its short interest rise from 7.1% to 9.2%, even after it won its appeal with the SEC and as a result did not have to restate prior earnings. By all indicators, it appears there is an ever-increasing number of traders with short positions in BDCs heading into the reconstitution.
Such an increase in short interest is particularly fascinating given that many investors and analysts have been classifying the selling pressure in recent months as primarily technical based relating to the reconstitution. Although the sector has recovered slightly over the past few weeks, most BDCs are still down significantly since the Russell announcement. I, like many other analysts, fully anticipate a reversal of this lackluster performance over the rest of the year. Yet has the recent decline actually been a result of funds selling BDC shares in advance of the reconstitution? When answering this question I believe it is important to classify the types of funds that could own BDC shares. I believe it is appropriate to place these funds into three categories.
BDC Ownership Categories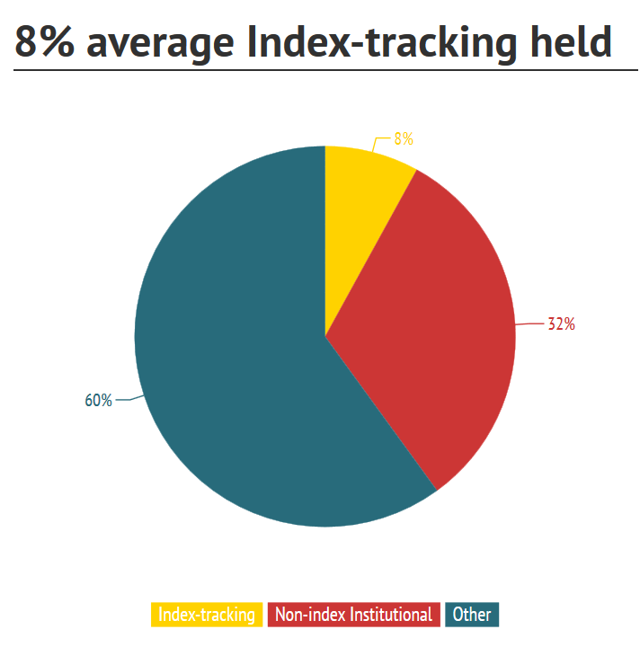 (Chart created using infogr.am, Data from Thomson Reuters)
The first category of funds investing in BDCs are those actively managed with no relevant mandate relating to the Russell. These funds will not be affected by the Russell Reconstitution and I would expect (and hope) they are viewing the event as a buying opportunity. The next category of funds are those actively managed with Russell related mandates, for example they could only invest in Russell listed stocks, Russell and S&P listed stocks, or some other stipulation which would prohibit them from holding onto a stock being removed from the Russell. I am not aware of how many funds operate like this, but I would imagine it is much less than those that have mandates relating to a stock's delisting from an exchange.
The final category I would place institutional BDC owners into are those passively managed funds exclusively tracking the Russell indices. These include ETFs such as the actively traded iShares Russell 2000 Value Index (NYSEARCA:IWN) or Russell tracking mutual funds. Obviously, these will see the most action relating to the reconstitution. These are also the funds which will not rebalance their portfolios until the very end. This is because the earlier these funds rebalance before the close of trading on Friday, the more they are at risk of tracking error (which occurs when their return deviates from that of the underlying index). Based on the metrics I provided in my previous article I estimate that on average 8.07% shareholders fall into this category, compared with an overall institutional ownership of approximately 40%. That leaves roughly 32% of BDC owners to fall into my first and second categories (see chart above).
Also important to consider is how Russell-related index funds will exit their positions. As most of these funds have navigated the Russell rebalancing for many years, they take special precaution to ensure a relatively calm unwinding. While they will not execute the trades until Friday, many of these funds will have been making prearranged trading agreements with other firms in the weeks, days, and hours leading up to the reconstitution. I believe much of the float coming out of index funds will be bought by mutual funds anticipating a bargain.
Performance of past removals
Finally, investors should note the historical performance of Russell removals on and after the reconstitution day. Last year on the day of the reconstitution stocks being added to the Russell 2000 outperformed those being removed by 1.54%. Volume was 800% higher than their previous 15 trading days and most trading occurred late in the day (68% of R2 deletions volume occurred after 4:00 PM ET). On July 1, 2013 (the first trading day following the reconstitution), Russell 2000 removals gained 2.26%.
Then again, investors could also reference a 2008 study by Jie Cai of Drexel University and Todd Houge of the University of Iowa referred to in this New York Times article "Conventional Wisdom, Foiled Again." The researchers found that over the period from 1979 to 2004, Russell 2000 deletions outperformed additions by 9.3% over the year following their removal.
So all that is to say, we don't know. Every year's Russell reconstitution seems to turn out a little different. It is hard to anticipate how Friday will play out especially given the abnormal reason for BDCs removal. On a day when volume will be anywhere from 500-1500% up from average, there is always the possibility for unintended consequences.
More than anything else, I hope income-oriented investors are viewing this week and Friday in particular as the potential to be an extraordinary opportunity to acquire or add to holdings in some high quality names. BDCs many not be priced this cheaply for some time to come and such an opportunity does not come often.
Disclosure: The author has no positions in any stocks mentioned, and no plans to initiate any positions within the next 72 hours. The author wrote this article themselves, and it expresses their own opinions. The author is not receiving compensation for it (other than from Seeking Alpha). The author has no business relationship with any company whose stock is mentioned in this article.