In my last article on Apple (NASDAQ:AAPL), I suggested the stock didn't have huge upside due to the lack of innovative products. Many comments were quick to point out that my analysis ignored some of the revolutionary aspects hidden in software updates. One such area is the new Health app and HealthKit tool for developers that do offer some interesting potential to eventually move the needle at a technology giant.
The biggest issue our analysis encounters with Apple is that some of the rumored developments, including an iWatch, don't offer the potential to materially change the financial position of a company with $170 billion in annual revenue and a market cap of $548 billion. As an example, selling 10 million watches at $200 wouldn't budge the needle at the company.
Apple really needs to develop a hardware solution (a la the iPhone or iPad) that either has widespread appeal, or create a software solution (a la iTunes) that solves a previous pain point for consumers. With the Health app, the company is onto a software solution that offers the potential to revolutionize the healthcare records industry and launch wearables into the stratosphere, if only consumers will adopt it.
Besides consumer adoption worries, the company already faces mega competition from Google (GOOG, GOOGL) and Samsung (OTC:SSNLF) that are already developing competing products, including the just announced Google Fit platform.
HealthKit Details
As part of the new iOS 8 software release, Apple is creating a new Health app that provides a dashboard to collect health and fitness data from outside devices and applications. In addition, the company has created a developers tool called HealthKit, which allows health and fitness apps to work together. In essence, the company hopes to create a network of monitoring devices either developed internally or externally that can monitor the users' heart rate, calories burned, blood sugar, and even cholesterol. In essence, a hub for medical records, pictured below: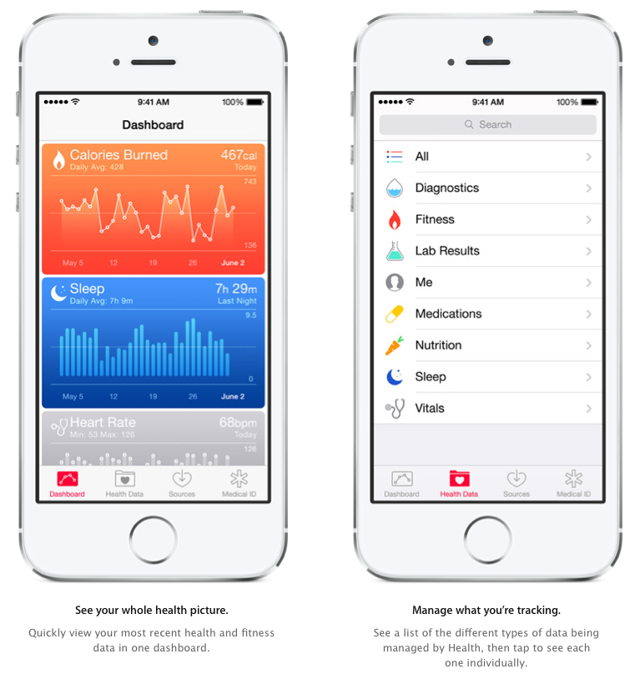 The consumer has control over the data and can chose to share it with doctors or emergency rooms. In addition, the user can set up a Medical ID that emergency personnel could access via the lock screen.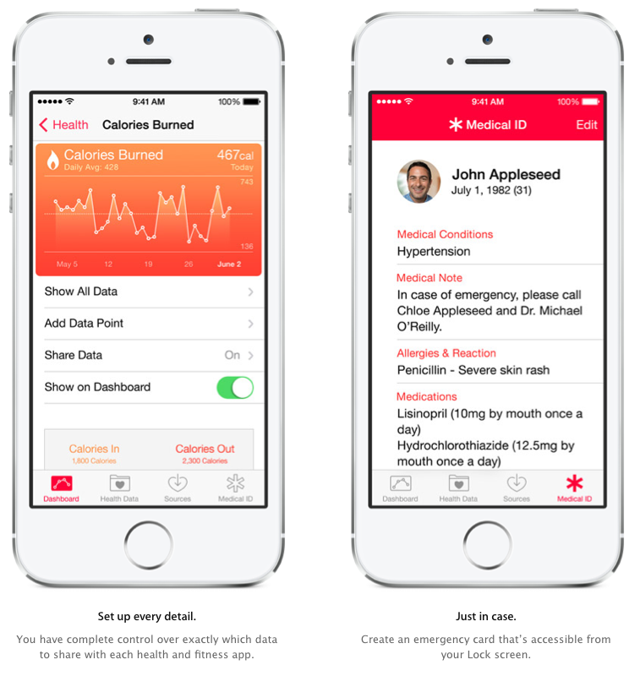 The key is that it allows Apple to focus on the software, and medical device and fitness companies to focus on the devices, at least at the start. According to Reuters, Apple, Google, and Samsung have all hired medical device experts especially in the glucose area to tackle the diabetes epidemic in this country and the world.
In fact, Google appears far along in working on a contact lens loaded with tiny sensors to monitor glucose. At the same time, the report suggests that Apple has hired a bunch of bio-sensor experts that previously worked at medical technology firms, in order to work on its own devices, whether part of the rumored iWatch or something else. The real issue is that while Apple is coming out with some potentially innovative products, it isn't light years ahead of competition.
The Troubles With Past Systems
A New York Times article does a great job of highlighting the ultimate trouble with health monitoring items, suggesting that the greater good benefits to humanity aren't really desired by anybody other than "health nuts" that ironically probably don't need the items. Author Aaron E. Carroll identifies the following concerns:
Not everyone wants to share data with physicians, especially if the monitoring technology catches patients doing something wrong.
Older patients that need monitoring the most aren't very tech savvy.
Doctors don't have time to monitor reports, and especially all the potential alarms.
Doctors don't want the liability of missing an abnormal reading in patients.
For the system to work, it requires a critical mass of patients.
Doctors' practices, hospitals, and emergency rooms must all adopt the technology in order to effectively share data.
The real potential is that Apple could use advanced technologies to make the system simple to update and share. A lot of the pain points could be eliminated, making the success more about whether consumers want to record data that in most cases would highlight bad habits and provide data overload. The data could even potentially allow health care providers and insurance companies to deny service or insurance claims.
Conclusion
While health could be a great fit for Apple and its universally secure systems, it doesn't assure that users and doctors alike will actually utilize the app. Most potential users are well aware they are unhealthy, but have done nothing about changing diet and exercise habits to improve current physical conditions. It's possible that the new Health app will change user habits, but it doesn't appear that Apple has any innovative lead on the major competitors of Google and Samsung. Without that undeniable lead, any revenue generated from this project is unlikely to move the needle at a company with revenue of $170 billion in the last fiscal year.
Disclosure: The author is long AAPL. The author wrote this article themselves, and it expresses their own opinions. The author is not receiving compensation for it (other than from Seeking Alpha). The author has no business relationship with any company whose stock is mentioned in this article.
Additional disclosure: The information contained herein is for informational purposes only. Nothing in this article should be taken as a solicitation to purchase or sell securities. Before buying or selling any stock you should do your own research and reach your own conclusion or consult a financial advisor. Investing includes risks, including loss of principal.
Editor's Note: This article discusses one or more securities that do not trade on a major U.S. exchange. Please be aware of the risks associated with these stocks.