Since my previous piece entitled The Walt Disney Company: A Wonderful Company At A Fair Price, published December 28, 2012, shares of Disney (NYSE:DIS) are up more than 70%.
DIS data by YCharts
Valuation
As shown by the charts below, based on a number of metrics, DIS is trading at a very rich valuation. At the time of my previous piece, DIS was trading at a PE ratio of 15.8 a price to book value of 2.11. At the time, I did not believe DIS was cheap but, rather, fairly valued. Now, with DIS trading at a PE ratio above 20 and a price-to-book value above 3, I believe DIS is overvalued. I do not believe there is a catalyst that can make DIS trade at a higher valuation than it has in the past. DIS has been an extremely well-run company that has grown earnings at an impressive clip, but I do not believe the company can meaningfully accelerate earnings growth, which is the only way the company deserves to trade at a higher valuation than it has in the past.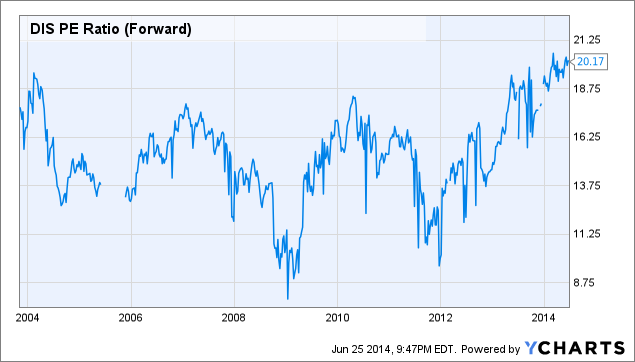 DIS PE Ratio (Forward) data by YCharts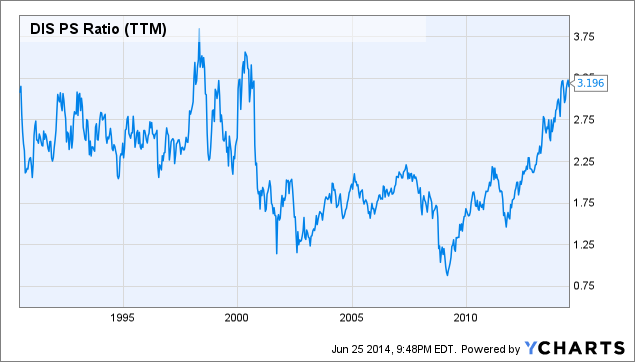 DIS PS Ratio (NYSE:TTM) data by YCharts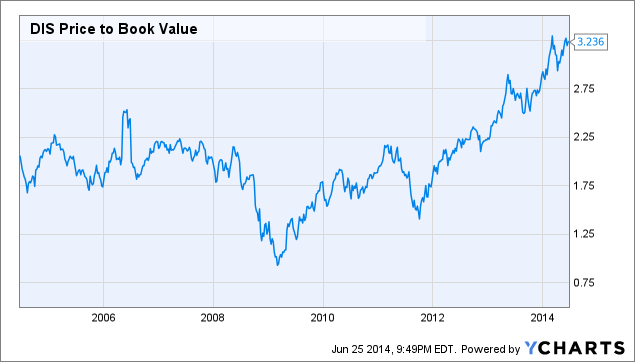 DIS Price to Book Value data by YCharts
Comparable Stocks Also Overvalued
Given DIS's size and variety of businesses, it is difficult to find comparable companies. Due to the fact that ESPN is the largest contributor to DIS earnings, it makes sense to consider other media companies such as CBS Corp. (NYSE:CBS), Twenty-First Century Fox (NASDAQ:FOX), and Viacom (NYSE:VIA). Unfortunately, as shown by the chart below, these stocks are also trading at extremely high valuations. In my opinion, DIS and its media related peers are all overvalued, and the sector should be avoided by investors for now. Certainly, the content business is a great business, but the stock are simply too expensive right now.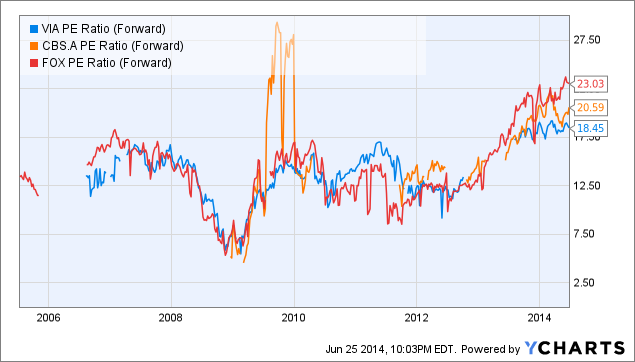 PE Ratio (Forward) data by YCharts
Alternatives
For long-term investors looking to make new investments right now, there are few opportunities. However, I recently highlighted three extremely well-known stocks which I believe are good value investments given the current market environment. I do not believe the current overvaluation of DIS is a single-case situation. I believe there are a number of high-quality stocks that are overvalued.
A Wonderful Company
My negative short-term outlook for DIS shares is not a reflection of my view of the company itself. I believe DIS is one of the best companies in the world, due to high-quality assets and diversification. DIS media networks include ESPN, ABC, and Disney. While all of these are great media properties, ESPN is by far the most important, and is the leading sports network on TV. In addition to ESPN, DIS's parks and resorts are also a terrific asset. No other theme park in the world can rival the experience at Disney World or Disney Land. Finally, DIS also has a robust studio entertainment division, which includes Walt Disney Studio Motion Pictures, Marvel Studios, Pixar Animation, and Lucasfilm. I believe the future is very bright for all of DIS's businesses.
Conclusion
I have owned DIS shares for many years and, despite my belief that shares are currently overvalued, I do not plan on selling anytime soon. One reason for this is the capital gains tax bill that would be incurred by selling DIS shares. While I do not plan on selling DIS shares, I do not expect them to perform well over the next year. At best, I believe DIS shares will trade slightly higher, as earnings growth helps to justify DIS's current valuation. As previously mentioned, there are other high-quality stocks with more potential upside than DIS. Furthermore, in addition to limited upside, I believe DIS could be vulnerable to a major move lower in a broad market sell-off or if the company falls short on earnings. DIS shares are currently overvalued but, at some point in the future, will once again become reasonably or fairly valued, as was the case in December 2012. When that time comes, DIS will be a terrific buy. Until then, investors looking to put new money to work should avoid DIS.
Disclosure: The author is long DIS. The author wrote this article themselves, and it expresses their own opinions. The author is not receiving compensation for it (other than from Seeking Alpha). The author has no business relationship with any company whose stock is mentioned in this article.