Chesapeake Energy (NYSE:CHK) has had a rough patch for the past five years as its earnings growth declined by about 19% annually. This underperformance has led the stock to become attractively undervalued as compared to its competitors and to the broader market. Looking forward, the company looks like a strong long-term energy-related investment as its valuation is attractive and with future growth looking positive.
Undervalued Energy Stock
Chesapeake is attractively valued among its peers in the oil and gas industry. This is evident in the company's low EV/EBITDA of 5.67. Competitor, Anadarko Petroleum (NYSE:APC) is trading with an EV/EBITDA of 7. The large oil majors, BP plc (NYSE:BP), Exxon Mobil (NYSE:XOM), and Chevron (NYSE:CVX) also have higher EV/EBITDA ratios of 5.96, 7.61, and 6.48 respectively.
The other valuation metric that stands out for Chesapeake is its low PE/Growth ratio of 0.43. This shows that the company's expected EPS growth is higher than its forward PE, suggesting that the stock has plenty of room to run higher over the long term. The competitors that I mentioned above all have PE/Growth ratios over one, showing that their expected growth rates are lower than their PE ratios. Therefore, I think that Chesapeake's stock has a better chance of outperforming its competitors due to its undervaluation.
Growth via Increased Production
As stated on the company's 2013 annual report, Chesapeake increased its average daily production by 11% in 2013 over 2012. At the same time, the company decreased its capital expenditures by 48%. This strong performance was an example of the company's focus on financial discipline and increased growth. Looking ahead, Chesapeake is positioned well to benefit from its 2.7 BBOE of proved reserves and 47,400 natural gas and oil wells. The company has a solid footprint in major onshore oil and gas plays in the United States as shown in the map below.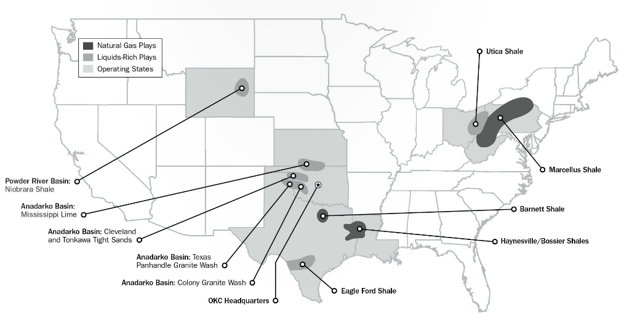 Click to enlarge
Map Source: Chesapeake Energy 2013 Annual Report
Chesapeake increased its production growth guidance to 9% to 12%, which is up from original estimates of 8% to 10%. The company also increased its operating cash flow guidance by $700 million to $5.8 billion to $6 billion. With healthy increases in operating cash flow and reductions in CapEx, Chesapeake will look more attractive to investors. The company has had negative free cash flow for years now, so if Chesapeake can start growing its free cash flow in positive territory, it would be a turning point. I think that many investors would be more willing to invest in the company when they see positive free cash flow growth. It puts the company in a better position to increase the dividend going forward without the need to finance it. The company is expecting total CapEx of $5.2 billion to $5.6 billion, so free cash flow should be positive for 2014 as this range is lower than Chesapeake's expected operating cash flow.
The increased operating cash flow is a result of the increases in production. Chesapeake is now well balanced between natural gas and oil production. As of the end of Q1 2014, the company derived 47% of total revenue from natural gas, with 43% coming from oil. The remaining 10% is derived from natural gas liquids (NGL). Therefore, Chesapeake is positioned well to benefit from attractive natural gas and oil prices. The eia.gov expects the price of oil to average over $100 and the price of natural gas to average over $4.45 in 2014 and 2015. So, Chesapeake should continue to see strong revenue as production increases.
Conclusion
The likely turning point for the company in the form of a positive free cash flow this year will make the stock more attractive for investors going forward. With the stock trading at an attractive valuation relative to its peers, Chesapeake looks like a good investment as production continues to increase. The stock has broken out to a new 52-week high and is showing strength. The current attractive valuation, production growth, and future positive free cash flow is likely to allow the stock to achieve better than average returns over the next few years.
Disclosure: The author has no positions in any stocks mentioned, and no plans to initiate any positions within the next 72 hours. The author wrote this article themselves, and it expresses their own opinions. The author is not receiving compensation for it (other than from Seeking Alpha). The author has no business relationship with any company whose stock is mentioned in this article.