I am near the end of this series of articles that discusses dividend coverage for most of the 26 BDCs that I cover in an effort to uncover companies that have the potential to sustain or increase current dividends. I will also be using this information to update my latest "BDC Rankings: May 2014". For more details regarding this series and for the dividend coverage results for Main Street Capital (NYSE:MAIN), Fifth Street Finance (NYSE:FSC), Apollo Investment (NASDAQ:AINV), TICC Capital (NASDAQ:TICC), Triangle Capital (NYSE:TCAP), Fidus Investment (NASDAQ:FDUS), PennantPark Floating Rate Capital (NASDAQ:PFLT), Gladstone Capital (NASDAQ:GLAD), Golub Capital BDC (NASDAQ:GBDC), PennantPark Investment (NASDAQ:PNNT), Hercules Technology Growth Capital (NASDAQ:HTGC), FS Investment Corp (NYSE:FSIC), Ares Capital (NASDAQ:ARCC), TCP Capital (NASDAQ:TCPC), THL Credit (NASDAQ:TCRD), New Mountain Finance (NYSE:NMFC) and Medley Capital (NYSE:MCC) please see:
I have recently upgraded Prospect Capital (NASDAQ:PSEC) to a "Buy" again now that it has resolved the issue regarding potential restatements of historical financials. However this analysis assumes no changes going forward and I will revise using guidance from the company as soon as it is available. PSEC has consistently stated that its preferred debt-to-equity ratio is 0.75 that it achieved in the most recent quarter as shown in the chart below.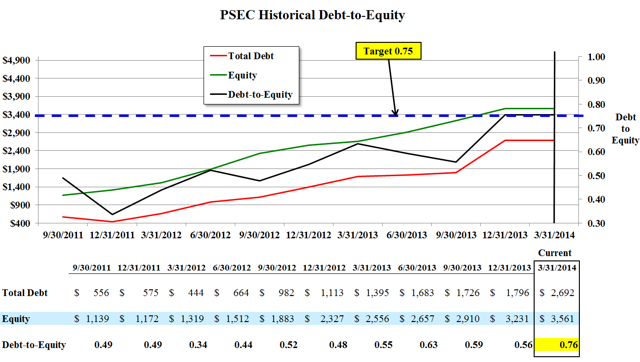 As discussed throughout this series, I have become increasingly concerned about yield compression in the BDC industry due to increased competition. This has impacted all BDCs; especially the ones with higher yields. PSEC is not immune to declining yields and management has driven many strategic initiatives to preserve portfolio returns through its "7 Yield-Oriented" origination strategies (sponsor finance, direct non-sponsor, lending, one-stop operating buyouts, one-stop finance buyouts, structured credit, real estate and syndicated debt investing). These programs have helped but PSEC has become heavily reliant on other income to cover dividends and I have used the average over the last four quarters for this analysis.
PSEC has some of the highest management fees in the industry. The base management fees are driven by the amount of gross assets at 2.00% a year paid quarterly that is at the high end of what other external managers charge and does not exclude idle cash that has averaged 5% of total assets since 2012. The incentive fees are par for the industry at 20% of pre-incentive net investment income ("NII") and gains, but for projection purposes I use core NII that excludes both income and incentive fees related to capital gains.
The following table shows the most recent quarter financial results, along with projections at various levels of leverage and a stable portfolio yield of 12.76% to determine the impacts on dividend coverage. I have also included the impacts from the most recent equity issuances of $84 million raised this quarter but the company has temporarily placed its at-the-market issuances on hold stating "Yes, we're not issuing on our ATM for the balance of this quarter while we sort through these topics. I think for investors that have looked towards the growth of our Company and the issuance of equity perhaps will see that as good news." Each of these scenarios assumes a full quarter of benefit from interest income but also a full quarter of interest expense, base management and income incentive fees.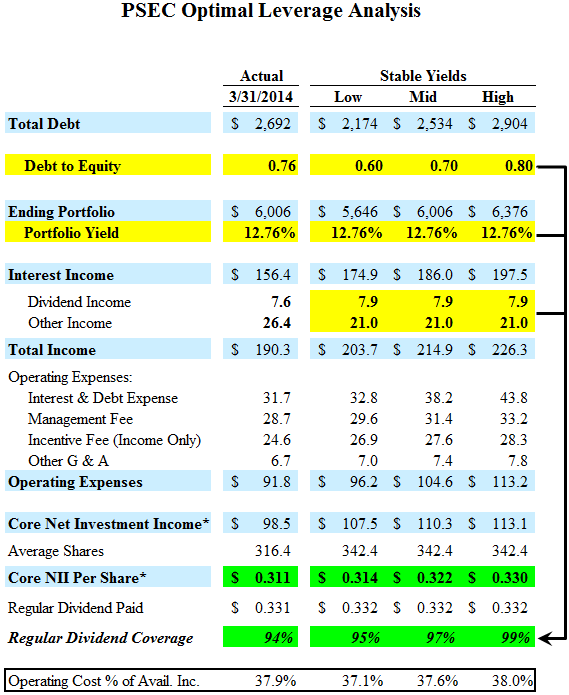 These scenarios assume the highest level of efficiency and actual results could be lower because there will always be some turnover in the portfolio that could drive higher fee income. This analysis implies that PSEC has the ability to cover its dividend if its portfolio yield remains stable or if the company is able to generate higher fee income and/or increases the amount of leverage.
How would lower portfolio yields impact PSEC?
As discussed in my "PSEC Articles" PSEC has been experiencing yield compression similar to other BDCs and has become increasingly reliant on "other income" that is mostly related to structuring fees. Its portfolio yield has declined from 15.10% to 12.76% over the last four quarters. Most of PSEC's expenses are driven by the amount of assets and debt or basically the overall size of the portfolio and how it is capitalized. Only the income incentive fees are impacted by lower yields so if the portfolio yield continues to fall so will the dividend coverage as shown in the table below. This is why management is continually trying to find ways to increase fee income while preserving its portfolio yield as well as lower borrowing costs through issuing notes and institutional debt. Investors should continue to watch all of these things in coming quarters.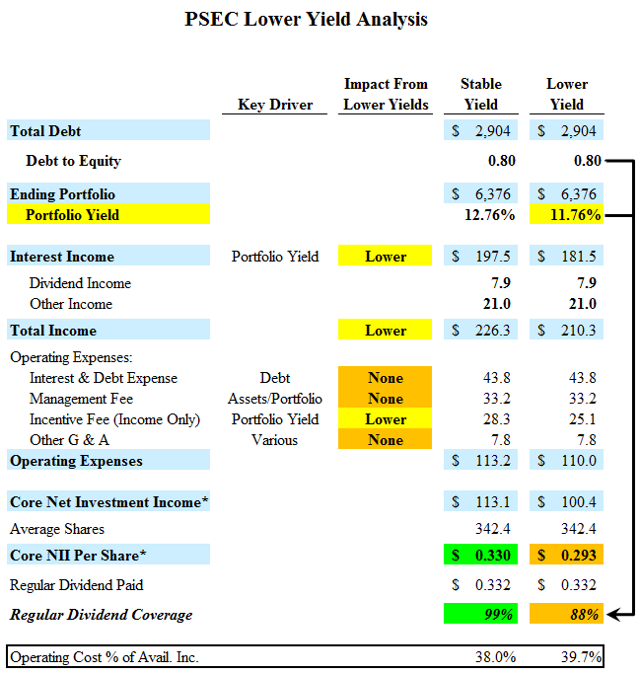 Side by Side Comparison:
The following side by side comparison shows an "apples to apples" view of each BDC with a stable portfolio yield, current cost structure and capital expenses with a portfolio that uses the same amount of leverage to increase return on equity investments. I will be using the amount of equity as of March 31, 2014 (or most recent) along with a debt-to-equity ratio of 0.80 and the current portfolio yield to project income and expenses, tracking the following metrics:
Dividend coverage (using a debt-to-equity 0.80)
BDC expenses (as a % of available income)
"Available income" is total interest and fee income less interest expense from borrowings and is the amount of income that is available to pay management expenses and shareholder distributions. BDCs with lower expenses can pay higher amounts to shareholders without investing in riskier assets.
The following table compares the results for PSEC to the other BDCs (so far in this series). As you can see PSEC has a slightly higher than average "operating cost as a percentage of available income" and lower than average dividend coverage compared to other BDCs. In future articles I will discuss how PSEC could improve its dividend coverage in the coming quarters and what investors should be watching for.
One of the most important factors shown in the table below is the debt-to-equity ratios excluding SBA debt. The companies with lower amounts of leverage after excluding these loans (that are not included in the leverage requirements for BDCs) have the ability to borrow higher amounts. However this does not take into account which BDCs have available SBA debt capacity including TCPC that was recently approved for an SBIC license with the ability to borrow an extra $150 million.
I believe MAIN, TCPC, HTGC and FSIC have a much higher potential for dividend increases than the average BDC and that most of the other companies will be able to sustain dividends. However if yields continue to fall this analysis could be drastically different and I will continue to update each quarter.
This series of articles does not cover many of the BDCs that either have higher risk to return levels or will not be able to cover dividends with the current cost structure and associated portfolio yield including MCG Capital (NASDAQ:MCGC), BlackRock Kelso Capital (NASDAQ:BKCC), Full Circle Capital (FULL), Horizon Technology Finance (NASDAQ:HRZN) and Solar Capital (NASDAQ:SLRC). The exclusion of these BDCs from this analysis skews the results toward BDCs that are more likely to cover dividends. If the BDC you are looking to invest in seems to have lower dividend coverage than most please keep in mind that there are worse BDCs not included.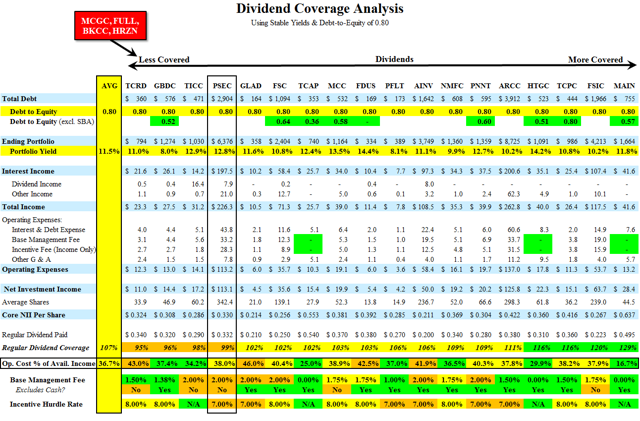 For more details including some of the potential variances to this methodology for assessing dividend coverage please see "Part 1" of this series.
Disclosure: The author is long ARCC, MAIN, FSIC, HTGC, TCPC, NMFC. The author wrote this article themselves, and it expresses their own opinions. The author is not receiving compensation for it (other than from Seeking Alpha). The author has no business relationship with any company whose stock is mentioned in this article.