Michaels Companies, Inc. (NASDAQ:MIK), an operator of specialty arts and crafts retail locations in North America, plans to raise $500.0 million in its upcoming IPO.
The Irving, Texas-based firm will offer 27.8 million shares at an expected price range of $17-$19 per share. If the IPO prices at the midpoint of that range at $18 per share, MIK will command a market value of $3.8 billion.
Filing Details
MIK filed on March 30, 2012.
End of 40-day quiet period: Wednesday, August 6, 2014
End of lockup (180 days): Wednesday, December 21, 2014
Strong, Numerous Underwriters
Lead Underwriters: Goldman, Sachs & Co; J.P. Morgan Securities LLC
Underwriters: Barclays Capital Inc; BofA Merrill Lynch; Credit Suisse Securities (USA) LLC; Deutsche Bank Securities Inc; Guggenheim Securities, LLC; Macquarie Capital Inc; Morgan Stanley & Co. LLC; Nomura Securities International, Inc; Piper Jaffray & Co.; Raymond James and Associates, Inc; Samuel A. Ramirez & Company, Inc.; Stephens Inc; SunTrust Robinson Humphrey, Inc.; Telsey Advisory Group, LLC; The Williams Capital Group, L.P; Wells Fargo Securities, LLC.
Summary of Michaels' Business
MIK is the largest specialty arts and crafts retailer in terms of locations in North America, operating 1,145 Michaels stores and 118 Aaron Brothers stores as of May 31, 2014.
The firm carries a wide variety of products equivalent to approximately 36,000 SKUs related to crafts, framing, floral, scrapbooking, arts, and children's hobbies, along with seasonal offerings.
MIK sells self-branded products only available at Michaels stores; these products accounted for some 48% of the firm's net sales for fiscal 2013. The firm also operates a custom framing business that accounts for a significant percentage of its revenues.
MIK has established a strong online presence in recent years to take advantage of increasing interest in online DIY communities. The firm's online platform offers project ideas, expert crafting tips, and information about store events, as well as marketing content. The platform also facilitates connectivity with customers who discover potential projects through social media platforms like Facebook (NASDAQ:FB) and Pinterest.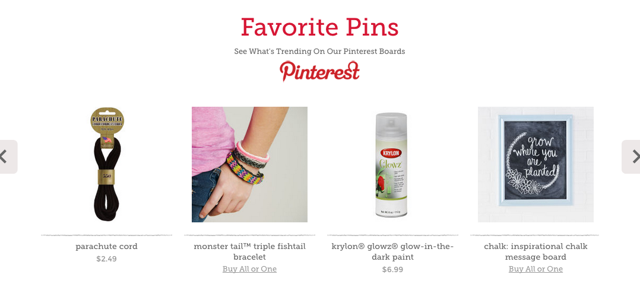 (Source)
Michaels was taken private in 2006 by affiliates of Bain Capital and The Blackstone Group. Each firm will hold approximately 40% of MIK's shares with the completion of this IPO.
Valuation
MIK offers the following figures in its S-1 balance sheet for the quarter ended March 3, 2014:
Revenue: $1,052,000,000.00
Net Income: $45,000,000.00
Total Assets: $1,716,000,000.00
Total Liabilities: $4,450,000,000.00
Stockholders' Equity: ($2,734,000,000.00)
Competitive Purveyors and Mass Merchandisers
MIK faces competition from other purveyors of arts and crafts products, including big box stores, online merchants, specialty retailers, and local merchants.
Some of these competitors, especially mass merchandisers, have access to greater financial resources than MIK.
Major competitors include Wal-Mart (NYSE:WMT), Target Corporation (NYSE:TGT), Hobby Lobby Stores, Inc., Jo-Ann Stores, Inc., A.C. Moore Arts & Crafts, Inc., and Amazon (NASDAQ:AMZN).
Management Highlights
CEO Carl S. Rubin has held his current position since March 2013. Mr. Rubin previously served as president and CEO of Ulta Salon, Cosmetics & Fragrance, Inc. and as president of the North American Retail division of Office Depot, Inc. (NYSE:ODP).
Mr. Rubin spent six years in senior leadership roles with Accenture Consulting and held several senior merchandising and general management positions in the specialty retail and department store industry.
Mr. Rubin received a B.A. degree from Brandeis University.
Cheerful Conclusion For Investors
We are optimistic on this IPO.
MIK has flourished since Bain Capital and Blackstone took over the company, with consistently improving revenues and operating incomes.
The firm has expanded its portfolio of self-branded products, which in turn has assisted in improving its margins, and has also taken valuable strides in interacting with an ever-growing online crafting community through its online platform.
The firm's status as a household name brand will also likely improve the IPO's fortunes.
We invite readers wishing to join the discussion on IPOs to click the +FOLLOW button above the title of this article.
Note: As a large sample of information sources does not yet exist for MIK, we have taken much of the information for this article directly from MIK's S-1 filing.
Disclosure: The author has no positions in any stocks mentioned, but may initiate a long position in MIK over the next 72 hours. The author wrote this article themselves, and it expresses their own opinions. The author is not receiving compensation for it (other than from Seeking Alpha). The author has no business relationship with any company whose stock is mentioned in this article.