By Chris McKhann
Gymboree (NASDAQ:GYMB) continues to be a target for option traders amid reports that it is for sale, and this morning's action is looking for an even higher price.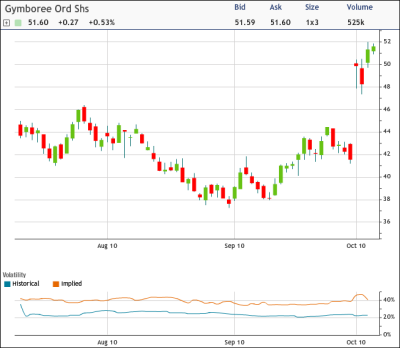 GYMB said on Friday that it would consider selling itself to a private equity firm. The children's apparel company gapped up to $50 and pushed even higher yesterday, as shares currently trade at $51.60.
Today's option activity is looking for GYMB to run even higher. optionMONSTER's systems show that 2,900 May 60 calls were sold for $1.35. At the same time 1,450 of the February 55 calls were bought for $2.60. The volume in the 60 calls was more than open interest, while the volume at the lower strike was less than open interest.
This could be a simple roll, with the trader taking the position from February and moving it up and out to May. This costs just $0.10 and increases the delta from 0.40 to 0.52. And there is more exposure to gamma, so if GYMB continues to run higher, this position can profit greatly.
It is also possible that this is a diagonal ratio spread. That trade takes its maximum profit if shares are around $55 come expiration, but it will still profit regardless of how far shares might fall. The risk is on the upside if GYMB pushes above $58.84.

Disclosure: No position